Check Out The Most Bizarre Photos And Trolls Of Rapper Lil Nas X!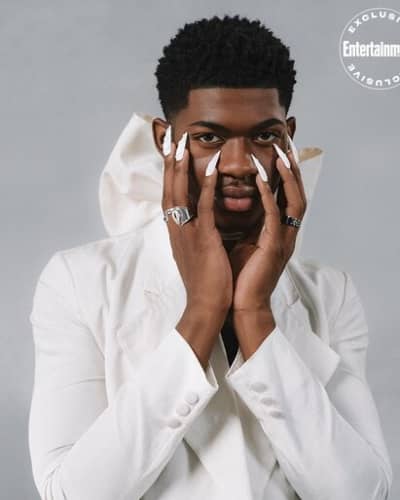 Lil Nas X is an American singer, songwriter, rapper, and media personality. His real name is Montero Lamar Hill.
He rose to prominence with the release of his country rap single "Old Town Road", which first achieved viral popularity in early 2019 before climbing music charts internationally.
He was nominated for six Grammy Awards, including Record of the Year, Album of the Year, and Best New Artist, and eventually won Best Music Video and Best Pop Duo/Group Performance.
His success caused him to become the first person of color and the first openly gay performer to be listed by Forbes in its annual Highest-Paid Country Acts List.
Lil Nas X Hilariously Trolls Rabbi
The rapper perfectly trolled an Orthodox rabbi who claimed that inoculations for the novel coronavirus are spreading homosexuality around the world. According to some sources, the ultra-conservative Israeli leader Rabbi Daniel Asor claimed that vaccines "made using an embryonic substrate, and we have evidence of this, causes opposite tendencies." He also called the World Health Organisation (WHO) and the pharmaceutical companies Pfizer and BioNTech "criminal organizations" because of their work in stopping the spread of coronavirus, which has claimed two million lives worldwide.
Lil Nas X clowned Asor on Twitter by jokingly illustrating the effects of the COVID-19 effects himself. On 18 January he tweeted a photo of himself before and after the vaccine," and in the second picture, the musician sports a limp wrist.
He captioned it,
"he's not lying, this is me before and after the vaccine. not enough people are speaking up about this."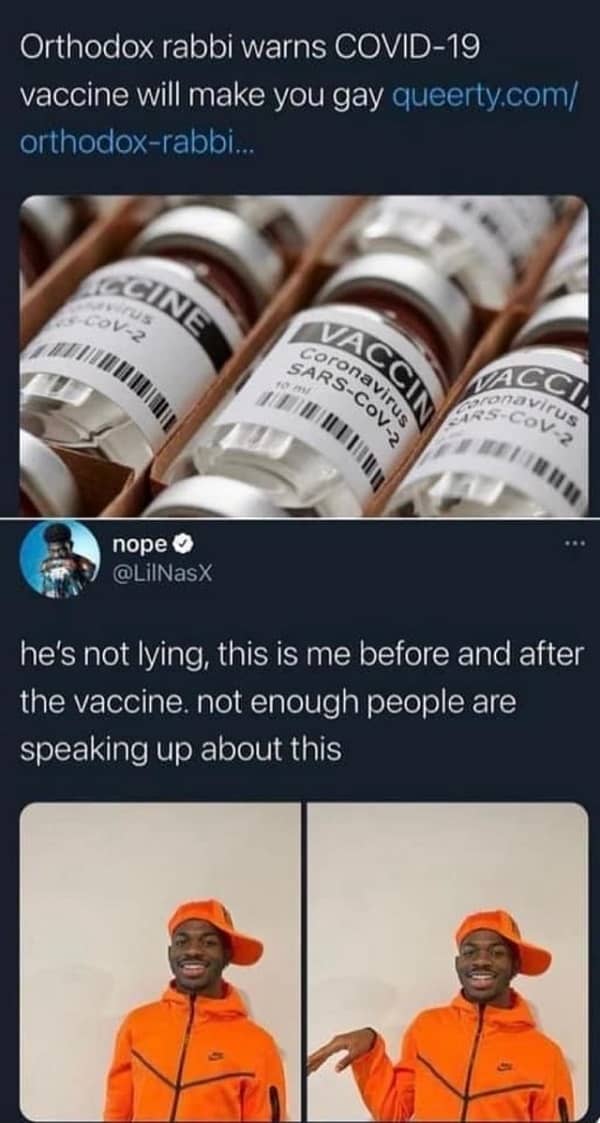 Lil Nas X Trolls Nike's Lawsuit Over His Satan Shoes
In the music video Montero the rapper lap dancing on the Devil. The shoes mimicked the style of Nike Air Max 97s, although the Nike logo was printed backward. However, Nike denied any relationship with Hill or the collection after the drop garnered. Later, Nike filed a copyright infringement lawsuit against the rapper.
Likewise, the rapper's new song "Industry Baby" is embracing his impending lawsuit with Nike over his Satan Shoes."Industry Baby," Lil Nas' forthcoming track, is set to feature Jack Harlow with production by Kanye West and Take A Daytrip. Lil Nas teased the song with a video poking fun at the lawsuit, in which he plays the presiding judge, his own lackluster defense, a juror, and the prosecution.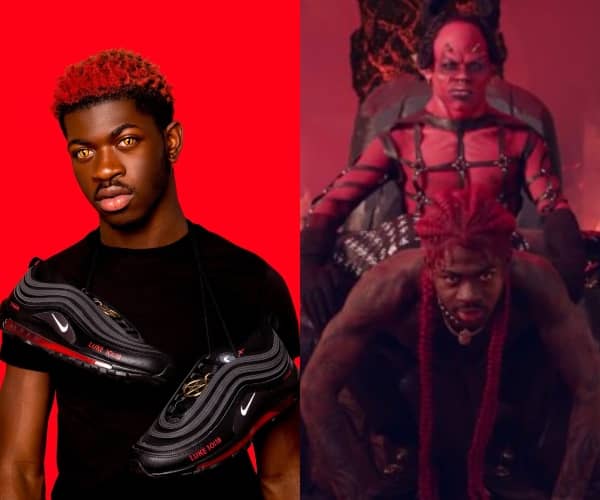 Lil Nas X SNL Performance Troll
While dancing the choreography on SNL, Lil Nas X danced on a stripper pole and unexpectedly ripped his tight pants. For a brief moment, he looked wide-eyed at the camera, then continued with his performance while covering the split pants.
Fans online noticed the wardrobe malfunction and began flooding Twitter with GIFs of the moment soon after. Lil Nas X, known for his online trolling, shared his thoughts early Sunday morning.
On Twitter, he wrote,
"NOT MY PANTS RIPPED ON LIVE ON TV, I wanted to do my pole routine so bad this what I get lmao."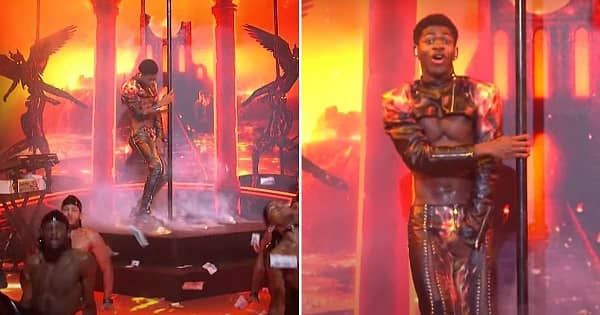 You may also like to read, Check Out The Most-Bizarre IG Photos Of The Rapper Lil Nas X You Must Not Miss!