Bizarre Wedding Gift! A Pakistani Groom Gifts His Newly Wed a Donkey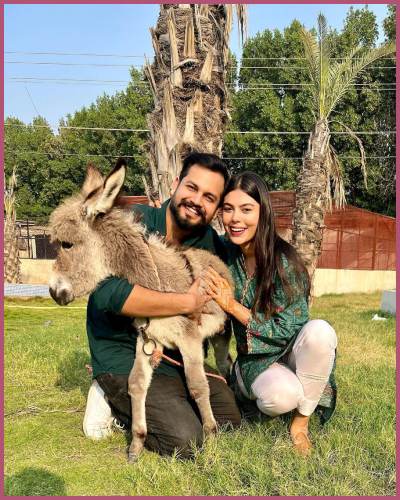 What's your thought on a bizarre wedding gift to your partner?
Tell me honestly what did you just gift your bride or groom on your marriage?
If you are looking for some wedding gifts inspiration, roll down a little down, it will make you laugh.
---
Wait are you looking for a Quirky and Unique Gift for Your Bride? What you will read now will Shock you even more.
Scrolling Through Some Unique Wedding Gifts?
A lot of gift ideas might just strike your mind and go off immediately. You can make your loved one feel special via a wedding gift but the efforts you are showing in searching for the ideal gift are praiseworthy, this show you truly love your partner.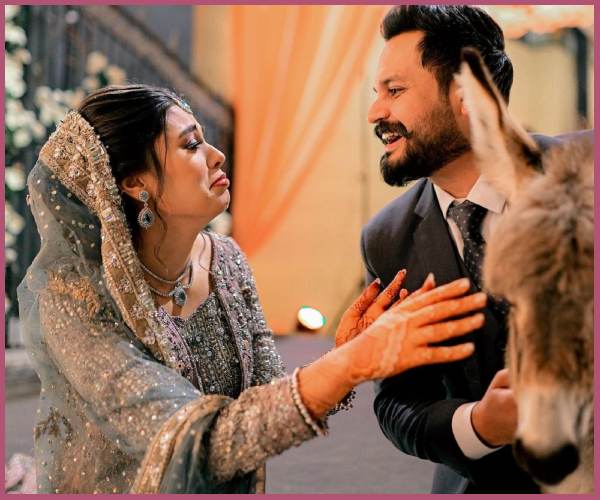 Let's not delay the funny part about what the Pakistani groom gift his wife. It absolutely makes no sense other than the couple themselves.
People usually gift cars, furniture, or something that is important to the couple. Gifts are supposed to be a token of love that stays with them and holds a special for the person or at least something that is useful to them.
How would you react when your groom gifts you a donkey as a big wedding present? That's why I said this gift only makes sense to this Pakistani couple. The gift was not a random gift but indeed a thoughtful one, as we disclose what it truly means for the married couple.
Also, Read Bizarre Love Story! Pakistani Woman is Married To Driver After Fell in Love with Gear Changing Style!
What a bizarre wedding gift! Pakistani groom gifted his bride a Donkey
Wedding guests seem to get perplexed as the Pakistani groom Azlan Shah gifted his wife a donkey. It may sound bizarre but the gift held a special place in his wife Warisha's heart.
As confessed by Pakistani YouTuber Azlan Shah on his Instagram account through the video of the two spouses, exchanging wedding gifts in their traditional venue, the wife seems excited.
The reason he gave for this bizarre wedding gift was very simple and heartwarming. The judgemental readers might have no clue that his wife was fond of hard-working animals like donkeys, and the husband too liked them. So, he got her a donkey while starting their conjugal life.
The couple who are now sharing an immense bond with the donkey revealed. They have even named him Bhola while the video captioned by the wedding photographer reads.
"This Wedding Gift from Azlan to Warisha is hilarious and the most cutest – Best part is they both plan to adopt the baby donkey! Azlan & Warisha, finally came to a conclusion – Certainly the most energetic couple ever!"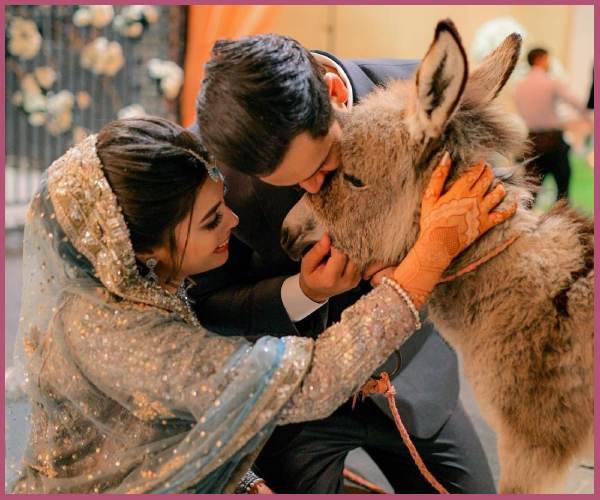 As further information was obtained, the couple even did a photoshoot with Bhola at the wedding. The couple not only got the newly born Bhola but they also brought his mother along. So, the baby donkey, Bhola couldn't stop breastfeeding the mother.
And this is when you say, What a lively gift?
Advice: Gift your partner something that you can relate to the most throughout your life. Something that can be part of your new beginning and the bright future ahead. A sweet memory you can keepsake for life.
Also, Read Bizarre? Emotional TikToker Carly Burke Confessed How Her Ex Only Dated Her Because She Looks Like His Dead Ex-Girlfriend