Blac Chyna in a Car Accident! On and Off Fiancee of Rob Kardashian Checked out by Paramedic! Check out the Details and Relationship of the Couple with a Child!!
Blac Chyna was involved in the car accident which happened in Los Angeles and was taken to the paramedic right after! Let's Check out is she is alright?
Blac Chyna in Car Accident
In the early hour of Saturday on June 24, the Reality star was in the car accident. According to the outlet, Chyna, 29, was driving through Studio City, California, when her white Rolls-Royce was rear-ended by another vehicle at approximately 2:30 a.m.
Los Angeles Police Department officers detained the other driver and administered several DUI tests. However, the paramedics quickly took Blac in an ambulance and checked her out for almost 45 minutes.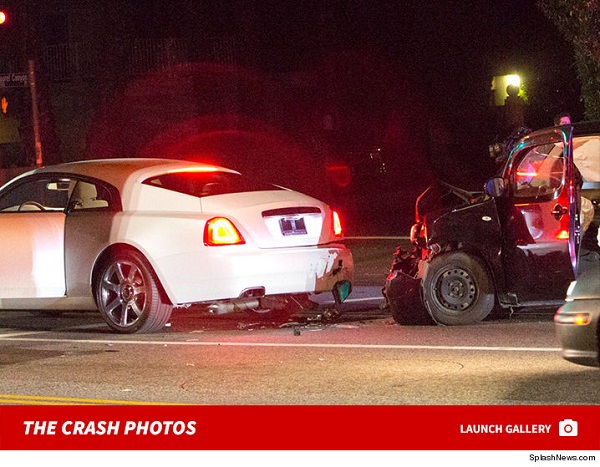 Although it was quite a big accident, it did not cause big harm to the model. Later, her unidentified friend came to pick her up soon after the emergency officials released her, as reported by TMZ.
Model Blac Chyna has remained quiet on social media since the incident occurred.
Blac Chyna Takes Son King and Daughter Dream to Legoland but Leaves her Ex-Fiance Behind: Check out the Cute Pics!
Blac and Father's Day with Rob
According to UsWeekly, The scary incident came less than a week after the model celebrated Father's Day with her on-off fiancé, Rob Kardashian, and their 7-month-old daughter, Dream. Despite the cordial family outing, the former couple is still working out their issues.
Chyna also reportedly gifted Rob a Louis Vuitton bag, and a customized Los Angeles Dodgers hat. She also gave him trainers, and a bouquet of white and blue roses decorated with an R for Rob.
"Everything isn't always going to be peaches and cream. If it is, then it's fake. I'm in it for the long haul," Chyna told Cosmopolitan of her relationship with the Keeping Up With the Kardashians star, 30, earlier this year. "I feel like everything isn't going to be perfect, but I know we love each other and we're fighting for each other, and the people we surround ourselves with are rooting for us. It makes everything much easier."
Blac Chyna: Read about her day out with her children, her post-baby body, and her ex-boyfriend's new girlfriend!
Short Bio on Blac Chyna and Rob Kardashian:
Blac Chyna is an American model and entrepreneur. Due to her frequent appearances in hip hop music videos, people call her "video vixen". In 2014 she launched her own makeup brand with a beauty salon in Encino, Los Angeles. More Bio at…
Rob Kardashian is an American television personality and businessman. He is popular for featuring on Keeping Up with the Kardashians as well as appearing on its spin-offs. In 2011, Kardashian also competed in the thirteenth season of ABC's Dancing with the Stars, during which he placed second. See More Bio…