Bobby Flay Napping With His Cat Nacho in his Stomach is the most adorable Picture you will ever see! Also find out about their special relationship!!
Who doesn't love pets! Bobby Flay flaunting the relationship with his cat Nacho by sharing the cutest picture of himself sleeping with his cat Nacho on his stomach. And it's the most adorable picture!!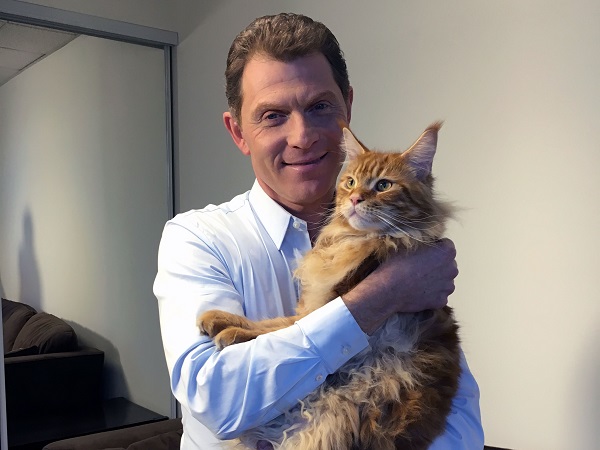 Bobby with his cat Nacho
Bobby is the famous Iron chef and the cat and he is the perfect match for each other. As Bobby likes to cook while Nacho likes to eat and served like royal which he has been getting by his dad.
If you want to know about Nacho then, Nacho is a Maine Coon, a breed known mostly for their exceptional size. They are known as the "gentle giants" of domestic cats.
The celebrity chef, 52, posted the pic of his Marine Coon kitty curled up on the couch with him on Monday, May 22, via Nacho's Instagram account.
"I can only take a #selfie when this guy is sleeping. I hope he's dreaming about what I'm eating next!" the caption read.
The Iron Chef America star recently opened up about his decision to finally get a cat and his love for 2-year-old Nacho.
"As an adult, I had a 30-year drought without a cat in my home life. It was easy for me to make the excuse that I was never home," Flay wrote in an essay for CBS News. "But what I was really nervous about was handling the responsibility of taking care of a new kitten — and making a 15-20 year commitment to a living, breathing creature. Well, I'm back in."
The restaurateur added that Nacho makes him a "softer and more understanding person" with his presence in the house.
"Nacho plays fetch, he opens every door in my house, he follows me from room to room and is never out of earshot. And neither am I!" Flay continued. "He travels with me almost wherever I go and, most importantly, shows me his love and affection constantly. Here's the best part: it's unconditional. Well, almost. He IS food-motivated."
With the unconditional love between these buddies can be seen in the picture and yes, animals can be your best friends. As he has always said, He and his feline always travel together and Nacho almost goes wherever Bobby goes and the most important thing Bobby feels is that he is being unconditionally loved and have his cat's affection. Also, Nacho is his biggest inspiration.
Follow Nacho's Instagram account, @nachoflay, to see all his adorable pics!
Short Bio on Bobby Flay:
Robert William Flay is an American celebrity chef, restaurateur, and reality television personality. He is the owner and executive chef of several restaurants: Mesa Grill in Las Vegas and the Bahamas; Bar Americain in New York and at Mohegan Sun, Uncasville, Connecticut; Bobby Flay Steak in Atlantic City; Gato in New York, and Bobby's Burger Palace in 19 locations across 11 states.