Born as the eldest of three children of his parents, Colt McCoy's father was a big influence on him playing football throughout his early life! Explore about his married life and Beginning professional career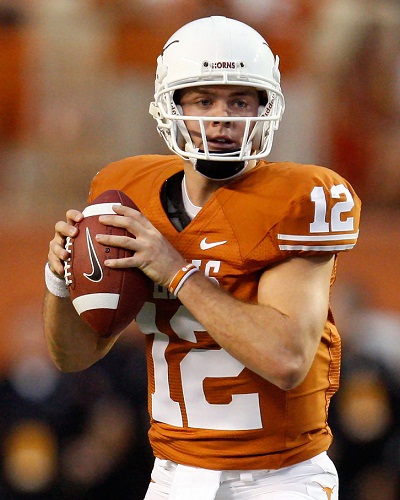 Married Life
Colt McCoy is a married man. He engaged to his girlfriend, Rachel Glandorf on January 12, 2010. Rachel is a former middle-distance track and field athlete for Baylor University.
She met Colt when she was an intern at KEYE TV in Austin in the summer of 2008 and Colt was the Longhorns starting quarterback.
The pair's wedding ceremony took place on July 17, 2010, and was a lively celebration that included a singing performance by country singer Aaron Watson and former Longhorns wide receiver Jordan Shipley.
Beginning with his professional career
Colt was the finest player in all season of the game throughout his college career. He started his professional career in 2008.
He played for the Cleveland Browns for 2 years. In the year 2013, he was associated with San Francisco 49ers.
Furthermore, since 2014, he has been associated with Washington Redskins. He signed with the Washington Redskins on April 3, 2014.
Colt re-signed with the Redskins on March 17, 2015. On March 9, 2016, he signed a three-year contract extension with the Redskins.
Colt has bagged numerous college awards and honors.
This includes BCS national champion, 2006 Valero Alamo Bowl Offensive MVP, 2008 Pacific Life Holiday Bowl Offensive MVP, 2009 Tostitos Fiesta Bowl Offensive MVP, 2009 Davey O'Brien Award, 2009 Manning Award and others.
Additionally, he was mentioned as a Heisman Trophy candidate in his freshman year 2006 and 2009.
His father a big influence
As the eldest of three children born to Steven Brad McCoy and Debra Kay, Colt was born in Hobbs, New Mexico, the United States on September 5, 1986.
Football was a big part of his childhood as he was coached in football by his father, Brad McCoy. Additionally, he has not revealed his ethnic background as of now.
His father was a big influence on him playing football throughout his early life.
RT to wish a happy birthday to #Redskins QB @ColtMcCoy! #HTTR pic.twitter.com/Epj74wFgEr

— Washington Football Team (@WashingtonNFL) September 5, 2016
You may also like to read Former MLB Star, Don Baylor dead at 68 due to Cancer. After a long battle with cancer, Baylor lost his life at the age of 68
His strength and weakness
McCoy is a once in a lifetime college quarterback. He has done everything right while at Texas and has done a great job of representing the university on and off the field.
Unfortunately, His skills translated to make him big at the next level. He understands the game and does a good job of reading coverages and making good decisions before and after the snap.
He is athletic and has done a wonderful job of hitting the weights to improve his physical stature.
McCoy is a natural leader with high character. He has played with a lot of intelligence in Texas which was extremely productive. McCoy displays great accuracy in the short passing game.
Colt puts the ball in a position to set up his receivers run after the catch. Not only that, he has the foot-speed to avoid the rush and buy extra time.
McCoy lacks a cannon for an arm. Although he can fit the ball into spots on intermediate routes at times but will struggle with the deep ball.
His release point is a said to be a little low. It is believed that he needs improvement in his accuracy long passes down the field and toward the sideline.
Also read Secret Love Child! 5 celebrities who tried to hide about their love child but failed!
Short bio on Colt McCoy
Colt McCoy is an American football quarterback for the Washington Redskins of the National Football League (NFL). Previously, he played college football at the University of Texas. Additionally, he has also been a member of the San Francisco 49ers. More bio…