What is Bratz Challenge? Which has gone viral on the social media!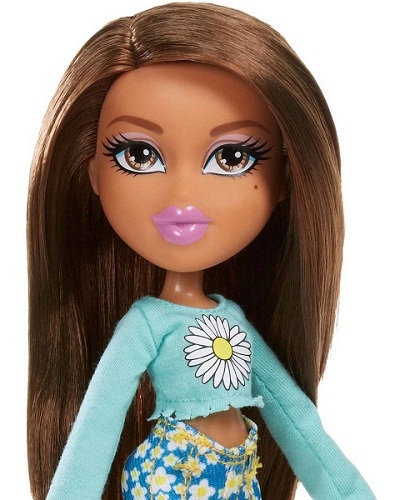 There is a new makeup challenge which is doing the rounds on social media. Called the Bratz challenge, it has taken the internet community by storm. So what exactly is Bratz challenge?
The American Bratz dolls!
Bratz dolls are the inventions of the USA and were created by Carter Bryant and manufactured by MGA Entertainment.  While Barbie dolls were cute and looked adorable and perfect, the Bratz dolls are the bang opposite! The Bratz dolls are fuller, have pouty lips, with heavy and bright makeup and winged eyeliner. The teens of early 2000 were crazy about these dolls and wanted to possess them and it was about the time when these dolls were launched in the market.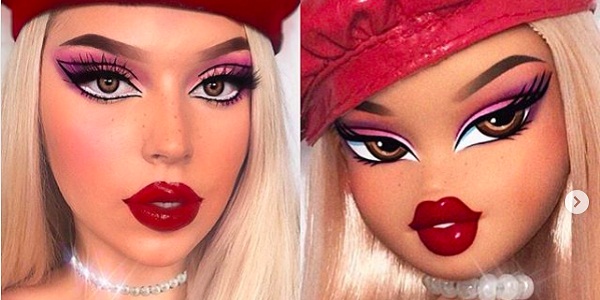 This craze seems to have revived and many women are now dressing up and putting makeup like their favorite Bratz doll characters.
The Bratz Challenge
Various Instagram models and fashion and beauty bloggers are now using this and challenging one another on dressing up like the Bratz dolls. They have to put glossy, bright, and heavy lipstick and do a gaudy and excessive makeup to look like the Bratz dolls. The recreation of Bratz dolls is then judged and commented upon. This is the Bratz Challenge which has gone viral on social media.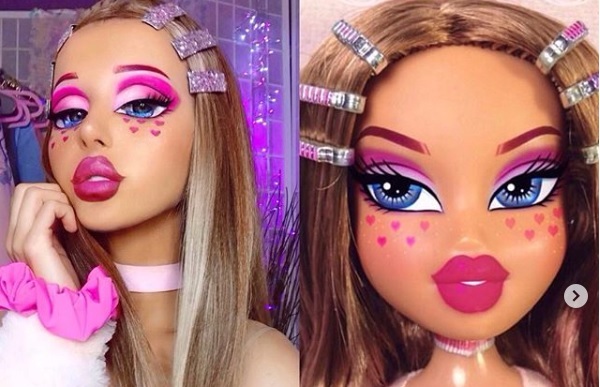 It started as a small Reddit trend and has become social media craze. More than 65000 social media users have taken up this challenge and have been tagged on Instagram for it. It is amusing to know that there are so many of them there on the internet who have plenty of time at hand to recreat the extremely gorgeous looks of the Bratz dolls.
People's reaction to this Bratz challenge
The reactions of the people have been varied to this viral Bratz challenge. While some have labeled it as bizarre and completely over the top, there are many who love it. They like the sass and think that it is a makeup revolution of some sort.
One user who took the challenge wrote:
"TAG SOMEONE IN THE COMMENTS WHO LOVES BRATZ ???????????????????????? I'm loving the #bratzchallenge ???? who's your favourite Bratz doll? Comment down below???????? Products used: @anastasiabeverlyhills @norvina #dipbrow pomade in Medium Brown #anastasiabeverlyhills #abh #anastasiabrows @nyxcosmetics @nyxcosmetics_uk @nyxcosmetics_uk Candy Slick Glowy Lip Colour in Jawbreaker ???? #nyx #nyxcosmetics @hudabeauty @shophudabeauty Lashes in Sasha #11 & @hudabeauty precious stones Obsessions palette in Amethyst #hudabeauty #shophudabeauty #hudakattan @fentybeauty #flyliner black liner #fenty #fentybeauty @makeuprevolution @makeuprevolutionpolska @makeuprevolutionusa Conceal & Define Full Coverage Foundation in F3 #makeuprevolution #makeup #makeuptutorial #makeupvideo #bratz #bratzdoll #bratzmakeup #makeupideas #wakeupandmakeup #makeupartist #makeuplooks Bratz photo by @monsterlool."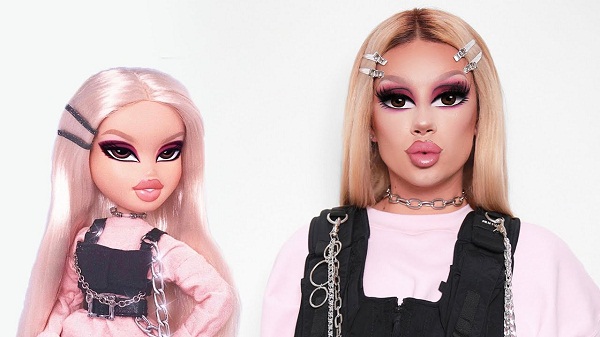 Another one wrote:
"LOVE THIS CHALLENGE ???? #bratzchallenge FOLLOW @blendingrules , DM/#blendtherules for feature???? • Credit: @maryliascott Admin: @mua.alle Check STORY for deals????."
Social media users took this opportunity and shared their looks and makeup ideas. One wrote:
"SWIPE????MUST SEE ALL+FOLLOW 4 MAKEUP IDEAS❤️ @azra_caylana ❤️ (profile picture credit) ……………. SWIPE RIGHT ????TO SEE WORK OF OUR FEATURED MUAS: @sonjdradeluxe @myglow__ @iamzugzwang @gloriab___ SUPPORT THESE TALENTED BEAUTIES ❤️ WANT TO GET FEATURED FOR FREE? Read our bio.. . ❤️ @featuring_best_of_makeup ❤️ . #mua #muafollowtrain #mua_underdogs #makeupinspo #makeup #makeupforever #makeuptutorial #beauty #makeuponpoint #eyebrows #eyeshadow #eyemakeup #halfcutcrease #eyelashes #blondegirl #bluehair #makeuplife #blondehair #bratzdoll #bratzchallenge #wingedliner #wakeupandmakeup #bratz #makeupartistworldwide #barbie #undiscoveredmuas #undiscovered_muas #makeuptransformation #makeuptrends #makeupideas"
More enthusiastic users…
One social media user was eager to know people's response and wrote:
"Sooo here is my #bratzchallenge ???????????????????????? did I nail it or fail it? Let me know in the comments???????? Products used: @colourpopcosmetics Brow Boss Precise Brow Pencil in Bronde Moment #colourpop @hudabeauty @shophudabeauty lashes in Sasha #11 & @hudabeauty lip strobe in Angelic #hudabeauty #shophudabeauty #hudakattan @desioeyes @desiolens lenses in Innocent White ???????? @nyxcosmetics @nyxcosmetics_uk @nyxcosmetics_pl Matte Liquid Liner in Black #nyx #nyxcosmetics @wakeupandmakeup #wakeupandmakeup #makeup #bratz #bratzmakeup #bratzdolls #makeupideas #makeupfeed #browtutorial Picture of the Bratz Doll is taken by @bratz.galaxy ❤️." 
Niki tutorials wrote on her Instagram:
"WE'RE THE GIRLS WITH A PASSION FOR FASHION!!!!! ???? I just turned myself into a Bratz Doll and had the best time of my life ???????? VIDEO NOW LIVE ON YOUTUBE!!! – Inspired by @martincantos"
Also, read Bristol Palin: her recent delivery, her teenage pregnancy, her relationships, and her challenges: Learn on all that here!
Source: Cosmopolitan, rediff.com