Britney Spears seemingly "Body Shaming" Christina Aguilera and her backup dancers on social media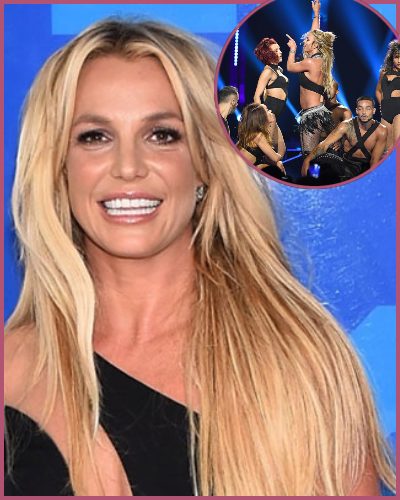 Britney Spears recently made a controversial comment on Christina Aguilera and her backup dancer 
She shared an offensive post this week for which she received a tremendous backlash 
---
Britney Spears, 40, is presently facing controversy over her latest IG post after body shaming Christina Aguilera and her backup dancer. 
On Monday, September 12, Spears shared an offensive post that read, "I found there was only one way to look thin: hang out with fat people." She then wrote a lengthy caption alongside a quote in which she wished to have chosen the nannies for her backup dancers.
She continued,
"I mean if I had Christina Aguilera's dancers I would have looked extremely small… I mean why not talk about it ??"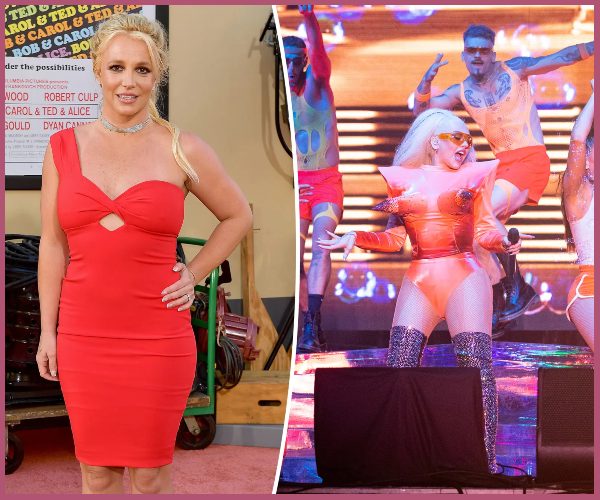 The pop star added,
"Don't you think my confidence would have been a bit better if I could choose where I lived, ate, whom I called on the phone, dated and who was on stage with me!!! It's hard sometimes now I see how much of my womanhood was stripped away at that time and every person sat back and didn't say a thing!!! Anyways … I will be here talking bout things people NEVER talked about."
Also read Kevin Federline Says His Sons were Happy after Their Mom Britney Spears Released from her Conservatorship!
However, fans were not happy with Spears' post as they bashed her for "body-shamed" Christina Aguilera and her backup dancers. One of the Fans penned down in a comment section,
"Britney… body shaming is out,"
Another added,
"Body shaming others is not the move,"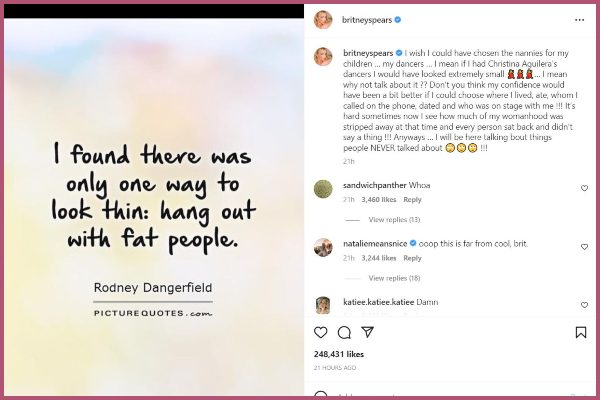 While one user writes,
"Offensive in so many ways. Wow. This is really offensive. People need to stop applauding everything she says. This is mean spirited."
How does Britney Spears respond to Fans' accusations?
Well, after back-to-back fans' backlash, Spears took to Instagram on Tuesday to clarify that she didn't mean to "be critical of anybody".
She wrote,
 "By no means was I being critical of Christina's beautiful body, it is what it is !!! I flew to see her show once and the main thing I noticed was the difference of our people on stage !!!"
The 40-years-old singer explained that she would "never intentionally body shame anybody" because she "[knows] what it feels like" to be judged for her physical appearance.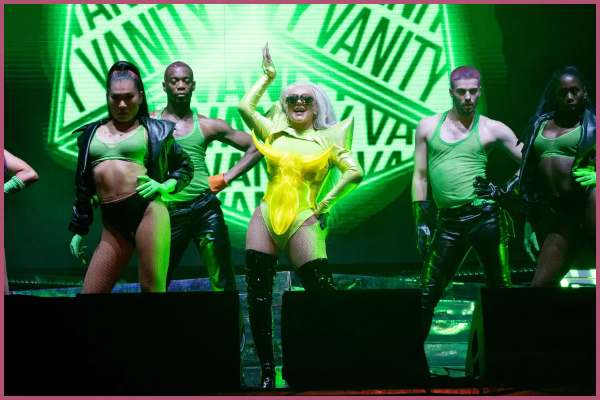 Spears illustrated,
"I struggle with this because of how I feel about myself, not because I hate how anybody looks … I feel like my family knew I was insecure and people were trying to purposefully feed into this insecurity by not letting me have a choice in the people who were on stage with me,"
Also read Kevin Federline Says His Sons were Happy after Their Mom Britney Spears Released from her Conservatorship!
Britney has been in conservatorship for 13 years. The controversial legal arrangement was finally terminated last year in November 2021.
Short bio on

Britney Spears
Britney Spears is a famous American singer and dancer.  In addition to singing, she is an occasional actress. She is best known for her first and second studio albums, …Baby One More Time (1999) and Oops!… I Did It Again (2000).
According to Forbes, she was the highest-paid female musician in 2012. Spears is one of the best-selling music artists of all time. She won her first Grammy award in 2005 for her single "Toxic" in the Best Dance Recording category.
She has been on the top of the list of most searched celebrities seven times in 12 years. Spears is nicknamed 'The Princess of Pop'. FHM ranked her #2 on the "100 Sexiest Women in the World" list. See more…