Britney Spears, Pregnant, Posts Nude Pictures of Herself with her Pet Dog!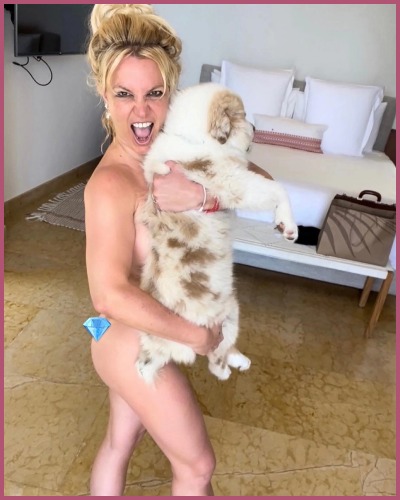 Britney Spears posted her nude selfies with her dog Sawyer on May 6.
The pictures surfaced after she recently announced her pregnancy.
The singer is living happily since the end of her conservatorship in November 2021.
She is expecting the child with her boyfriend Sam Asghari.
---
Britney Spears' pregnancy after the end of her conservatorship
Britney Spears is living her best life after the end of her long battle with the conservatorship in 2021. The Womanizer singer revealed in April that she was expecting a child with her fiance Sam Asghari. It is the first child for the couple.
Britney has two teenage sons Sean and Jayden from her previous marriage to Kevin Federline.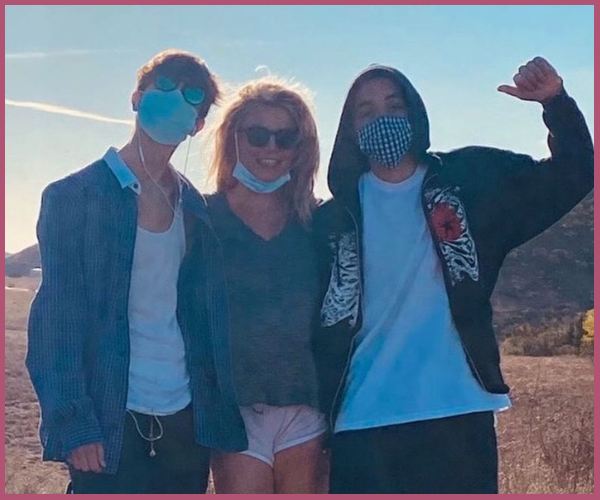 Also, Read Pregnant Sophie Turner Opens up about second Pregnancy with Baby Bump Photo Shoot
In a heartbreaking testimony in 2021, Spears gave an emotional statement saying that she was forced to take birth control pills unwillingly.
She said:
"I wanted to take the [IUD] out so I could start trying to have another baby but this so-called team won't let me go to the doctor to take it out because they don't want me to have children," she alleged, adding "I'm tired of feeling alone. I deserve to have the same rights as anybody does by having a child, a family, any of those things, and more so."
The star was happy to announce her pregnancy with her long-time love. She shared the news herself on her Instagram page.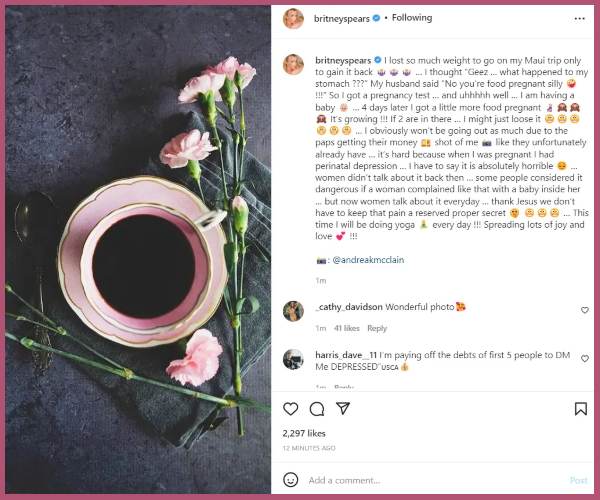 She wrote excitedly:
I lost so much weight to go on my Maui trip only to gain it back 🤷🏼‍♀️🤷🏼‍♀️🤷🏼‍♀️ … I thought 'Geez … what happened to my stomach ???' My husband said 'No you're food pregnant silly 🤪 !!!' So I got a pregnancy test … and uhhhhh well … I am having a baby 👶🏼 …"
Britney Spears shocks the internet with her body revealing pictures
Britney posts a lot about herself on her Instagram page. Recently, she shocked everyone by posting nude pictures of herself with her beloved pet, Sawyer.
The singer had no clothes on. She covered her chest with her dog, revealing the back with just a diamond sticker on her butt.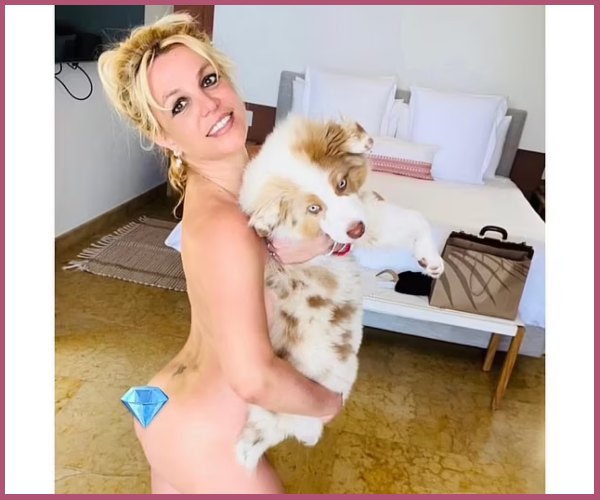 In the end, she also happened to post a quote that read:
"If you love someone, set them free. If you hate someone, set them free. Basically set everyone free and get a dog. People are stupid."
Fans started praising her new avatar and flooded the comment section with love and appreciation.
Also, Read Kam Williams has One More Thing to Celebrate After Her Pregnancy! Find out!