Bromance of Jay Duplass and Mark Duplass in their new book titled 'Like Brothers.' The pure relationship started since their childhood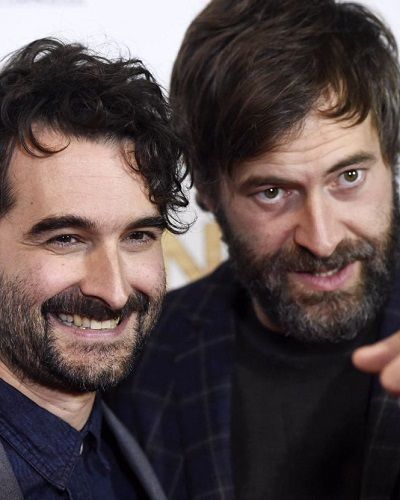 Cinema lovers are familiar with the names, Jay Duplass and Mark Duplass. They are American film directors who have made the movies like The Puffy Chair, Safety Not Guaranteed, The One I Love, and The Skeleton Twins together.

Source: Twitter(Like Brothers)
Brothers for life
Recently the brothers who have four years age gap are in the news for their book titled, Like Brothers. The book is like a memoir where they have shared the secrets of their partnership and about their childhood and relationship.
Mark when he was 8, Jay was 12, and they had a twin bed but they used to attach the beds and sleep together. They said that it was fun to be by each other's and loved the company. They were raised in Metairie, La. That made them become partners professionally as well.
The partners shared everything with each other since they were young. On weekends, mostly they used to go for a long run with a trek to a waterfall.
When asked about Mark about their relationship, he responded,
"We can kind of do therapy without a therapist. This sounds corny, but it's true: I care just as deeply about Jay's well-being and feelings as I do about my own."
Their relationship is so real and full of love that people ask them advice. Mark revealed,
"We so often get emails from people trying to get advice from us, and we wonder why—we are, essentially speaking, genetic B-minuses who came from nowhere with no particularly erudite way of speaking or genius profile. We built a business for ourselves just out of hard work, and I think people "
About the book, Jay shared with us,
"I don't know about you, Mark but I've only recently come to realize, all these people keep asking me to go to drinks and I'm like, 'I'm not going to do drinks. Ever. I mean, like, ever. NEV-ER.' "
It's #NationalSiblingDay – backyard party-time!https://t.co/M7NhqfHAiL pic.twitter.com/ck1zDsOlnc

— Jay Duplass (@jayduplass) April 10, 2018
You may like to read Zac Efron's hot and toned physique, his co-star's remarks on it, and his wish to settle down
Ups and downs in the relationship
Like every relationship, these two brothers also have fights and arguments sometimes. Also, they get jealous of each other. So, one of them apologizes even if they know that they are not wrong and sort out the matter. On getting mad, Jay wrote in a book,
"If this doesn't make sense and is offensive, I am deeply sorry. Know that my love for you is unshakable and forever."
When Mark responded,
"In the spirit of trying to honor what you are looking for (rawness and a less considered, kid-glovey response), I definitely am feeling bummed and hurt and that u maybe could have said it in a nicer way."
Bromance
Their relationship is so deep that they are close to each other more than their romantic partners or girlfriend. Now both Jay and Mark are married but before the rule was that they have consented to be the girlfriend when she is liked by the brother.
Also read Are YouTubers Kian Lawley and Jc Caylen dating? Get the answer here!
Short bio on Jay Duplass
Lawrence Jay Duplass aka Jay Duplass is a film director, writer, and actor from New Orleans, Louisiana. He co-wrote and co-directed movies like The Puffy Chair (2005), Cyrus(2010), and Jeff, Who Lives at Home (2011) with his younger brother Mark Duplass. More bio…