'Family First!' Brooklyn Beckham and Nicola Peltz Beckham Attend Victoria Beckham's Fashion Show Amid Controversial Lawsuit!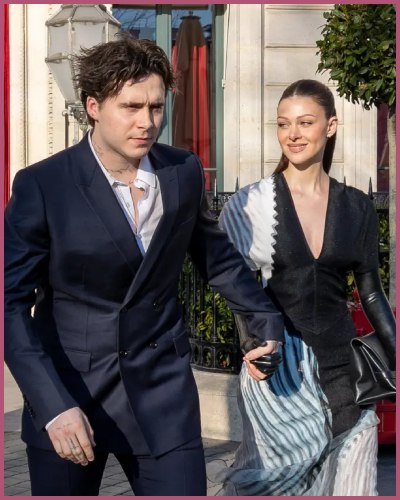 Nicola Peltz and Brooklyn Beckham attended Victoria Beckham's fashion show during Paris Fashion Week on Friday.
The couple attended the show to show their support to the designer amid their wedding lawsuit.
David Beckham, Harper, and Cruz were also present at the fashion event.
---
Nicola Peltz and Brooklyn Beckham support Victoria Beckham at her fashion show
Nicola Peltz and Victoria Beckham are trying to mend their broken relationship, it seems.
The model and her husband Brooklyn Beckham, David and Victoria's eldest child, looked super stylish at the Paris Fashion Week.
Alongside the couple, David, Cruz, and Harper were also seen supporting the designer for her big day.
Posh shared a group photo of the family and wrote a sweet caption, that read,
"I couldn't do it without you, I love you all so much x,"
Nicola, who married Brooklyn in April 2022 left a comment, writing,
"A beautiful show! We love you! ?"
The whole Beckham fam coordinated in black. Brooklyn and David both looked dapper in double-breasted suits and Peltz chose a dress designed by Posh for the day.
The model wore a pleated Beckham-designed dress with black leather gloves and tights.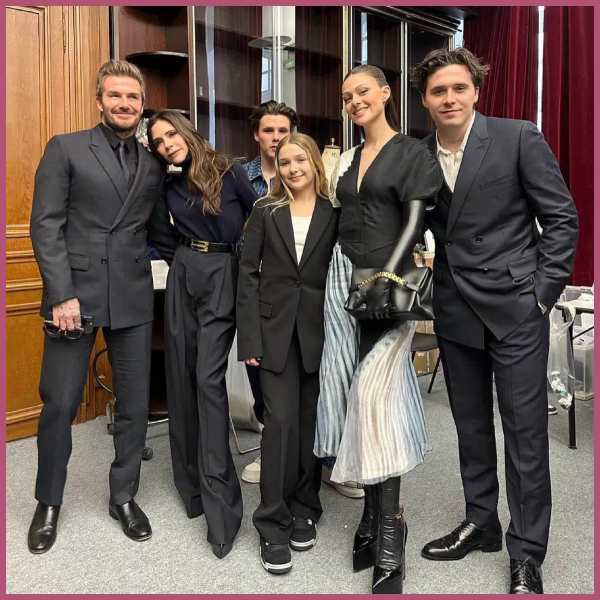 Harper, 11, looked super adorable in a single-breasted black suit with a white tank top and sneakers. She left her long, blonde hair open.
As for Victoria, she sported a navy turtleneck and charcoal trousers. The mother-of-four also rocked huge sunglasses.
Fans flooded the comment section with appraisals for the family.
One social media user realized that Romeo was missing from the event and wrote,
"Where is Romeo?"
Another follower added,
"Teeth smiling is forbidden at Beckhams family, right?"
A third follower acknowledged Victoria's rare smile, saying,
"This is the first time I saw Mrs. Beckham smile a  little."
Also, Read 'Another Tattoo for the Mrs.!' Brooklyn Beckham Debuts a Brand New Tattoo for His Wife Nicola Peltz amid Wedding Lawsuit!
Brooklyn and Nicola's wedding lawsuit drama
Ever since her marriage, Peltz's relationship with her mother-in-law has not been so warm. Their relationship fizzled out ever since the wedding planning started.
Nicola originally wanted to wear a VB design for her special day but ended up wearing a Valentino gown. Reportedly, it happened because Victoria's atelier couldn't do it as she later explained.
The family gathering comes just weeks after the married couple faced drama regarding their wedding lawsuit drama.
Their former wedding planners claimed that Peltz was a bridezilla.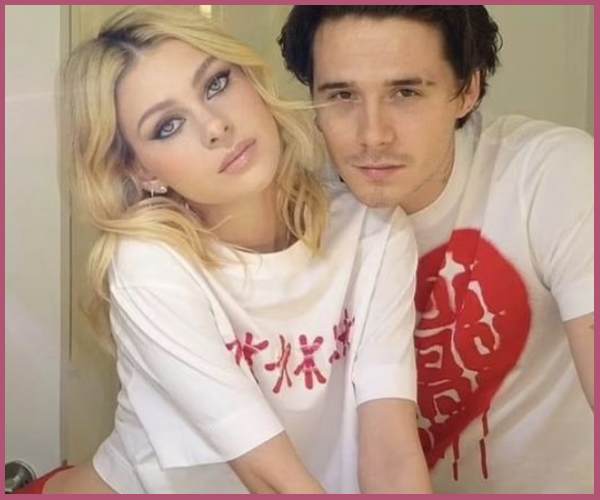 They also claimed in their documents that the wedding which was worth $3 million was full of lies, mistrust, chaos, and arguments between various members of both families.
David allegedly almost called off the whole nuptials. The bride's father, billionaire Nelson Peltz also called the ceremony a "s–t show."
According to court documents filed by the former planners, Nicola's mother, Claudia tried hiding the true cost of the star-studded event from her husband with the help of those planners.
The suit says,
"It is believed that Nelson Peltz paid more than $100,000 plus travel expenses for Nicola's hair and makeup services for the wedding," 

"Claudia mentioned to [one of the planners] that Nelson could not know the cost of the hair and makeup, or he would 'kill her, and be so mad.'"
Also, Read The Truth About The Ongoing Cold War Between Nicola Peltz And Victoria Beckham!