'Keeping Memories Safe!' Bruce Willis and Emma Heming Renewed Their Wedding Vows amid His Dementia Diagnosis!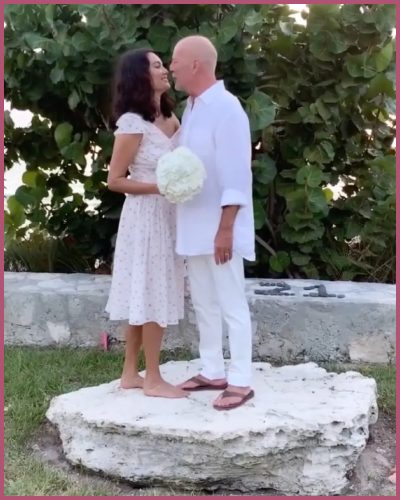 Emma Heming Willis and Bruce Willis renewed their wedding vows a  day after his birthday.
The good news comes amid the actor's dementia diagnosis.
The wedding vows renewal took place on the couple's tenth wedding anniversary.
---
Bruce Willis and Emma Heming renewed their wedding vows
Emma Heming Willis is making sure to keep her fondest memories alive with her husband Bruce Willis amid his dementia diagnosis.
On the occasion of the couple's fourteenth wedding anniversary, the model took to Instagram on Wednesday to share a clip of their vow renewal from 2019.
Emma, 44, gushed in her caption,
"On our 10th wedding anniversary we decided to renew our vows in the same place we said 'I do' back in 2009. I'm so happy we did,"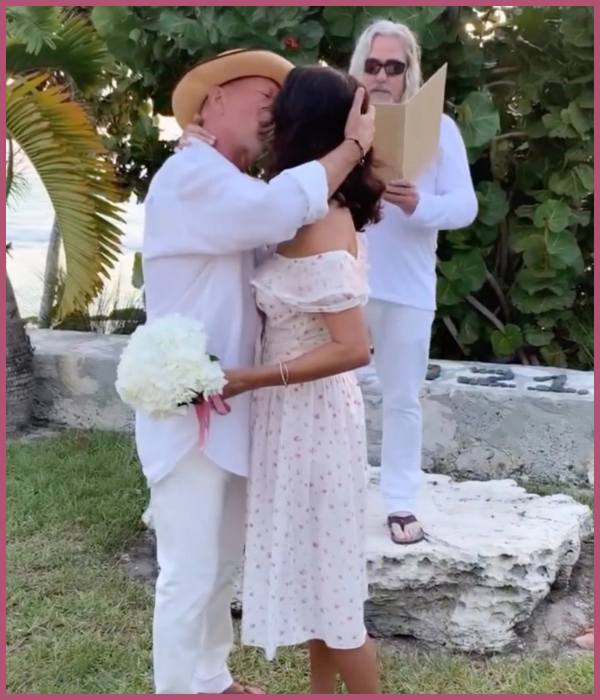 She added,
"Seize every opportunity to unite and celebrate with family and friends. Those are the moments and beautiful pockets of memories that you get to hold on to for a lifetime. And we get to keep those memories safe and alive for the ones that might not be able to  ."
Bruce's ex-wife Demi Moore was the one who captured the video and was set to Coldplay's Fix You.
The video starts with Emma walking down the aisle with the actor's two daughters, Mabel and Evelyn while Rumer and Scout Willis were the wedding singers.
Toward the end of the video, the couple said their vows again and shared a sweet kiss as their family and friends cheered on them.
It showed a group photo of them all titled "family."
Also, Read 'Happy Birthday Bruce Willis!' Demi Moore Shares an Adorable Family Video in Honor of Her Ex-Husband Bruce Willis' 68th Birthday!
Bruce's past marriage to Demi Moore
However, for Emma, the anniversary comes as a bittersweet time as she reflected on how their relationship changed over the years in a sweet tribute to her spouse.
Heming wrote on her Instagram,
"Today marks 14 years of marriage to the greatest love of my life,"

"It got me thinking about how hard these types of 'special occasions' can be on caregivers,"
She continued,
"When usually our person would acknowledge the event, now their changing brains just can't. And that is what it is."
The adorable post comes nearly a year after the Die Hard actor, 68, had to retire from acting due to his ongoing health issues.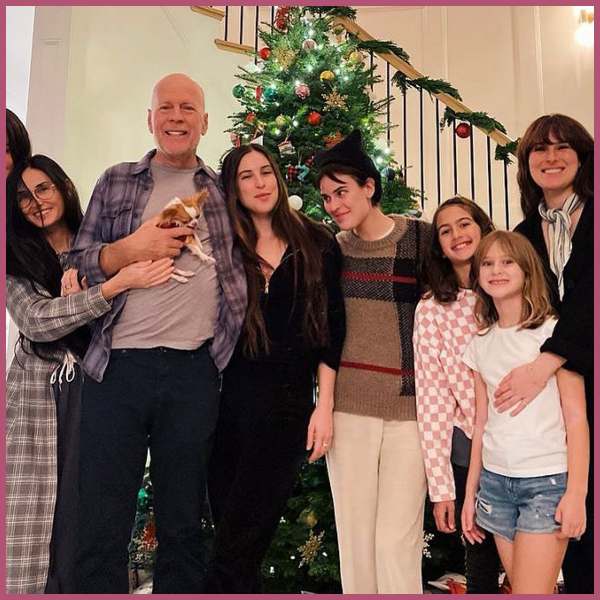 Right after that, Willis' family announced that he was suffering from aphasia, a language disorder.
Last Sunday, the whole family came together to celebrate Bruce's 68th birthday.
Demi shared a sweet video of  Willis, who was noticeably missing a tooth, as he dramatically blew out candles.
Emma kissed him on his cheek.
Moore, 60, captioned the video,
"Happy birthday, BW!"

"So glad we could celebrate you today. Love you and love our family."
The actress continued,
"Thank you to everyone for the love and warm wishes. We all feel them."
The former spouses were married from 1987 to 2000 and share three adult daughters, Rumer, Scout, and Tallulah.
Also, Read Bruce Willis's daughter Scout Willis has a European Vacation With Boyfriend Jake Miller!