Health Update on Buffalo Bills Broadcaster John Murphy and Damar Hamlin!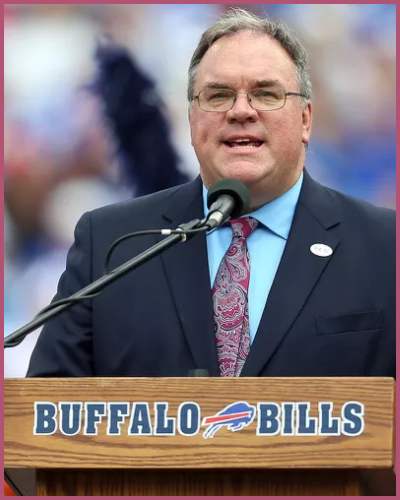 Buffalo Bills safety Damar Hamlin is still in hospital after getting into a cardiac arrest on the 2nd January game against the Cincinnati Bengals.
Meanwhile, Bill's Broadcaster John Murphy is said to be recovering from a stroke.
It's been a tough week for the American NFL team as two of its members are hospitalized.
---
Tough Week for Buffalo Bills as Members are Getting Hospitalised
Buffalo Bills radio broadcaster John Murphy is said to be recovering from a stroke as the official Tweet of the NFL teams read,
"John Murphy suffered a stroke last weekend. He is recovering at home with his family and making progress every day. John and the Murphy family are grateful for the excellent care by the staff and doctors at Buffalo General Medical Center. We appreciate everyone's support."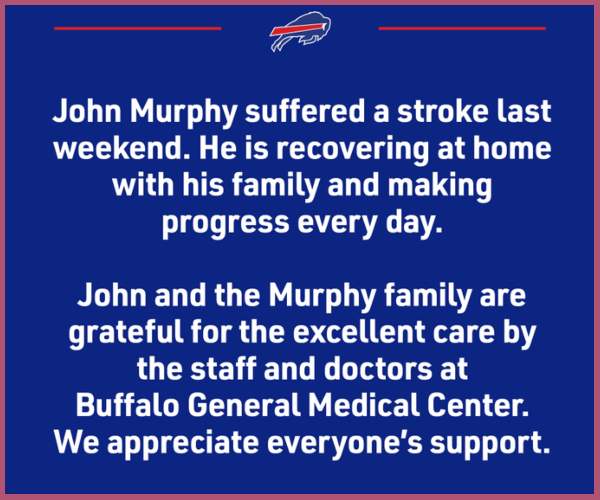 The tweet comes after safety Damar Hamlin remains hospitalized during Monday night's game after a cardiac arrest. It has really been a tough week, as the organization gave a health update to another member, John Murphy.
John Murphy, 67, the official broadcaster of the Buffalo Bills prior to his ill health was inducted into the Buffalo Broadcasters Hall of Fame Class of 2019.
Murphy had been contributing as one of the play-by-play announcers following Van Miller's retirement in 2003. One Bills' Live co-host Chris Brown on praying for the recovery of the former sports anchor said,
"We look forward to having John back in the booth as soon as possible. Get well soon, John!"
Earlier to the health update about Murphy on January 6, 2023, the team had tweeted about their safety Hamlin being able to speak and breathe on his own.
It reads,
"Per the physicians at UCMC, Damar's breathing tube was removed overnight. He continues to progress remarkably in his recovery."
Also, Read the 'Buffalo Bills' Damar Hamlin Health Update!
What happened to Damar Hamlin?
The Buffalo Bills player Damar Hamlin suffered a cardiac arrest on the field while playing a Monday night's primetime game in Ohio against the Cincinnati Bengals.
The team that was devastated after the player's brutal injury in an ongoing match, however, end up winning the match.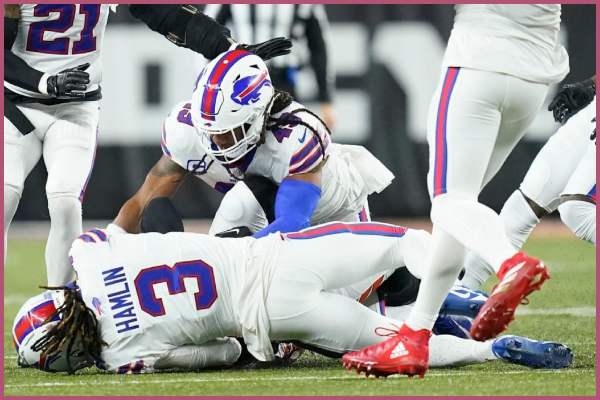 As per the doctors, Damar Hamlin's neurological function is intact and is in care with family and medical assistance. As announced on Thursday, Damar woke up with the Buffalo Bills doctor tweeting,
"Damar, you won – you won the game of life."
The 24-year-old NFL player has been in the intensive care unit at the University of Cincinnati Medical Center. He is now out of the ventilator. He also had a facetime with his teammate after doctors removed his breathing tube, passing them a sweet message.
"Love you boys."
Also, Read Learning to Live with Cancer: Hairy Bikers' Dave Myers gives Health Update!