Buzz Aldrin, 93 Married For The 4th Time With Anca Faur – Who Is His New Wife?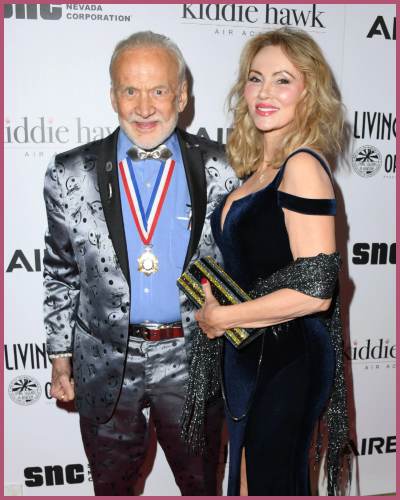 Buzz Aldrin, 93, has married 'long-time love' Anca Faur, 63, in Los Angeles.
Aldrin is the second man to walk on the moon after Neil Armstrong. 
This is his fourth marriage.
---
Buzz Aldrin,93 has married 'long-time love' Anca Faur, 63
The second person to walk on the moon, Buzz Aldrin, has revealed that he married his longtime lover on his 93rd birthday.
On Friday, the retired astronaut celebrated his birthday and announced through Twitter that he and Dr. Anca Faur, 63, had "tied the knot" in a private ceremony in Los Angeles.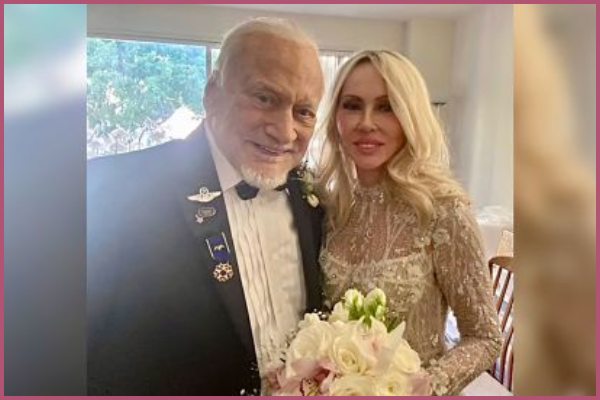 He uploaded two pictures from the ceremony and said the couple was "excited as eloping teenagers."
Aldrin wrote on his Twitter:
"On my 93rd birthday and the day I will also be honoured by Living Legends of Aviation, I am pleased to announce that my long-time love Dr. Anca Faur and I have tied the knot.
He added:
"We were joined in holy matrimony in a small private ceremony in Los Angeles and are as excited as eloping teenagers."
Aldrin was dressed in a suit, decorated with an Air Force badge and a medal, alongside his bride, Anca in a lace dress.
Also, read: Canadian actor Ryan Gosling's daughters think that he is an astronaut and works on the Moon!
Buzz Aldrin's three previous marriages
In 1954, Buzz Aldrin wed Joan Archer for the first time; the couple broke up and got divorced in 1974. From their marriage, they had three children: James, Andrew, and Janice.
Then, in 1975, Aldrin married Beverly Van Zile, his second wife; nevertheless, their marriage lasted only three years.
Aldrin rekindled his romance ten years later with his third wife Lois Driggs Cannon, to whom he had been wed for 24 years before their divorce in 2012.
Their divorce settlement included half their $475k bank account and $9,500 a month. Moreover, the settlement included 30% of his yearly income, which is estimated at more than $600k.
Who is Aldrin's wife, Anca Faur?
According to her Instagram page, Anca Faur serves as the executive vice president of Buzz Aldrin Ventures. According to her LinkedIn page, Faur has held positions at the California Hydrogen Business Council and the British chemical firm Johnson Matthey. S
Ms. Faur earned her undergraduate degree from the School of Chemical Technology at the Polytechnic University of Timisoaraher. She then earned her Ph.D. in Chemical Engineering with a focus on Catalysis from the University of Pittsburgh.
She subsequently joined prestigious chemical corporations right away, working as a project leader for Union Carbide. Later, she worked as the North American Program Manager for Johnson Matthey's fuel cell initiatives.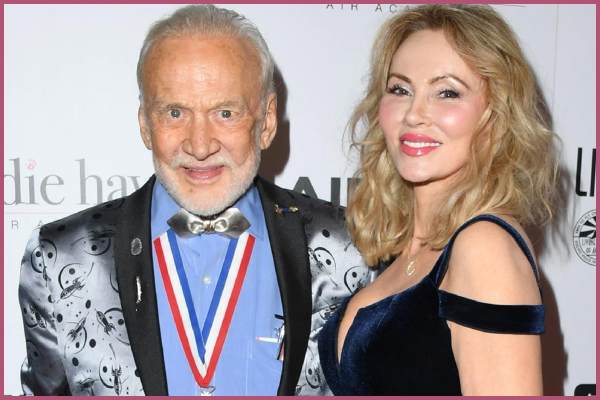 In 2019, Dr. Faur attended the Association of Space Explore XXXII Planetary Congress, the Astronaut Reunion, and the 70th International Astronautical Congress of the American Institute of Aeronautics and Astronautics in Houston, Texas.
Faur attended the 50th Anniversary of the Apollo 11 Moon landing at the White House at the invitation of President Donald Trump. Moreover, she also attended various events held by the Space and Astronauts Departments.
Her social media profiles feature pictures of her and Aldrin taking trips around the globe, flying in helicopters, and enjoying holidays together.
You may also like to read: Tom Cruise may travel to space to shoot his upcoming film with director Doug Liman