Camila Cabello and Shawn Mendes shut down rumors of breakup in the cutest way ever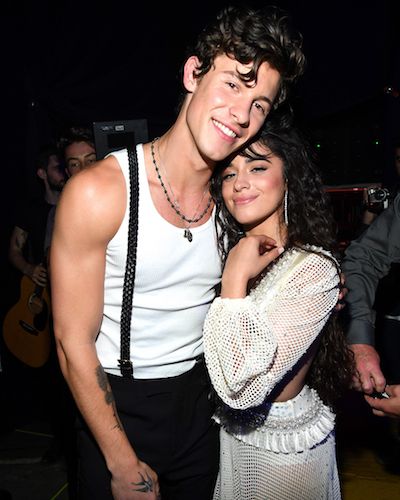 Camila Cabello and Shawn Mendes have been a 'thing' long before they even started dating. I mean I'm definitely one of those 'Shawmila' shippers even before when the two claimed to be just best pals.
When the news became official that Camila Cabello and Shawn Mendes are in a romantic relationship, the internet flipped. Fans (which includes me) were thrilled and to date, the pair has to most of us' favorite couple of 2019.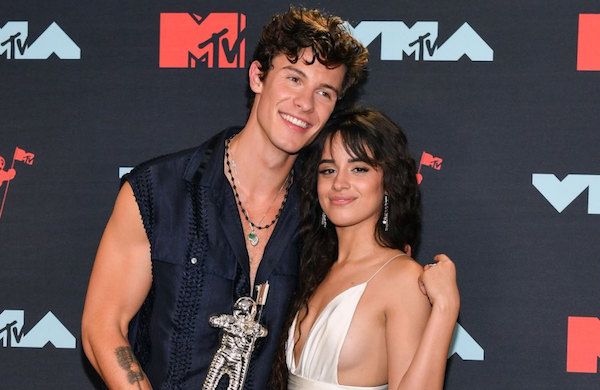 Recently, Fans spread speculations on the internet that the couple has supposedly broken up after the 21-year-old stitches singer deleted a viral video of the pair showing the audiences how they kiss. But, don't worry Shawmila lives on and the couple proves it in their cutest ways.
Camilla Cabello reacts to break up rumors in the most cutest and hilarious way
Camilla Cabello knows ways to shut down rumors in the most hilarious way. The 22-year-old 'Havana' singer addressed her relationship with her boyfriend Shawn Mendes on her Instagram and fans can't stop laughing at how cutely she does it though. She apparently took to her Instagram a screenshot of a headline from Cosmopolitan that declared, "Proof Shawn and Camila are Broken up" with the caption,
"Well when THE F*** were you gonna tell me @shawnmendes."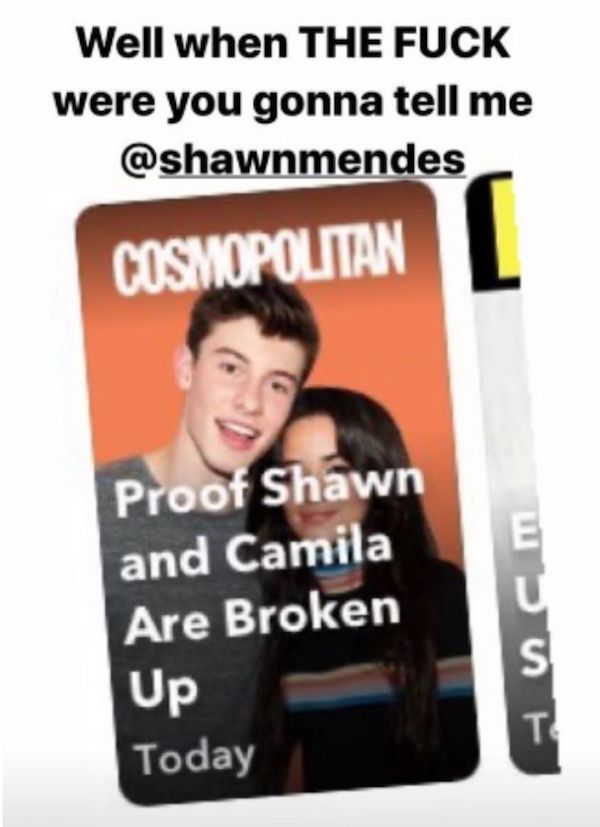 Isn't she the cutest? Cabello has proclaimed her love for the 21-year-old singer many times. On the U.K's Capital Breakfast radio show on October 2, she claimed,
"I really, really love him a lot,"
The singer also stated that their recent steamy single definitely brought them closer together.
"It was so fun, we've been friends for a really long time … there was a period where we didn't hang out as much just 'cause we were both busy. And this song was really fun because we got to just hang out again like we did on the song we did before, 'I Know What You Did Last Summer,' which is when we got really close," she said.
Also, read about Celebrities who stirred the internet with their online photos or videos!!
Shawn Mendes puts break up rumors to rest with an adorable picture
While Camila put the breakup rumors in a humourous way, Shawn on the other had shut down rumors with an adorable picture of the two. The 21-year-old Mercy singer cleared the air about the couple's relationship status with a picture of Camilla Cabello kissing him on the cheeks while the singer takes her in his arms. Camilla herself commented on the picture shooting tons of hearts with an arrow.
In a recent Q&A live stream session, Mendes opened up about his experience of 'fighting' for the love of Camila. He also shared with us how he loved her, Camila, before they even started dating,
"Well, if I told you the whole story of Camila, it would take a long time. I would say that you have to fight for someone you really love and, if you really truly love them, then you'll get them." He added, "It just takes time but make sure you really love him or her."
Since the air has been cleared about their relationship, fans can finally be at ease. The couple has been best pals for a long time and now putting strong with their relationship. Best wishes to the two. Shawmila lives on!!!
Also, read about Did you know you didn't even know how to kiss? Learn how to kiss from Shawn Mendes and Camila Cabello!
A short bio on Camila Cabello
Karla Camila Cabello, better known by her on-stage name Camila Cabello. She is a Cuban-American songwriter and singer. Cabello, as a lead singer released the two singles which were debuted in the Hot 100 US and Billboard in the Top 20. Cabello is famous for Fifth Harmony. More bio…
A short bio on Shawn Mendes
Shawn Mendes is a Canadian singer and a songwriter who has sung the hits like Stitches(2015) and Treat You Better(2016). When he began posting song covers on the video-sharing application Vine, he was attracted to huge followers in 2013. More bio…
source: Us Magazine