Cara Delevingne Can't Keep her Eyes Off Meg Thee Stallion at the Billboard Music Awards!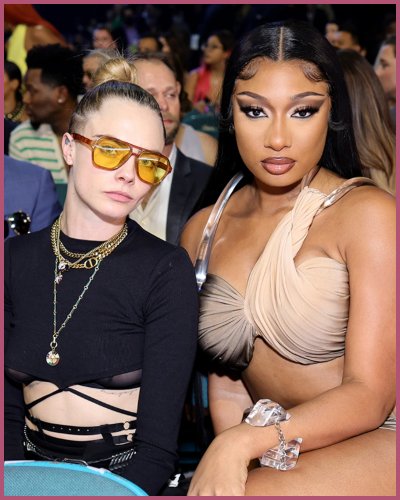 Cara Delevingne seemed obsessed with Megan at the 2022 BBMA.
The supermodel was staring at Meg wherever she went.
Numerous pictures have circled the internet creating memes of Cara's reaction.
---
Twitter is confused seeing Cara's obsession with Megan Thee Stallion
English model, Cara Delevingne caused quite a stir at the Billboard Awards on May 16.
The model seemed to follow rapper Megan Thee Stallion everywhere she went.
Her obsession looked very bizarre to the audience and Twitter flooded with comments on her over-the-top act.
It seemed Cara attended the event just to stare at Meg or frantically make her dress flow for the paps.
Other funny pictures show Cara half-hiding behind a photo wall as Meg poses for the cameras.
Delevinge continued her act once inside the award show when Meg won an award. She lunged at her dress and pulled out the train as the singer went to the stage to pick up her award.
Also, Read Lesbian couple, Cara Delevingne and Ashley Benson have split!
Things were too much when Cara intervened in a conversation between Meg and fellow rapper Doja Cat who sat front row.
It seemed Meg had enough of Cara as she subtly dissed her by cropping her out of the middle of a picture that she later posted on her IG story.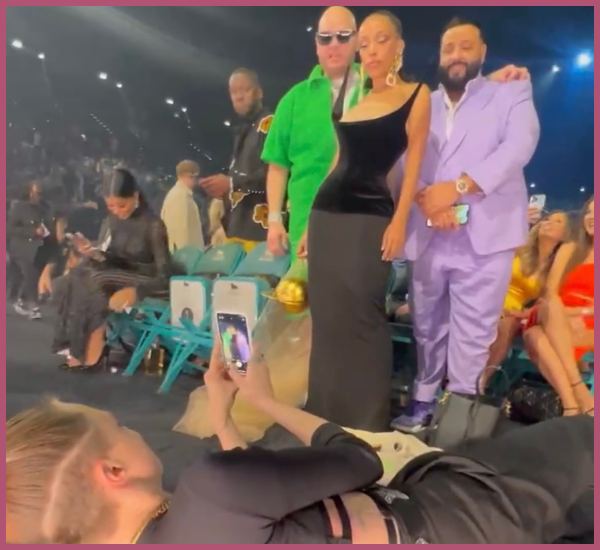 Cara's strange behavior continued as he was lying on the floor at the venue to take a picture of DJ Khaled, Doja Cat, and Fat Joe.
It is not the first time the world has seen Cara's crazy side. In 2021, during a concert where rapper Azelia Banks was performing her hit song 212, Cara got on the stage and pretended to lick Bank's leg and put her face close to the rapper as she was trying to sing for her audience.
Just a few days back, Cara raised some eyebrows as she attended the Met Gala topless only wearing gold paints and nipple pasties.
How did Twitter react to Cara's wild behavior?
Twitter did not seem happy with whatever happened at the Billboard Music Awards yesterday. It was cringe to watch the English model's behavior as she continuously tried to steal the limelight with her awkward tactics.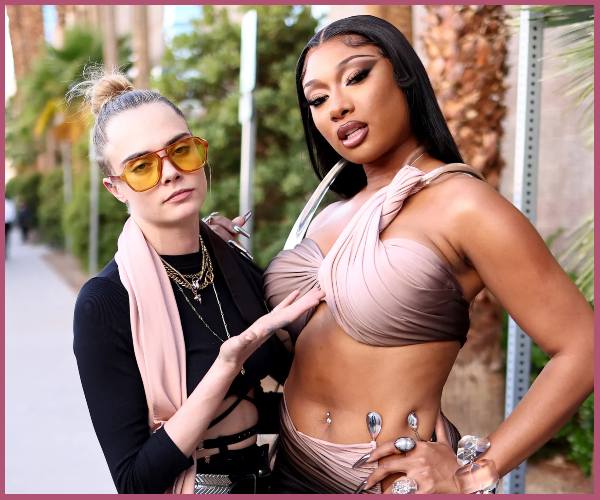 One user posted:
"Your chances of being watched by Cara Delevingne are slim but never zero,"
Another Twitter user, indicating Cara's stare, wrote:
Megan: PHEW finally lost her

Cara standing right behind her: lost who???
Yet, another fan tweeted:
"Every time I scroll down my TL another video of Cara in somebody face pops up."
Also, Read Pretty Little Liars actress Ashley Benson and supermodel, Cara Delevingne having an alleged affair?