Cardi B reveals the sex of her baby on 'The Howard Stern Show'! Know the plans of her marriage with her fiance, Offset
People make so much effort to reveal that they are expecting a baby or the gender of the baby. Some reveal it by sharing cute pictures, some reveal calling their close friends and family, etc. But the American rapper, Cardi B need not make any efforts. She was called for an interview on The Howard Stern Show and when Howard asked her if she had any idea of what she was having. She directly said,
"I'm having a girl."
Woah! that was easy. She added,
"The beading is just crazy, and then, shorty weighs three and a half pounds. She do. She do weigh three and a half pounds. That's pretty good for seven months, right? Because I was born five pounds."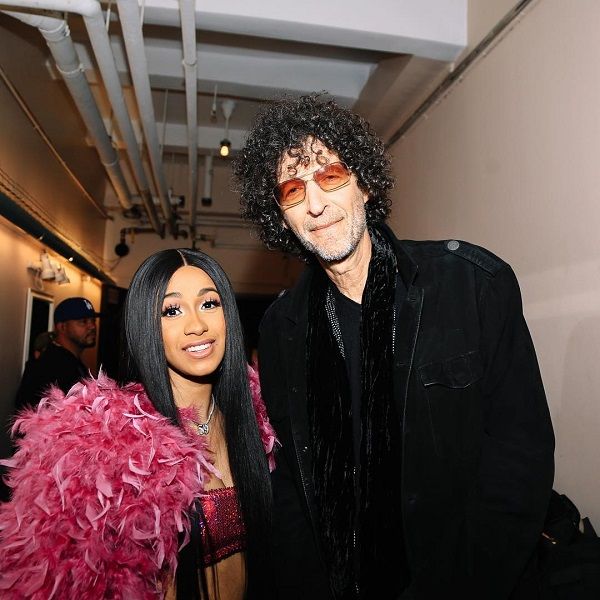 Source: Reddit(Howard Stern and Cardi B)
Bon Jovi band member Howard then asked,
"You got a name picked out?"
To which she replied,
"Ya know what I didn't pick the name but if you interview my dude, he'll tell you."
Cardy is in a relationship with Offset. The couple is engaged as well. In April, Cardi's sister, Hennessy gave the hint on the sex of the baby by sharing a picture on her Instagram with the caption,
"I'm going to be able to hold baby you and giveher all the kisses and hugs."
She then again changed her caption,
"I'm going to be able to hold ur baby and give the baby all the kisses and hugs!"
That's a secret now!
Also, read Some Facts About The Rapper Cardi B You Probably Don't Know About!! Reached To The Top 10 With Her First Try Debut Single
Are Cardy and her fiance Offset setting to tie the knot?
'no filter attitude' star Cardi B shared on an interview that she is not at all in a hurry to get married anytime soon. And the reason for is the couple do not have time right now to plan their wedding as it needs a lot of effort and time, she said,
"People that don't have this job wouldn't understand…truth of the mater is that's it's hard to plan a wedding right now."
Also while she is pregnant she does not want to get married and her wedding and honeymoon plans are different. The 25-year-old actress said,
"First I am not having a wedding pregnant. I want to wear my dream dress and I want to get drunk on my wedding and I want to go on a honeymoon and I want to be drunk for a whole week."
But she revealed when she would probably take vows with her fiance,
"I know for a fact though next spring we are planning our wedding. but it has to be planned at to a point where there's no worries."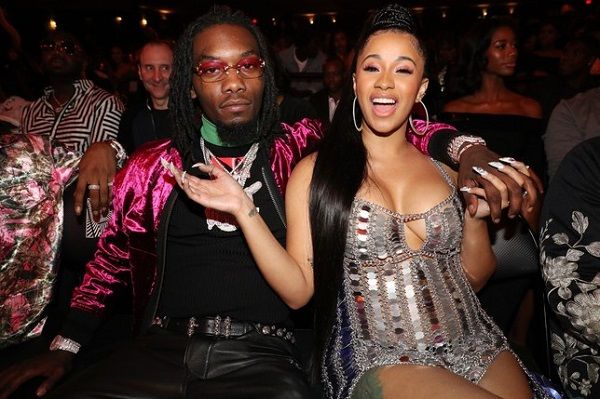 Source: Glamour(Cardi B and Offset)
However, she has a big plan for their future so she and her partner hip hop recording artist are saving for it and the plan is,
"Me and my dude, we be clocking each other. We really clock each other. It's more than a relationship. We are planning on building a really big future."
Cardy started her profession as a stripper
Now Cardy is a chart topper but she was a stripper. And she proudly says about her stripping profession because she feels that it 'saved her.' However, she does not recommend it to anyone,
"You wanna know something? I feel like a lot of people want me to lie and be like 'I hated it, I went through so much things, I don't recommend it.'"
Adding,
"I don't tell girls to go do it but I am not going to front—it really saved me. It really saved me. Before I was at the strip club I was a cashier at [a] market."
Short Bio on Cardi B
Cardi B is an American rapper, musician, comedian and social media personality. She is popular for appearing on the VH1 reality television series Love & Hip Hop New York. Cardi came into the spotlight when she launched her first solo single "Bodak Yellow" which entered in the top 10 of the US Billboard Hot 100 chart. More Bio…