Caring Brad Pitt takes the late Soundgarden singer Chris Cornell's children at Universal Studios
The bond of friendship between Brad Pitt and Chris Cornell has not been over yet. Even after his death, he has not forgotten about his friend's daughter.
The Universal Studios
Brad Pitt took his late friend Chris Cornell's children to visit Universal Studios on Wednesday,  May 31. The kind-hearted 53-year-old actor was spotted at the Los Angeles theme park accompanying the late Soundgarden's daughter Toni, 12, and son Christopher, 11, in touching scenes for those mourning the late singer.
The trio was spotted sipping the theme park's famous butterbeer drinks from Harry Potter World and riding the Jurassic Park water ride. They were also seen walking in the Simpsons-themed area. Brad and the kids looked happy and definitely were enjoying themselves.
The three were sighted by fellow theme park visitors, who couldn't help but notice the Oscar winner walking around with his friend's children, just weeks after the star passed away after he hanged himself last month.
The six children he had with Angelina Jolie were not seen, but there were two bodyguards in tow. The Allied actor, 53, set up a private tour for Cornell's 12-year-old daughter, Toni, and 11-year-old son, Christopher, whom the rocker shared with his wife, Vicky Cornell.
Brad Pitt and Chris Cornell
The Soundgarden frontman died on May 17 at age 52 after performing a sold-out concert with his band in Detroit. A Detroit police spokesperson told Us that a family friend found Cornell in the bathroom of his room at the MGM Grand Hotel. His cause of death was later ruled as a suicide by hanging. Vicky issued a statement on May 19 claiming that a prescription drug Ativan could have played a part in her husband's death.
Pitt was a longtime pal of the musician, who was found unresponsive with a band around his neck in the bathroom of his hotel room while on tour in Detroit last month.
He was pronounced dead on the scene, aged 52.  A medical examiner ruled last Thursday that Chris had hanged himself after he was found on his bathroom floor with 'a band around his neck'. A full autopsy and toxicology test results are pending.
The family is shocked at the ruling and have allegedly attempted to access toxicology reports in order to answer their questions.
A Sad ending
Cornell's representative, Brian Bumbery, called the musician's passing 'sudden and unexpected' and said his wife and family were shocked by it.
Brad was present at Cornell's funeral last Friday.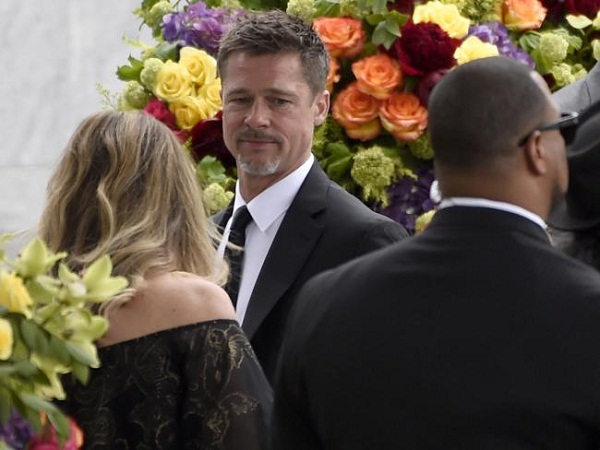 The Moneyball actor paid his respects at the memorial service at Hollywood Forever Cemetery, before gathering at a private wake at Craig's restaurant.
The actor joined fellow celebrity attendees Pharrell Williams, Metallica rockers Lars Ulrich, Dave Grohl, Christian Bale, Josh Brolin, Billy Idol, and James Hetfield and Dave Navarro of Jane's Addiction to honor his memory.
Vicky Cornell, his wife of 13 years, and their children attended wearing traditional black.
Cornell's longtime friend, Dr. Eric Esrailian, told CNN that the late star's wife and kids were the centers of his life.
'If Cornell was aware of what he was doing I don't think Chris would ever do this to his family.  The Chris I know would never do this to his family…I completely don't believe he had this planned out.

'He always was focused on his children and his wife,'

'Chris was the center of [Vicky's] world and the world of her children. Everything revolved around Chris because he was such a great, fun, funny person.' 
Music's elite and celebrities came together at the somber service on Friday, local time, that focused on the Soundgarden frontman's love of family and friends as much as it did on his musical achievements as one of the rock's leading voices.
A short bio on Brad Pitt and Chris Cornell

William Bradley Pitt "Brad Pitt"  is a renowned American actor who started out with insignificant roles in Hollywood movies. Pitt is an actor and producer known as much for his versatility as he is for his handsome face. He is also a Golden Globe-winner. Brad Pitt's most widely remembered role is Tyler Durden in Fight Club (1999). However, his portrayals of Billy Beane in Moneyball (2011), and Rusty Ryan in the remake of Ocean's Eleven (2001) and its sequels, also cannot be forgotten easily. This famous actor also has his own production house, 'Plan B Entertainment', which has produced some impressive movies. More Bio…