Carlin Bates And Her Husband Evan Stewart Welcomed Their First Child Together!!
Carlin Bates and Evan Stewart are now parents! The couple welcomed their first child, baby girl and shared the news with their fans and followers. They described the beautiful moment on social media with everyone sharing pictures with the newborn on social media. The newly turned parents tied the knot in May 2019.
Carlin Bates and Evan Stewart welcomed their first baby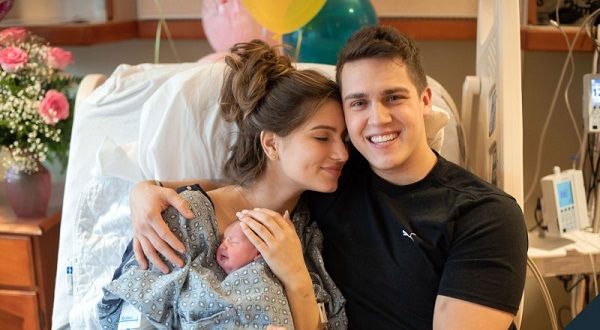 On Friday, Bringing Up Bates star Carlin Bates gave birth to a beautiful baby girl, who they named  Layla Rae Stewart. The baby girl was born weighing 5 lbs. 13 oz. and measuring in at 18 in. The reality star and her husband Evan are experiencing the most beautiful moment of their life as a parent. The newly turned parents gushed in a joined statement about their daughter saying:
"How do you describe an experience so emotionally intense and so magically wonderful as welcoming a brand new baby into the world? We feel like our lives just became incredibly busy, but unimaginably blessed with little Layla Rae's arrival!"
They also described the journey of their pregnancy and the celebration after her arrival. They further stated about their new-born:
"She has already consumed our thoughts and intentions for these past pregnancy months and now, no day will ever be the same without her! Although she came earlier than we expected, this is the best kind of celebration we have ever experienced, and we are so in love with our new role as parents!"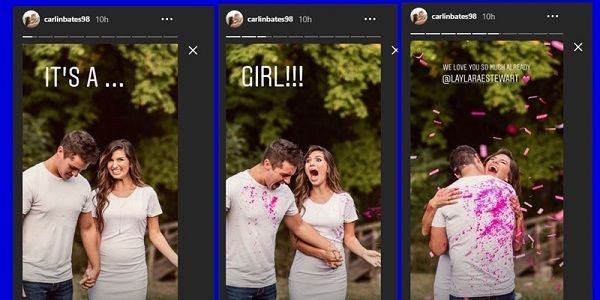 You may also read- Ashley Graham And Her Husband Justin Ervin Welcomed Their First Child Together!
A journey of their pregnancy
Carlin and her husband Evan revealed their pregnancy in September 2019 with their fans and followers out there. At the time, they also shared a photo of the ultrasound of their unborn on Instagram. At the time, the Bringing Up Bates wrote a sweet note attached to the picture of the ultrasound. She captioned the image saying:
"This past year has been a whirlwind of excitement and love, from wedding planning to the most magical day of my life when I said 'I do. And just when I think life can't get crazier, busier or happier, I find out I'm pregnant!"
However, she also faced some problems during her pregnancy. She revealed that she is suffering the blood-clotting disorders while she was pregnant. Though she had the due-date in mid-February, she gave birth because of the disorder like her sister Erin. At the time, she explained her condition saying: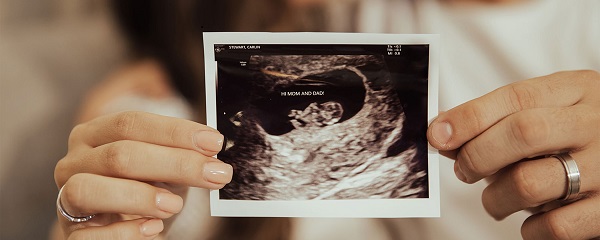 "Evan had to learn to give me two shots daily. We have had a lot of opportunity to pray and to try to trust God, as we have researched the different side effects and concerns. So although it has been a learning experience, we know we have an even bigger reason to be thankful that the baby is doing well."
The beautiful love story of Carlin Bates and Evan Stewart
The Bringing Up Bates star Carlin tied the knot with Evan Stewart at Castleton Farms in Tennessee on May 25, 2019. They officiated their wedding with all 18 of the bride's brothers and sisters. The duo walked down the aisle with the attendants of 500 guests. The reality star shared her beautiful love story with her soulmate on before they said 'I DO'. At the time, she wrote:
 "It all began in the fall of 2016, when my mother was asked to speak at a Ladies' Conference at the Stewart's church! Evan just happened to be one of the servers for the conference!"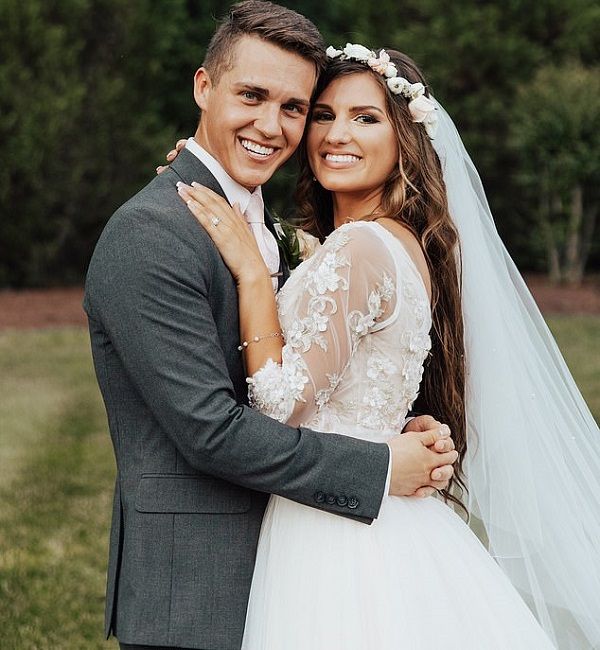 She also mentioned she made the first move as she noticed he was nervous. The reality star started the conversation saying "Aren't you going to say Hi!". Afterward, he started to blush and they started talking. The very next day, Erin also took the step ahead as her parents invited him to lunch. She further explained:
 "My sister Erin … told Evan she would love to have him as a brother-in-law, smirking and pointing at me! He said, 'Well, I'm available!'"
They got engaged in 2018 when he popped the question in Maine making it the destination engagement. The reality star also revealed that the duo will move to Nashville at the time, as Stewart works them as an electrician apprentice.
You may also read- Who Is Natasha Shishmanian? Her Married Life With Chris Evans, Family, And Children!
Source: US Weekly, TV Shows Ace, Carlinandevan