Carol Hagen and her husband Lester Holt's happy marriage journey! About their children and secret of happy married life!
Carol Hagen is a former flight attendant from America. Now, she is a real estate agent. She became famous when she married Lester Holt. He is a journalist and a host of NBC Nightly News.
Carol's husband, Lester Holt
Lester Holt whose birth name is Lester Don Holt Jr. is an American journalist. He is a permanent anchor of NBC Nightly News also hosts the weekday edition of NBC Nightly News, Dateline NBC.
Moreover, he was made permanent on 18 June 2015. He has also hosted an intense debate between President Donald Trump and Hillary Clinton.
Their First Meet
Carol Hagen met Lester Holt met for the first time in 1980. Holt was studying at California State University when they met. They were in a healthy relationship. Then when he started working, they married in 1982.
In 2004, she told People Magazine about her husband,
"He was the fastest mike in the west,"
The same year her husband got a promotion to Weekend Today from MSNBC.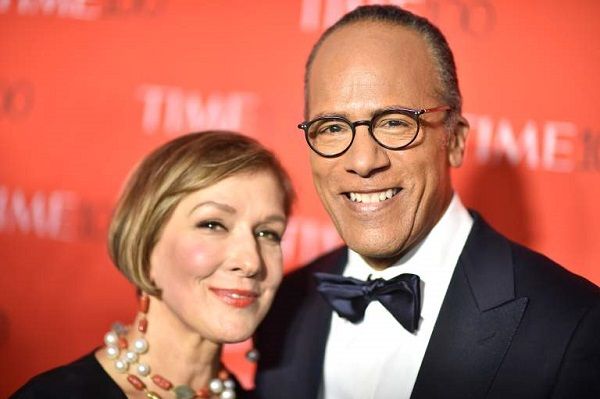 Carol went to Weekend Today episode to surprise her husband, where his reaction was,
"It's been very odd because my wife and I kind of really embrace Monday and Tuesdays,"
She then added,
"It will be really nice to be able to sleep in on a Saturday and Sunday,"
Their Children: Stefan and Cameron
Carol and Holt have two children namely, Stefan and Cameron. Stefan is following his father's footsteps. He was an anchor in Chicago and West Palm. Later, he moved to New York and from April, he started working in WNBC.
Stefen is a married man and his wife's name is Morgan. Stefen and Morgan had children: Henry Holt(2017) and Samuel Richard Holt(June 2019).
Hence, now Carol Hagen and her Lester Holt have two grandchildren.
According to LinkedIn profile, another son Cameron is working at Morgan Stanley as an Equity Derivatives Trader.
Cameron graduated from Stanford University and he specialized in subjects like B.S. in Mathematical and Computational Science and an M.S. in Management Science and Engineering.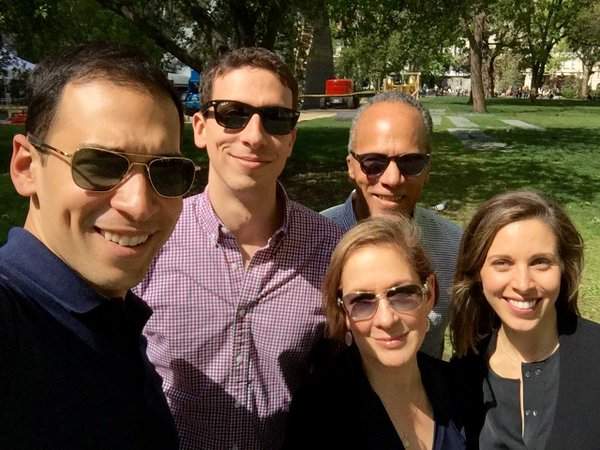 Also read The Milestone celebration of 40th Anniversary with NBC of American television weather forecaster, Al Roker!! The weather anchor joins on 'Today' Show!
The secret of their happy Married Life
According to the interview given to Extra TV by Lester in 2015, Lester and Hagen are married for 36 years. He shared that the secret of their happy married life and family is laughter.
He said,
"We laugh a lot, we really do. I can be silly, she can be sillier. We just laugh through things and we know that everything, tough times will be a story at some point, and boy have I put her through some tough times with this job,"

"I love her to death, she's has been so wonderful, she knows this job is going to bring a lot of late-night phone calls, but she's there for me and that means an awful lot,"
Post Honeymooning at Rio Summer Olympics
In August 2016, during the Olympics, the husband and wife were kinds of honeymooning and spending a good time. As Hagen is quite active on Twitter, she keeps sharing her pictures with her fans and followers. You can check out the romantic picture of them below:
Beautiful beaches and gorgeous sunsets in Rio #aboutTown #RioOlympics2016 pic.twitter.com/ILGfwm3zda

— Carol Holt (@CarolHagenHolt) August 15, 2016
Wherever Holt has his business trips, he takes his wife along with him. In 2013, when he went for the trip in Chicago, he had to return back and cover the tornado story in Oklahoma. When asked about it, he replied,
"She's got friends here. She's got things to do. It's not like the time I left her in Barcelona to go to the tsunami in Japan,"
@LesterHoltNBC and the Rough Cuts play @HillCountryNY April 15th 7pm! @DatelineNBC pic.twitter.com/kitBXAOBSF

— Carol Holt (@CarolHagenHolt) April 2, 2018
You may like to read NBC anchor Stefan Holt, Son of Lester Holt is a Married man! All the details on his wife
Short Bio On Carol Hagen Holt
Carol is an American real estate salesperson in New York, USA. She has also experienced working in the travel industry and sales management in the cosmetic field. More Bio…