Cassie De Pecol, 27 year old Travelling the Whole World!! This woman visited every country on Earth in record time- First Female Ever To Visit Every Country On Earth!! Know about all her Journey!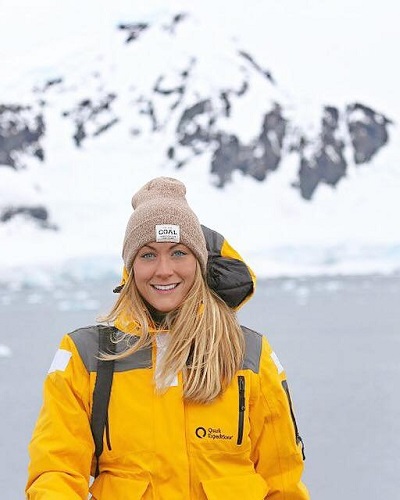 Traveling is always interesting. Cassie De Pecol has traveled most of the parts of the globe and living her dream.
As she is doing what she loves, she is also set to break the Guinness World Record for the fastest person to travel! Let's find out more about her Journey!
Bon, voyage!
Traveling around the World
Cassie De Pecol has visited every country in a year and a half. She traveled to 196 sovereign nations in a span of 18 months and 26 days. While traveling, she also promoted peace in her possible way by meeting people from every country in the world.
The last Guinness World Record holder took double the time for the trip than Cassie.
While Pecol was studying in college, she thought that to travel the world one needs to have a larger purpose. In July 2015, she started her tour as an ambassador for the International Institute of Peace Through Tourism.
Called Hypocritical for boasting of a sustainable mission
"If you say, fly from Bangalore, India, to Colombo, Sri Lanka, you end up killing one tree during that flight, the goal is to plant two trees, for regenerative tourism, not just sustainable tourism,"
De Pecol said.
She aims to make aware of the use of a heavy carbon footprint. She, however, planted trees in over 50 countries. Similarly, she said,
"It's tough to figure out to get permission to plant a tree in a lot of countries, but I've been trying to do that as much as possible. I've planted close to 50 trees now but there's about 500 more, so that's just a goal."
Funding for Trip
De Pecol had a total budget of $198,000 to travel all around the world. She started saving money when she was 25 years old.
Then later she went and acquired sponsors, she shared,
"I had to really utilize Google and be like 'how am I going to find the funding to do this?' 'How did other people find the funding to do this?' So I looked at people like Ranulph Fiennes who is considered the worlds greatest living explorer."
She attracted sponsors like AIG to hand-painted tote bag artisan and eco-hotels for promotional coverage.
Talking about her work experience, she spent a couple of years traveling and working in hotels to satisfy her wanderlust.
What are Her Plans after 196 countries?
De Pecol is a traveler and says she may never have a permanent home,
"I thought, you know what, it actually scares me a little bit. I would quit like after a week."
There's just one place De Pecol hasn't been: Antarctica. While not technically a sovereign nation, she'll journey there with Quark Expeditions in late February.
"I was like, hey, if I go to six continents, 196 countries, I may as well hit up the last continent,"
De Pecol said.
You may like to read Top 10 YouTuber couples with millions of subscribers! Also, know about their earnings>
She has plans to write a book about her journey and finish an educational documentary when she returns from Antarctica.
"I put myself in this position where now I have to figure out how I'm going to support myself through entrepreneurial projects and that sort of thing for the rest of my life,"
she said.
Also read Jyoti Amge, the smallest woman according to Guinness World Book of Records-Is she married?
Short Bio of Cassie De Pecol
Cassie De Pecol is an American traveler, blogger, and activist. She is most popular as the fastest and first woman to travel to every sovereign nation in the world. And, she is two Guinness World Records holders. In addition, she is famous as a cast of Naked and Afraid. More Bio…