Catfight? Omarosa says that the Vice President Pence is 'Scary'. Julie Chen reaction on 'controversial' Omarosa Manigault asthma
Julie Chen, the host of Celebrity Big Brother has grabbed attention by commenting on the 12th February 2013 episode of "Celebrity Big Brother." Reality shows are not real, it runs with drama and controversy.
The Incident
Omarosa Manigault was a former White House staffer. is one of the contestants on the reality show, Celebrity Big Brother.
She has a magnetic nature to attract controversies. It was a Head of Household game. Omarosa injured herself and she had to be taken to the hospital.
The co-contestants said that she might probably have the problem because of asthma as she was suffering from it. However, it was not clear what had happened to her.
Omarosa after discharged from the hospital
Omarosa after she was fine, she took her social media handle, Twitter to thank her fans and well-wishers who prayed and supported her.
She tweeted,
"My asthma is back under control and I am getting stronger by the day. Happy to be back in the Celebrity Big Brother house with all my crazy and loving house guests."
She further adds,
"Thank you for all your thoughts and prayers it means the world to me."
Julie's Reaction
Julie Chen throwing shade at Omarosa ???? #CBBUS #BBCeleb pic.twitter.com/rXhmHbHzTn

— Clayton Baker (@IGIF_) February 13, 2018
Julie, the host of the show says that a cough can reveal a thousand words. She thinks that Omarosa was faking her illness on the show just to grab attention.
According to Julie,
"For me, I was really hoping Omarosa was exaggerating her need for medical attention so she could get back in the game. I mean, [season 19's] Christmas went back in after a broken foot."
Julie feels that Omarosa did this just to be safe from the next eviction. She further adds,
"My suspicion was that although Omarosa truly had an asthma attack, she played up the severity of it after it passed, to milk it for drama, attention, sympathy, and safety from eviction."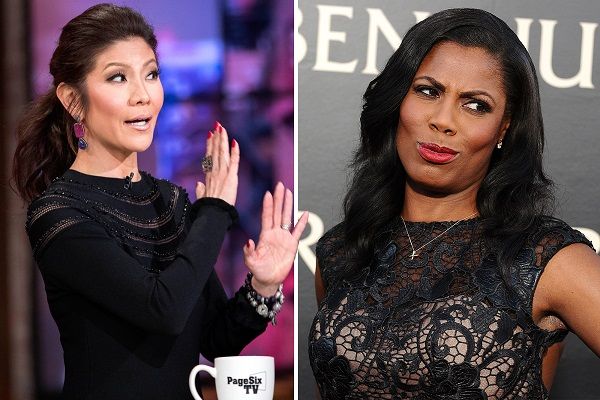 Was Omarosa safe on the show?
Omarosa Manigault, one of the most controversial contestants is safe and will be continuing, Celebrity Big Brother. 
But the other contestants, i.e., her contemporaries feel that now, they do not feel Omarosa as their competition. They think that is one of the weakest competition.
You may like to read TV presenter Kelly Brook told to make bat boxes to house the rare and protected species of bats found on the roof of her Kent house!
Why is Omarosa controversial?
Omarosa keeps giving controversial statements to everyone. She also comments on the President Donald Trump and recently she said that the Vice President Mike Pence is 'scary'. Also, she keeps giving such statements as she is a former White House staffer.
She said,
"Can I just say this? As bad as y'all think Trump is, you would be worried about Pence." 
Raj Shah, the deputy press secretary of White House, when asked about Omarosa, he said,
"Omarosa was fired three times on The Apprentice and this was the fourth time we let her go. She had limited contact with the president while here. She has no contact now."
Now we will come to know the truth in the following episodes.
Also read Leslie Moonves and Julie Chen's 14 years of marriage and sexual allegations! Read it here!
Short Bio on Julie Chen
Julie Chen is an American citizen. She is a popular television personality, news anchor, and producer for CBS. Chen became recognized as the host of Big Brother and The Talk.
She also appeared as an anchor for The Early Show on CBS. More Bio…