Parents Of 3 Catherine Giudici And Sean Lowe Intend To Adopt 4th Baby!
Catherine Giudici and Sean Lowe are looking to adopt a baby.
The couple is already parents of three since getting married in 2014.
---
Catherine Giudici and Sean Lowe are looking to adopt a baby, their fourth
Catherine Giudici Lowe isn't ruling out having more children with her husband, Sean Lowe, but she has certain requirements for how she would go about accomplishing it.
The 35-year-old former Bachelor star opened up to PEOPLE during their conversation about her engagement with Mrs. T's Pierogies for the second year of its Mrs. T's All-Star Moms campaign. She also discussed the possibility of having another child with her husband.
Noting that if she could, she "would probably have 20 children", Catherine told PEOPLE,
"I love having children, I love being pregnant, I love all the things about it. But at a certain point, it feels a little selfish to continue to add children and not pour back into them."
She added:
"So, right now, we're really focusing on our three." 
Catherine notes that despite this, she and Sean are still open to the prospect of bringing another child into their family at some point in the future, but through a different route.
"We're still kind of looking into adoption, but I think biologically, we're done, sad to say. It actually really hurts to say that, because I love being pregnant and the joy that that closeness brings, but we're going to focus on our babies now."
She added:
"We had them so back-to-back that now, the independence that they've given us and the time that we could breathe, has been really satisfying. [But] if we adopted, I would love to adopt a newborn, just because I love babies."
Also read: Whereabouts Of The Bachelor 2023's Zach Shallcross
Catherine Guidici and Sean Lowe's Relationship, The Bachelor, Wedding
The couple's relationship started when Giudici got out of the limo to meet Lowe and season 17 of The Bachelor premiered. Even though she didn't have a one-on-one date until week 6, the two clicked from the beginning.
Giudici and Lindsay Yenter, Lowe's final two contestants, got to meet his family during the finale, which aired in March 2013. After parting ways with Yenter, he received a touching letter from Catherine expressing her feelings for him. He got down on one knee when he saw Giudici, she accepted.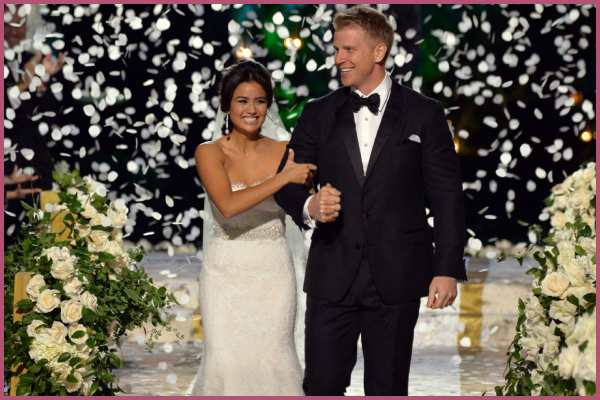 Lowe and Giudici exchanged wedding vows in front of a live television audience in January 2014 at the Four Seasons Resort Biltmore in Santa Barbara, California. Jay Lowe, Sean's father, officiated the marriage.
The couple has three children from their marriage so far
From their marriage, the couple has three children. On July 2, 2016, the couple gave birth to a baby they named Samuel Thomas Lowe. The reality stars announced their second pregnancy sixteen months after welcoming their first kid. They welcomed Isaiah Hendrix Lowe, their second son, on May 18, 2018.
On June 19, 2019, the couple welcomed their first daughter, Mia Mejia Lowe, expanding their family.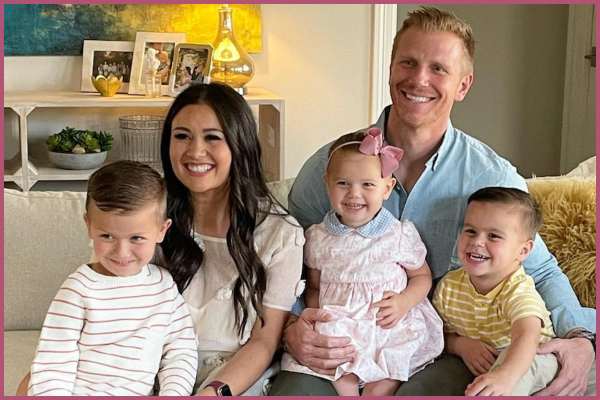 Lowe wrote on Instagram announcing the news:
"I've always wanted a daddy's girl and now I've got her. "Mia is healthy, Mama is doing great, and God is so good!"
In 2019, he talked about his kids to Us Weekly:
 "The idea of raising three kids under 3 and a half years old, that's a little daunting if I'm being honest! [Giudici's] first thought was probably not excitement!" 
He added :
"Her first thought was probably, 'Wait, we're having a baby? I already have a baby! I'm not ready for another baby!' But after a few hours I think she got excited."
You may also like to read: Who Is The Bachelor's Katherine Izzo? Her Real Job, Age, Instagram, And More!