Celebration Of The New Song With The Internet Star Doug The Pug!! Demi Lovato Celebrates Her New Song 'Sorry Not Sorry' With Her New Furry Friend Doug the Pug
This summer is going to be more interesting as Demi Lovato has just dropped her new single 'Sorry Not Sorry'. She celebrated the release of her new song with her cute furry friend. Also, she snapped the photo of her with Doug on her celebration. She celebrated her new release with the Intenet star Doug. Doug is the star of Instagram with a huge number of followers.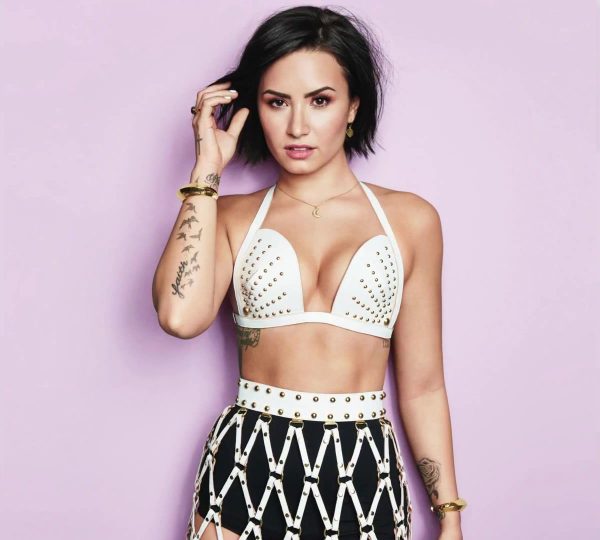 Also read Singer Demi Lovato gets a new 'most meaningful' tattoo inked on her forearm in honor of her great grandmother who died in 2016!
Demi Lovato's 'Sorry Not Sorry' celebration with Doug
Demi Lovato is celebrating her new release with her new furry friend Doug. She clicked the photo of her with social media star Doug the Pug on Thursday, July 13, in Nashville celebrating the new release. The Internet-famous pooch's Instagram account shared the photo of Demi and Doug on Thursday, July 13. The photo caption reads:
"I ate the last slice of pizza…sorry not sorry" -Doug • Thanks to @ddlovato for having Doug be a special guest at the #SNSHousePartylast night!
In the snap, Lovato is hugging the pup who donned a "Sorry Not Sorry" white T-shirt and a gold chain necklace. Doug became the sensation of social media in 2015 when several trade publications featured his trendy Instagram account. Many celebs including Ed Sheeran, Justin Bieber, and Katy Perry have snapped with Doug.
You may like to read Demi Lovato rumored to be Engaged!! What's her relationship Status? Click Here To Read The Whole Story
The Grammy nominee Lovato is currently on tour promoting "Sorry Not Sorry", the very first track of her upcoming sixth record. On May, she announced on Billboard saying:
"I'm releasing an album later this year, so my fans can look forward to that. It's more soulful and I want to go more R&B with it."
Moreover, she also revealed her inspiration behind her music. She said:
"What I'm channeling is things I'm going through today, which are different. Everyone goes through ups and downs and I'm getting to write about that. I'm at a new chapter in my life, so whenever I'm writing, I keep that in mind."
Demi Lovato is an American singer, songwriter, and actress. She firstly stepped on her career through the debut on  Barney & Friends as a child actress. She rose to fame when it appeared on Disney Channel television film Camp Rock. Afterward, she released her debut single "This Is Me" which peaked at number nine on the Billboard Hot 100.
We, MarriedBiography team would like to wish all the best to Demi Lovato for her new single 'Sorry Not Sorry'.
More About Demi Lovato
Demi Lovato is an American actress. Demi is also a singer as well as a songwriter. She portrayed the character of Sonny Munroe in the Disney Channel's series Sonny With a Chance from 2009 to 2011. She is also famous for her sophomore album; Here We Go Again. In 2010, the album became top on the Billboard 200 chart in 2010. See more bio…