Daily Hair Care Routine Of Celebrities Including Zac Efron, Bruno Mars!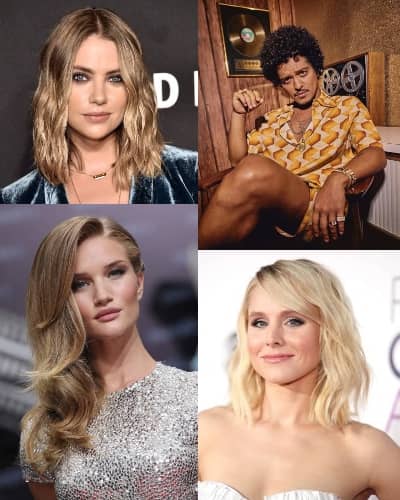 Hollywood's top-notch celebrities always look so flawless every moment they appear. They have an approach to some of the supreme hairdressers.
And fortunately for us, the elite hairstylist is willing to reveal the tips and tricks they've learned as well as picked up along their career path.
You need to read this article as soon as possible as we have gathered some of the best hair care routines of celebrities. Here, Hollywood's A-listers Karlie Kloss, Zac Efron, Bruno Mars, and more share their hair care routine secret!
1)Rosie Huntington
Supermodel Rosie Huntington-Whiteley shares that she mostly does her hair care routine at home instead of in a luxury hair salon. To style her hair, she will reach for a big round brush and blow-dry it.
Since she uses hairdryers a lot daily, so she highly recommends everybody with the same interest invest in a good hairdryer. On top of her list is the new Dyson Hairdryer which she thinks is an amazing yet easy to use product.
Rosie Huntington (Source: self)
2)Ashley Benson
The beauty secret to maintaining beautiful actress Ashley Benson's hair fresh is good dry shampoo. Her favorite brand is Oribe.
For a busy actress like her who doesn't have much time to wash her hair, dry shampoo is a must in the hair care routine of celebrities. Moreover, since she has hair extensions off and on depending on her role, dry shampoo makes her hair stay fresh.
Ashley Benson (Source: yahoo)
3)Kristen Bell
She is not only known as a Frozen voice actress but also famous for having such gorgeous hair. On a normal basis, she would dry her hair naturally. But it would take a long time to do so a hairdryer is Kristen's best friend in the hair care routine of celebrities.
She chooses Dyson Supersonic Hair Dryer for everyday use together with an Ibiza hairbrush. In case she's on set, she always goes for dry shampoo due to its convenience. As she doesn't have much time even to wash her hair, dry shampoo is a lifesaver.
Kristen Bell (Source: superstarbio)
4)Karlie Kloss
Karlie Kloss's hair care routine is all about beginning with fresh hair. She shares with us that she prefers to wash her hair at night. To protect the hair, the model avoids using heat on her hair as much as possible.
That is the reason why she prefers it air-dried instead of using a hair dryer. The key point is going to bed when the hair is not completely dry. The hair should be slightly damp.
By doing this, when you wake up the next day, your hair will have a perfect bed hair texture. Karlie Kloss also shares that she adores high-quality sea salt hair spray or dry hair shampoo.
Once in a while, she will do French braid as well. If Karlie has to choose her favorite hairdo, it has to be a French braid.
Karlie Kloss (Source: Fox News)
5)Bruno Mars
Don't be surprised if we reveal that not every male celebrity uses expensive salon treatment in their hair care routine. For his hair, he waits until his hair is completely dry and then I add natural oil to separate the curls or, if his hair is clean, curl cream to add grip.
Sometimes he'll use a paper towel to dry Bruno's hair, which helps take the moisture out of the curls without messing with the texture as a towel would.
Bruno Mars (Source: wmagazine)
6)Zac Efron
Talented actor and undeniably prince charming Zac Efron gain his trademark "bed head" look the effortless way. Put it in another way; he sleeps on it. Zac Efron admits to us that he doesn't do much with his hair.
All he does is take a shower in the evening, rub the excess water in the hair off a little bit by using a towel then go to bed. And the next morning, he has the perfect hair without even trying.
Indeed, not everyone is blessed with that kind of perfect gene. Hair experts also advise that a fine hair growth vitamin regimen would help do wonders.
Zac Efron (Source: Alamy)
You may also like to read, 11 bizarre fashion senses of Lady Gaga! Her dress, shoes, makeup