Celebrities who kicked off Halloween 2019 with their awesome costumes!!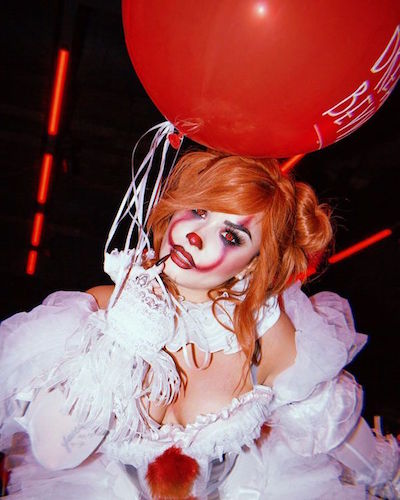 Trick or Treat! Halloween is just a day far and we can't wait to witness all the fantastic costumes that will circulate on the internet. When it comes to Halloween, it's obviously about the costumes and that being said, like every year, we can't wait to see what celebrities bring up for this year.
Although Halloween starts from tomorrow, some celebrities were already in the Halloween spirit. These celebrities have been in high spirit days before Halloween and shared their looks through social media. Here are the celebrities who delivered amazing looks for 2019 Halloween.
Nicki Minaj as Harley Quinn
We've seen a lot of Harley Quinn cosplay but Nicki totally slays it. Nicki Minaj formed her own suicide squad. The rapper and her husband Kenneth Petty opted for a classic couples Halloween costumes as Harley Quinn and the Joker. Watch out, guys! Nicki and husband Petty here to take over the town.
Jessica Biel and Justin Timberlake
Hands down for this couple's epic costume. Jessica  Biel dressed as her own husband Justin Timberlake from his 90s N'SYNC shiny suit days, while Justin took on the role of a microphone. Jessica admitted that this is the price she had to pay for going on Jimmy Fallon and admitting that she didn't know any of his old songs despite being married to him.
Also, read about Los Angeles is burning! Know the list of celebrities whose houses Getty Fire has engulfed!
Kourtney Kardashian as Ariana Grande
The eldest of the Kardashian sisters paid homage to the pop icon Ariana Grande through her Instagram. Kourtney Kardashian recreated Ariana Grande's signature style with a pink babydoll dress, thigh-high boots rocked a wing eyeliner and let's not forget the iconic long blonde ponytail. We are living for the Ariana Grande costume. She even captioned it "No tears left to dry"
Demi Lovato as Marie Antoinette and Pennywise
Demi Lovato didn't take Halloween lightly this year as she delivered us two amazing costumes. "Halloween round 1… told y'all I don't play on Halloween," announced Lovato as she posed as Marie Antoinette on a mirror selfie.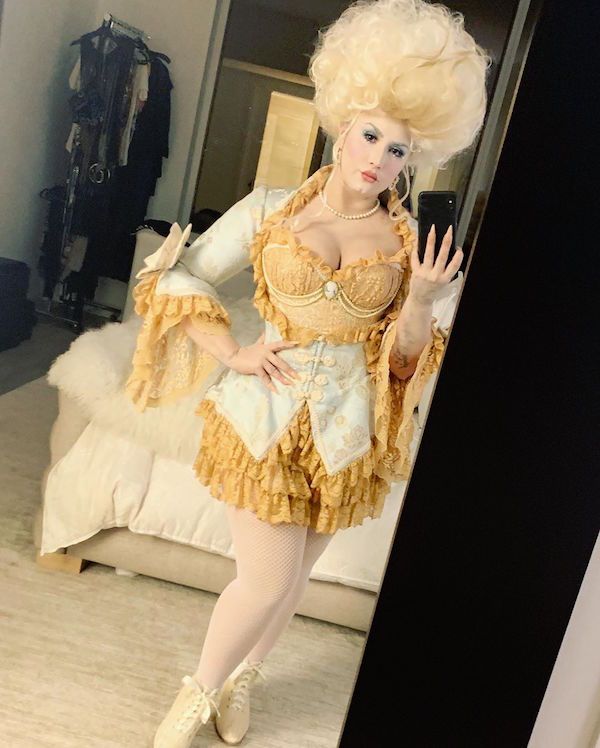 For round two she dressed as Pennywise, the terrifying clown from IT but a much sexier version to it. She totally nailed it both the looks.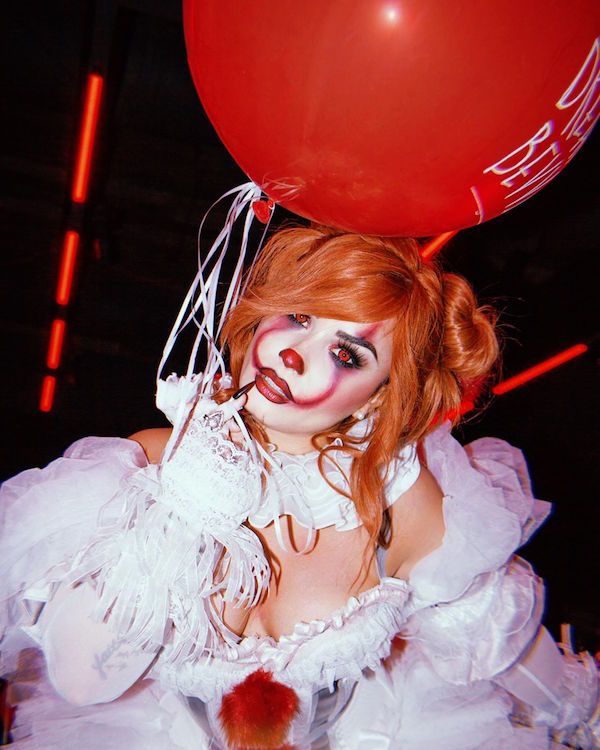 Halsey as Marilyn Manson and Cher
The pop singer Halsey also delivered two looks for this year's Halloween and both she nailed it. In one costume she posed as Marilyn Manson with a whole lot of leather and eyeliner alongside an Insane Clown Posse Juggalo
She later hit the red carpet with actor Evan Peters with a matching white and polka dot ensemble with brown wigs to recreate a look from Seventies TV show The Sonny & Cher Comedy Hour.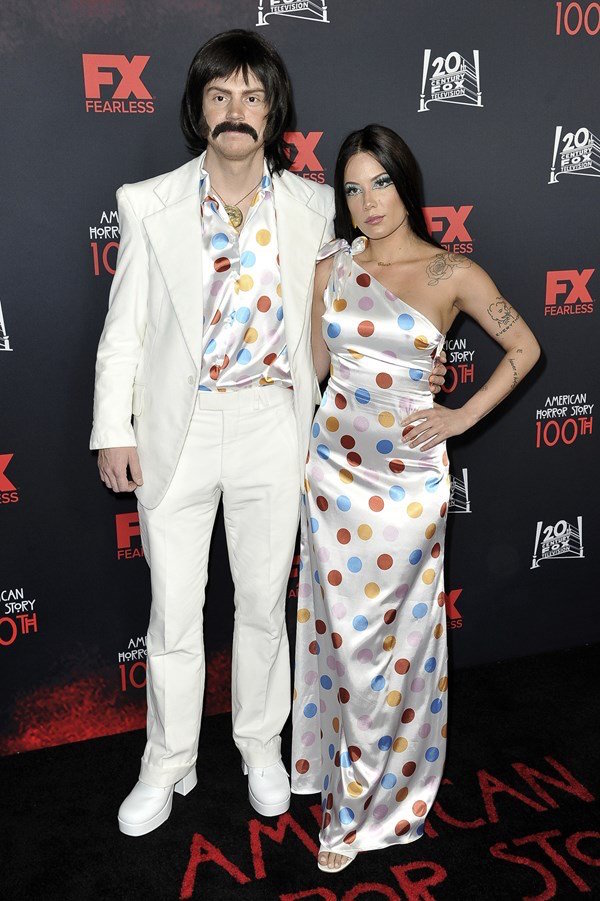 Also, read about Seven Celebrities who slayed their baby bumps!!
Stormi Webster as Kylie Jenner
Imagine being so famous that you dress your kid as you for Halloween.  Stormi Webster is definitely taking the award for the cutest Halloween costume of 2019. Kylie took it to her Instagram to show the one-year-old replicated her mom's Met Gala look from last year, complete with feather trim and purple wig. How adorable.
Ashley Graham as Jessica Rabbit
Ashley Graham is currently pregnant but that does not stop the soon mother to be from cosplay playing. The hot pregnant actress dressed up as a cartoon bombshell Jessica Rabbit in a skintight red latex dress with purple gloves and a scarlet wig. She completed her look with red lips and purple eye makeup. She did confess that she used baby powder to slip into her latex Rabbit costume.
Nina Dobrev as Billie Eilish
Nina Dobrev paid homage to this year's biggest new pop star Billie Eilish with the singer's iconic fashion and a green streak of hair.  The 30-year-old Canadian actress shared a short clip her dressed up like a spitting image of Billie Eilish with a caption "DUH"
Ciara and Russell Wilson as The Carters
Ciara and husband Russell Wilson took Halloween to next level when the couple dressed up as the powerhouse couple Beyonce and Jay Z. The pair recreated Beyonce and Jay-z's look from their joint video "Apeshit".  "From the Wilsons to the Carters to the Obamas… Much Love& Respect. We going Ape $#!% #HappyHalloween" Ciara captioned on her post.
Also, read about Celebrities who stirred the internet with their online photos or videos!!
source: teen vogue