Celebrities Pours Their Hearts Out After the Texas School Shooting In Twitter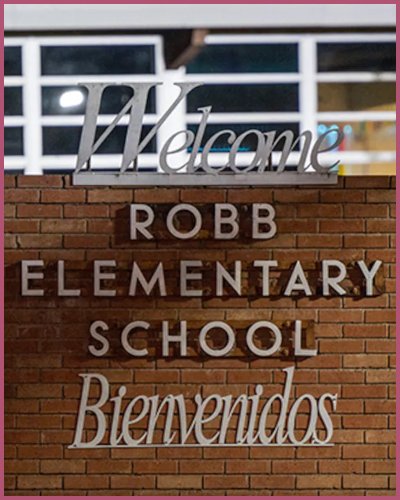 Celebrities are expressing sympathy and showing agony towards the Texas School Shooting incident.
Yet another Texas shooting incident on May 24, 2022, at Texas Elementary School.
19 students and 2 adults are shot to death in the Texas shooting.
---
Celebrities are reacting to the Texas Shooting incident where 21 people are shot dead in the Tob Elementary School.
Matthew McConaughey in Texas Shooting
At first, Matthew McConaughey comes up and speaks of his experience as Uvalde born and Texas shooting saying,
"As a simple kid born in the little town of Uvalde, Texas, it never occurred to me that I would one day be considered for political leadership. It is a humbling and inspiring path to ponder. It is also a path that I'm choosing not to take at this moment." 
The Chainsmokers
Likewise, American electronic DJ, The Chainsmokers said,
"Our hearts go out to those in texas at the Robb elementary school and everyone effected. Something has to change in this country. We are the only country where kids go to school and could wind up shot."
Offset Reacts to Texas Shooting
The American rapper Kiari Kendrell Cephus, who is professionally known as Offset tweeted on Twitter,
"Prayers for the people in Texas man those are kids that were killed smh this world needs God smh"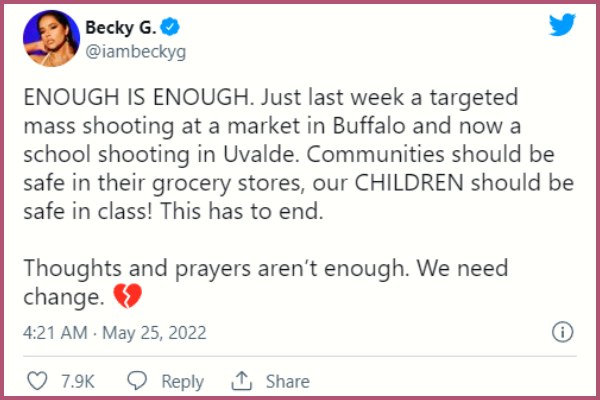 Becky G in Texas Shooting
American singer Rebbeca Marie Gomez aka Becky G wrote on Twitter,
"ENOUGH IS ENOUGH. Just last week a targeted mass shooting at a market in Buffalo and now a school shooting in Uvalde. Communities should be safe in their grocery stores, our CHILDREN should be safe in class! This has to end. Thoughts and prayers aren't enough. We need change."
Missy Elliot
American rapper and songwriter Missy Elliot took over Twitter to address the Texas Shooting saying,
"We living in some TRYING TIMES… It's Heavy…I am praying for everyone that is struggling MENTALLY/FINANCIALLY/PHYSICALLY that some PEACE is RESTORED! So many in the world is dealing with pain & I don't have the answers but I send you LOVE virtually"
Also, Read Young Thug arrested for Alleged Murder of a Rival Gang Member!
Ted Cruz
United State Senator Ted Cruz pinpointed the incidence saying,
"Heidi & I are fervently lifting up in prayer the children and families in the horrific shooting in Uvalde. We are in close contact with local officials, but the precise details are still unfolding. Thank you to heroic law enforcement & first responders for acting so swiftly."
Also, Read about Celebrities who were tragically murdered!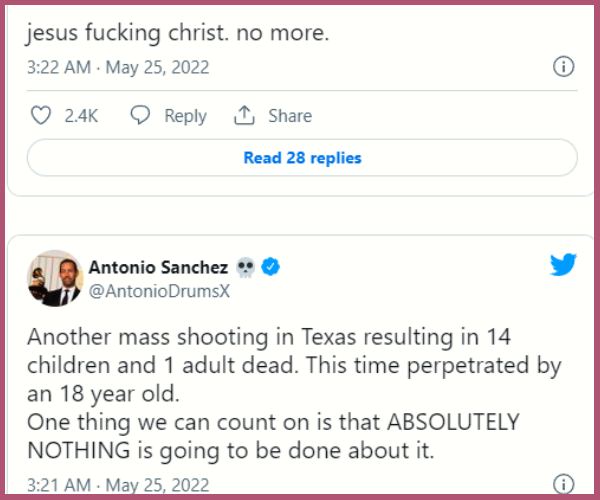 Antonio Sanchez
Filipino politician Antonio Sanchez had a heart-rendering tweet on Twitter,
"Another mass shooting in Texas resulting in 14 children and 1 adult dead. This time perpetrated by an 18 year old. One thing we can count on is that ABSOLUTELY NOTHING is going to be done about it."
LeBron James
American professional basketball player LeBron James tweeted,
"There simply has to be change! HAS TO BE!! 😔😔😔😔🥺🥺🥺🥺.. Praying to the heavens above to all with kids these days in schools. 🙏🏾🙏🏾🙏🏾"
Also, Read Celebrities Who Supports Amber Heard in her Litigation with Johnny Depp