Know the celebrity dads who are not shy of displaying their fatherly love on the social media!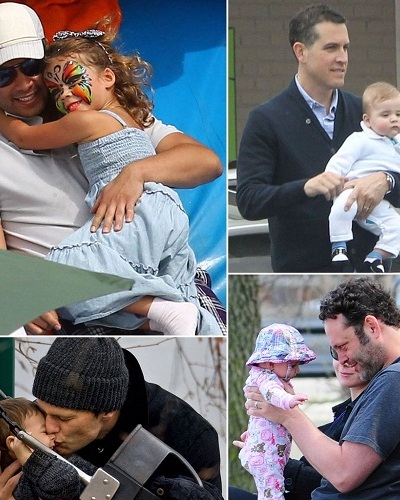 Fathers including celebrity dads have immense love for their children but by convention keep it private. The display of love for their kids in public is rarely noticed.
But with the advent of social media, there is a growing list of celebrities who do not fear expressing their fatherly love. The most recent addition to it is Dwayne Johnson 'The Rock' who has uploaded a cute little picture of his newborn daughter on his Instagram that has set his fans' hearts to melt.
Let us know more about it and also about other dads whose display of their affection for their kids touches us all!
Dwayne Johnson's long-term girlfriend Lauren Hashian delivered a baby girl recently named Tiana Gia Johnson. Sharing the news on his social media, Dwayne also posted an adorable snap of the new arrival resting peacefully on his chest.
He wrote:
"Blessed and proud to bring another strong girl into this world,"
He has another daughter named Jasmine Lia, 2 with Lauren, and 16-year-old daughter Simone with his ex Dany Garcia.
He further thanked Lauren for this wonderful gift. He vowed to be the best dad and to be proud to be their dad.
Justin Timberlake is another doting celebrity father. Last Father's day, he put up an adorable post for his wife Jessica Biel and son Silas. He called them the greatest gift of his life. His picture was very heartfelt and cute.
Dad and film producer Cash Warren and his wife Jessica Alba were too happy to have Hayes Warren in their lives last New Year Eve. He made it a point to upload the newborn's picture on Instagram captioning it with an emotional and loving message which read:
"On your first day of life, I promise to love you, to cherish you, and to provide you with a sandbox full of dreams to explore,"
He had two daughters with Jessica and they are a happy and blissful family.
Just a few months back, Kevin Hart had posted a picture of him with his kids cuddled up on the sofa with a dog beside. All of them were in deep and comfortable sleep which can only happen with true and extreme love between them.
There is no denying that the world's greatest football player David Beckham is extremely in love with his 4 children. But the most to get his attention is the youngest daughter Harper who often is pictured with father on his social media. Last July, he had uploaded a picture of him with his dear daughter and captioned it with an adorable message:
"Happy Birthday to our special little young lady …Such a special girl who brings so much joy and happiness into our lives.. Happy 6th birthday ( I can't believe your 6 already ) have the most amazing day we love you pretty lady x ❤️ @brooklynbeckham @romeobeckham@cruzbeckham @victoriabeckham"
John Legend, the great singer has admitted to his fans via his social media that he would have been nothing without his daughter Luna. He too keeps posting pictures and videos of his family and little Luna. This itself is evidence of how much John Legend loves his little daughter and the video below is self-explanatory.
Jimmy Kimmel and Chris Hemsworth are other celebrities who often post inspiring pictures of their kids playing or enjoying with them.
Also read Top 10 richest Hollywood celebrity couples! How many children do they have?