Another celebrity suicide 2018! American Chef Anthony Bourdain found dead in his hotel room at 61!
2018 had started on a bad note! There have been many deaths and suicides this year! To add to this list is the name of the American Chef, TV personality and author Anthony Bourdain.
Anthony Bourdain found dead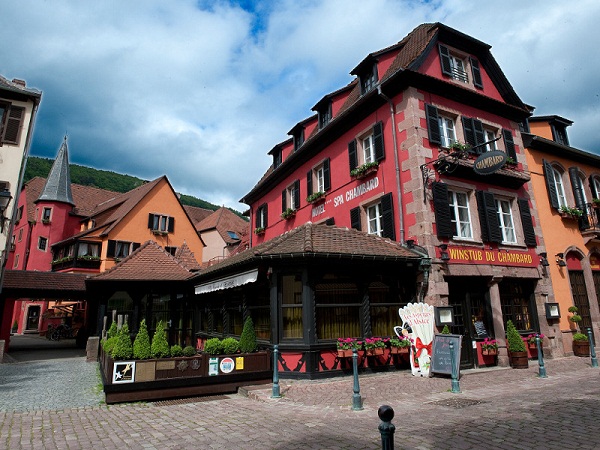 Anthony Bourdain was found dead at his room in Le Chambard luxury hotel in Kaysersberg today. The culinary expert was near Strasbourg, France and was doing a shoot for his series called Parts Unknown on CNN. CNN has come out with an official statement which read:
"It is with extraordinary sadness we can confirm the death of our friend and colleague, Anthony Bourdain, His love of great adventure, new friends, fine food and drink and the remarkable stories of the world made him a unique storyteller. His talents never ceased to amaze us and we will miss him very much. Our thoughts and prayers are with his daughter and family at this incredibly difficult time."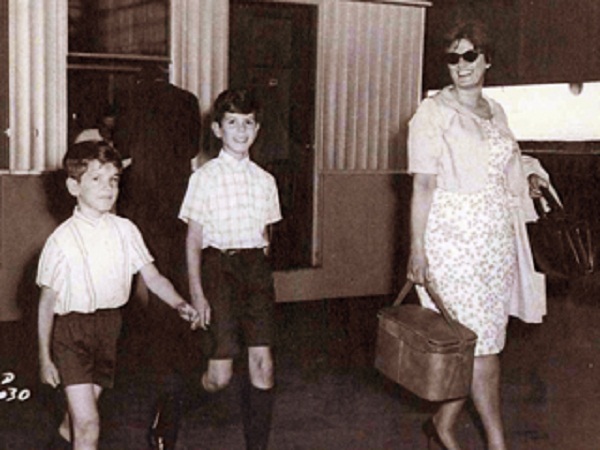 It is a case of apparent suicide and no foul play is been suspected. Anthony had killed himself by hanging and was found unconscious by his friend, Eric Ripert. Gladys Bourdain who is his mother and is working as Editor of New York Times said:
"He is absolutely the last person in the world I would have ever dreamed would do something like this,"
She said that she had no inkling that her son was contemplating suicide. She said that she was in touch with the US Consulate in France and she and her younger son, Christopher would either fly to France or have the body shipped to the US for the funeral.
Anthony and his last few days
Anthony had everything in his life. His mother said:
"He had everything,Success beyond his wildest dreams. Money beyond his wildest dreams."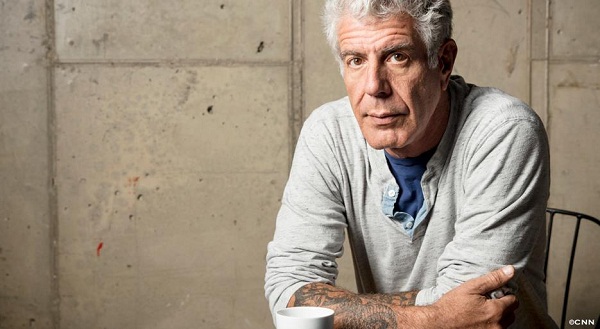 She did not know what could have been the reason to take such a drastic step. But Eric Ripert had told her that her son was not in a good mood for the last couple of days. He was said to be in a dark mood, according to Eric.
The reactions of his fraternity and other celebrities
Tributes and messages of condolences poured in from his colleagues, celebrities, entertainers, and broadcasters.
Eric Ripert said:
"Anthony was a dear friend, was an exceptional human being, so inspiring and generous. One of the great storytellers of our time who connected with so many. I wish him peace. My love and prayers are with his family, friends and loved ones."
Donald Trump was shocked by the sudden and premature death of Anthony who had been a vocal critic of him.
"I want to extend to his family my heartfelt condolences,"
Heartbroken to hear about Tony Bourdain's death. Unbearable for his family and girlfriend. Am going off twitter for a while

— Nigella Lawson (@Nigella_Lawson) June 8, 2018
Just saw the sad news that Anthony Bourdain has died. I watched his show when I was in space. It made me feel more connected to the planet, its people and cultures and made my time there more palatable. He inspired me to see the world up close. #RIPAnthonyBourdain pic.twitter.com/Cb6IfmzylN

— Scott Kelly (@StationCDRKelly) June 8, 2018
❤️A couple things I've written about my depression & how I've grappled with the urge to kill myself.
1. https://t.co/Nxz9b4VrPy
2. https://t.co/yPoMHbG9cp

In recovery suicide is often referred to as "a permanent solution to a temporary problem."

We beat it *together*❤️

— rob delaney (@robdelaney) June 8, 2018
This is so awful.

Anthony Bourdain, 61, has died. He took his own life.

He was in France working on an upcoming episode of his award-winning CNN series. His close friend Eric Ripert, the French chef, found Bourdain unresponsive in his hotel room Friday morning.

— Jake Tapper (@jaketapper) June 8, 2018
I ate with Bourdain. Probably 2004. He was big even then but he took time to sit with me in Chinatown to talk "weird" food for a magazine piece I was writing. He taught me that our "weird" is the world's delicious. We ate chicken feet. The afternoon vibrated with life. RIP

— John Hodgman (@hodgman) June 8, 2018
Rose McGowan was completely overwhelmed by this suicidal death. She uploaded a video and also wrote on her Twitter: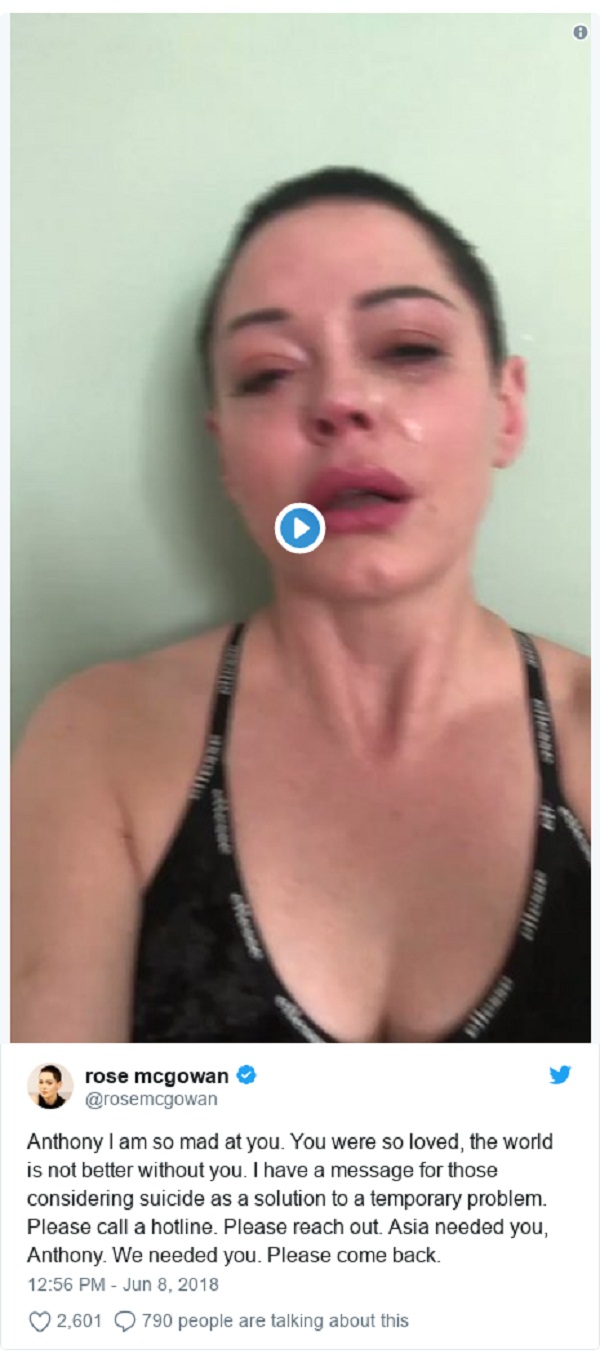 Barack Obama put up the picture where he and Anthony could be seen sitting on a plastic stool in a hotel in Vietnam and enjoying $ 8 meal.
"Low plastic stool, cheap but delicious noodles, cold Hanoi beer." This is how I'll remember Tony. He taught us about food — but more importantly, about its ability to bring us together. To make us a little less afraid of the unknown. We'll miss him. pic.twitter.com/orEXIaEMZM

— Barack Obama (@BarackObama) June 8, 2018
Anthony and his rise to fame
Anthony had started as a line cook in the restaurants of NY and the Northeast before he rose to the rank of an executive chef at Brasserie Les Halles in Manhattan. He worked there for 8 years and sent an article to the New Yorker which was accepted and published. It was about the dark side of the restaurants.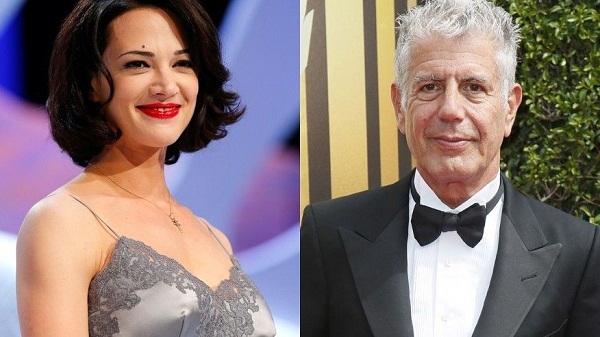 That changed his life and he went on to writing. His published book "Kitchen Confidential: Adventures in the Culinary Underbelly," was a hit and he became a celebrity chef and TV personality.
Short Bio on Anthony Bourdain
Tall and handsome Anthony Bourdain is an American renown chef, author, and television personality. He is best known as the host of the Travel Channel's culinary and cultural adventure programs Anthony Bourdain: No Reservations from 2005 to 2012 and The Layover from 2011 to 2013. After onwards, he hosted Anthony Bourdain: Parts Unknown on CNN. More Bio…