Celine Dion Pays Tribute to Manchester Victims during her Show in Las Vegas: See Yourself!
Everyone is saddened by the Manchester Attack and our favorite 'My Heart will go on' Singer Celine Dion pays her tribute to the concert victim during her show in Las Vegas on Tuesday, May 23
---
Celine tribute to Manchester Attack Victim
In the Manchester Attack, there were found that 22 people were killed and more than 50 people were injured during Ariana Grande's concert at Manchester Arena in England on Monday.
broken.
from the bottom of my heart, i am so so sorry. i don't have words.

— Ariana Grande (@ArianaGrande) May 23, 2017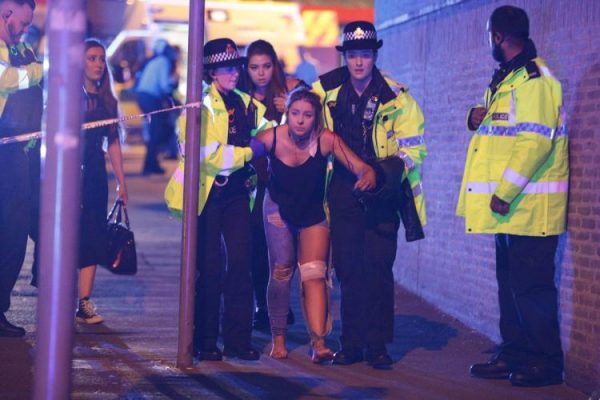 The songstress asked everyone in the audience at the Colosseum at Caesars Palace to stand and hold hands in honor of the 22 people who were killed and the other 50-plus who were injured after Ariana Grande's Monday, May 22, concert. As previously reported, police have since identified the suicide bomber as Salman Abedi.
"Come on, everybody, stand up, and you know what, raise your hands and join them to the person on either side of you, please," Dion said to the crowd Tuesday night. "Let's stand up for Manchester and show them that we care. We're filming this and we're going to send it across the ocean to those beautiful souls, so let's do that. That's it."
"They will be seeing you, they're going to feel your love," Dion added, raising her arms above her head. "Thank you so much. That was beautiful."
This sad incident has affected every singer as well as the parents of the victim which was very tragic. Since the horrifying attack numerous celebrities — including Demi Lovato and Rihanna — have paid tribute.
My thoughts, prayers and tears for all those affected by the Manchester tragedy tonight. I'm sending all my love.

— Taylor Swift (@taylorswift13) May 23, 2017
Also See Prince William and Duchess Kate Are 'Shocked and Saddened' by Manchester Attack at Ariana Grande Concert! Also See what President Donald Trump said about the Event!!
My thoughts and prayers go out to everyone affected in Manchester.

— Selena Gomez (@selenagomez) May 23, 2017
My heart hurts for my sister, Ariana & every family affected by this tragic event in the U.K. Innocent lives lost. I'm so sorry to hear this

— Nicki Minaj (@NICKIMINAJ) May 23, 2017
Miley Cyrus dedicated her performance on the season 12 Voice finale on Tuesday to the victims and to Grande.
"I'd like to dedicate this song to my good friend Ariana Grande and everyone who experienced that horrific attack yesterday," she shared Tuesday, May 23. "Our hearts are with you."
May the Souls of victims rest in peace!
James Corden's tribute to the Manchester Victims after the Ariana Grande Show; Scroll to read the full story
Short Bio on Celine Dion
Celine Dion, born in Quebec, Canada is a popular singer of all time. As well as she is a business woman. Her birth name Is Celine Marie Claudette Dion. She is loved by the audience for the album The Colour of My Love and the famous track My Heart Will Go On from the motion picture Titanic was also by her. – See more at…