Chael Sonnen credits the former Olympic wrestler Ben Askren for his sportsmanship? Know about his net worth, married life and children
The former ONE Welterweight Champion and former Bellator Welterweight Champion Ben Askren were credited by the former three-time UFC title challenger Chael Sonnen.
As he believes that he learned a lot from Ben.
---
Similarly, Jorge Masvidal knocked him out with a flying knee just five seconds into last Saturday's welterweight matchup.
Chael Sonnen said,
"I believe it's because people are seeing the real Ben Askren, which is a guy who likes to go out and entertain."
Also read Who is Israel Adesanya? Learn about his Career, Net worth, Next Fight, Body Measurement, and Social media
Ben Askren and Jorge Masvidal continue to trade barbs?
Last weekend in Las Vegas, Jorge Masvidal needed only 5-seconds to hand Ben Askren the first professional loss of his mixed martial arts career at UFC 239.
The knockout was the fastest record in UFC history. Even though such a devastating setback Ben had done a good job in terms of handling the defeat.
Likewise, about the defeat Ben twitted,
"If I can't remember it that means it didn't happen right???"
In the response to Bens' tweet, Jorge Masvidal tweeted,
"You're also undefeated. Goat of press conferences #supernecessary"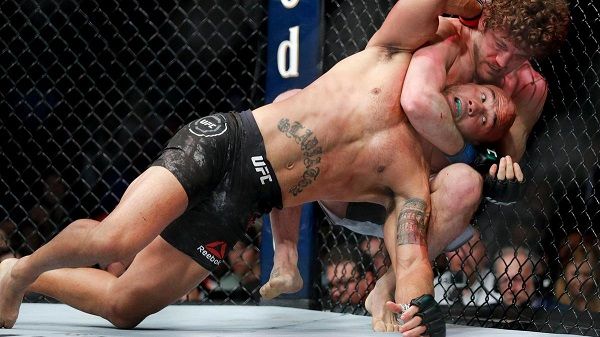 Both of them have not revealed when their next match is going to happen.
Ben Askren's Net worth
It is known that career earnings of Ben are around $500,000. He lives a luxurious lifestyle and has a Rolls Royce and a Lamborghini.
Similarly, he earned $350,000 for his win against Lawler at  UFC 235- which is also the biggest paycheck of his career.
He said,
"I only have to wear Reebok to this. And to the open workout, and to the weigh-ins, and to the fight, all that stuff… They're not paying me enough though. I got put in that damn first bracket,"
When he faced Jorge Masvidal at UFc 239 and got knocked out in 5 seconds. Even though he lost the match he earned about $210,000.
Who is Ben Askren married to?
Ben Askren is married to Amy Askren. They married on 9th April 2010. There is not much information about the marriage ceremony.
Similarly, they have three children. They are a happy couple. There is no news about the extramarital affair of this couple. His wife is not as popular as he is. So there is hardly any information about her.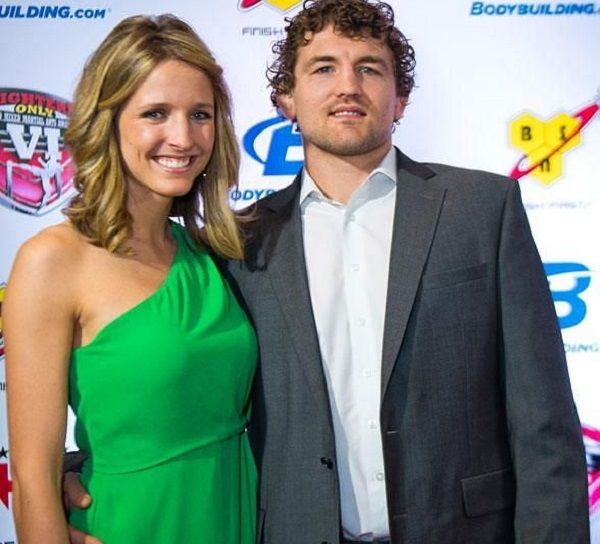 Also Read WWE Wrestler Jinder Mahal Stopping the Accusation of Steroids and making his comeback on WWE Raw!!!
Ben Askren's life and career
34, American professional mixed martial artist Ben Askren was born on 18th July 1984 in Cedar Rapids, Iowa, United States. He is the son of Chuck Askren(father) and Michele Askren(mother). He attended Arrowhead High School and the University of Missouri.
Similarly, he is currently signed to the Ultimate Fighting Championship (UFC). Ben is a former ONE Welterweight Champion and former Bellator welterweight champion. Furthermore, as of July 8, 2019, he is ranked #9 in the official UFC welterweight rankings.
Short bio on Ben Askren
Ben Askren is an American mixed martial artist and former Olympic wrestler. Currently, he remains undefeated as a professional. Additionally, he is the former ONE Welterweight Champion as well as the former Bellator Welterweight Champion. See more…
Source: bloodyelbow, B Penn, Wikipedia