Cher, 77, accompanied Boyfriend Alexander Edwards at Paris Fashion Week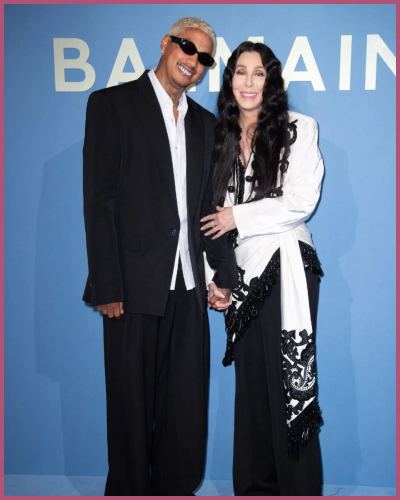 Cher and Alexander Edwards appeared to reconciled their romantic relationship.
The two recently attended Paris Fashion Week together where they posed as a lovey-dovey couple. 
The two were reported to have split up in May after less than a year of dating
---
Where do Cher and Alexander Edwards stand following their May breakup?
Cher and Alexander "AE" Edwards seem to be working on strengthening their relationship. The 77-year-old pop singer startled the world with her appearance at Paris Fashion Week accompanying her on-and-off boyfriend Alexander Edwards.
The couple appeared to be all smiles with hand in hand while sitting front row at the Balmain fashion show in Paris on Wednesday, September 27.
For the event, she donned a white blazer with a matching wrap that featured a black embroidered detail. Similarly, she paired the look with a low-cut black top and matching trousers.
The hitmaker is also accessorized with minimal jewelry and styled her long hair in loose waves.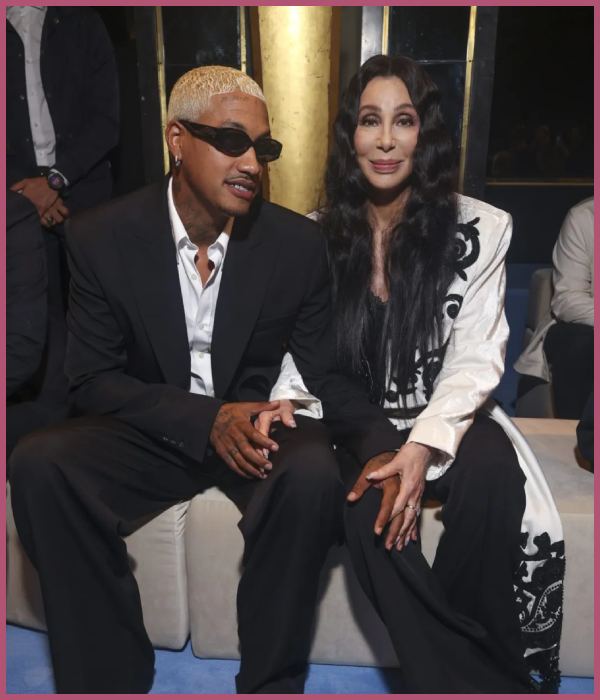 Alexander, on the other hand, opted for a formal look wearing a black suit which he paired with a crisp white shirt and matching black shoes.
Further, they both shielded their eyes with a pair of black spectacles.
This is the same event where the two first met last year. In 2022 fall, the pair sparked dating rumors after being spotted holding hands on a date night in Los Angeles.
Also read Cher and Alexander Edwards amicably split up after several months of dating
In December 2022, Cher was spotted wearing a massive diamond ring worth around $250,000, sparking rumors of her engagement.
The Grammy winner even shared a photo of her record producer, 36, holding a ring box, further fueling speculation. However, according to TMZ's insider, Cher and Edwards were never actually engaged.
In March, they also made their red carpet debut at the 2023 Versace fall fashion show in Los Angeles. The same month, the "Goddess of Pop" revealed they are working on new music together, explaining,
"I'm going to England to make two albums, Some of the songs Alexander gave me, so I'm pretty excited about that. He's a producer and a writer and he does everything, so I'm happy about that."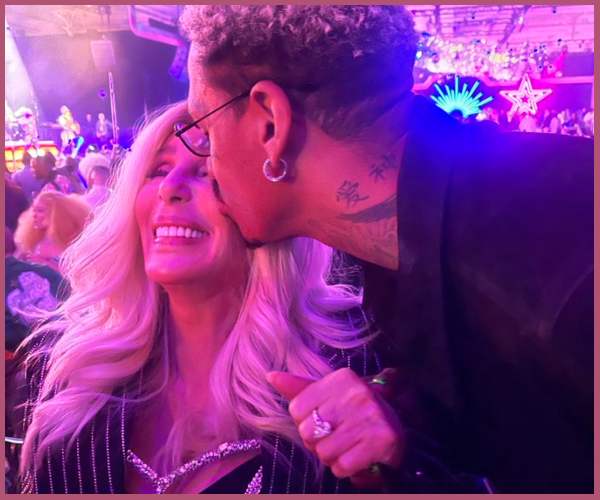 When did Cher and Alexander Edwards reconcile?
Earlier this year, Cher and Alexander were seen on a dinner date, sparking rumors of a rekindled romance after reportedly splitting up in May.
The couple's recent outing comes just days after Cher is accused of kidnapping her own son Elijah Blue Allman from a hotel room while he was trying to reconcile with his estranged wife Marieangela King on their wedding anniversary.
According to court documents obtained by The Post, Elijah was in New York with Marieangela last November when four men entered their hotel room without their permission.
In the declaration signed on December 4, 2022, King stated,
"I am currently unaware of my husband's wellbeing or whereabouts, I am very concerned and worried about him. I was told by one of the four men who took him that they were hired by petitioner's mother."
Also read Cher sparked romance rumors with Alexander Edwards after being seen having a romantic night out