Chiquis Rivera flaunts the romantic dating affairs with boyfriend. Misunderstanding between them or having cool relationship?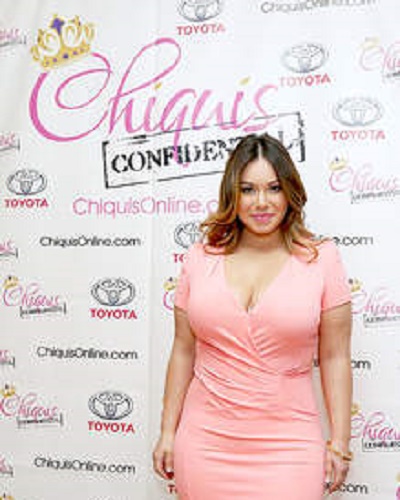 The past relationship always becomes the hindrance and obstacles for ones' future and present. If ones' past is dark then it will be difficult for him/her to handle his present and the future. One of the famous Mexican singers named Chiquis Rivera also had the dark past when she was linked in a romantic affair with her stepfather.
Today, Let's dig deep into her past relationship!!!
Has her dark past made her strong enough to love again?
After facing some messy relationship, Chiquis is again ready to love someone other or still stuck in the past?
And recently, we heard something miracle as well as good news that she is again in a relationship with singer Lorenzo Mendez.
Their fans and followers got to know about his relationship when the couple revealed about their relationship by sharing a snap in their respective Instagram accounts.
Chiquis wrote alongside the picture how Mendez convinced her in a chapter of her reality show "The Riveras."
Moreover, Mendez said:
"Two crazy people with the same dream…in love with life and grateful to God. Loving each other with the same passion,"
The pair opened up about their romantic relationship by saying:
"At all. We are still friends and there is nothing to tell yet. When it happens or if it ever happens, we will speak directly to the media"
The couple started dating since 2012 but after four years of the romantic relationship, the couples got separated without any specific reason.
You may like to read:
Another Split up! celebrity couple Miley Cyrus and Liam Hemsworth quit their marriage?
Model Sarah Mutch states that her marriage with Kurt Rappaport ended because he did not want children!
Julianne Hough comes out as bisexual after her marriage to NHL player Brooks Laich!
Molested by her stepdad
It is really nasty when we hear something about sexual harassment or molestation. Moreover, when we come to know that it was done by one of our relatives then that is not less than bizarre.
Similarly, Rivera was molested by her stepdad. her stepfather is José Trinidad Marín. Her mother Jennie Rivera found it hard to believe after Chiquis' aunt Rosie Rivera shared about the incident.
After all the investigation, six out of 9 charges were proved, and Jose Trinidad Marin was sentenced to more than 31 years in prison without parole. In 2012, Jennie died in a plane crash in Mexico which left the reconciliation between mother and daughter incomplete.
In the memory of her mother and untold story, she wrote:
"I forgive you for doubting me.Now I want to be happy, and carry you with me in my heart. I want you to guide me with the kids and with my career. You knew how to fall, how to get back up and how to get better each and every day…Only your love will carry me forward. I love you, Momma, and I miss you."
Update on Chiquis Rivera relationship
In February 2018, the couple got engaged. Later on June 29, 2019, they married in the church. She says that her big day was,
"such an emotional day for me, my mom wasn't there,"
Short Bio on Chiquis Rivera
Chiquis Rivera is an American vocalist and TV character who featured on her mom's world show Jenni Rivera Presents Chiquis and Raq-C. More Bio…