Chleb Ravenell and Kathryn Dennis now living together! Who is Chleb?
Kathryn Dennis and Chleb Ravenell are now apartment buddies! She posed in her sun-soaked apartment in Charleston and posted on Instagram writing,
"So we got our first place together! 😏 Let @thehomeedit and peel and stick projects begin"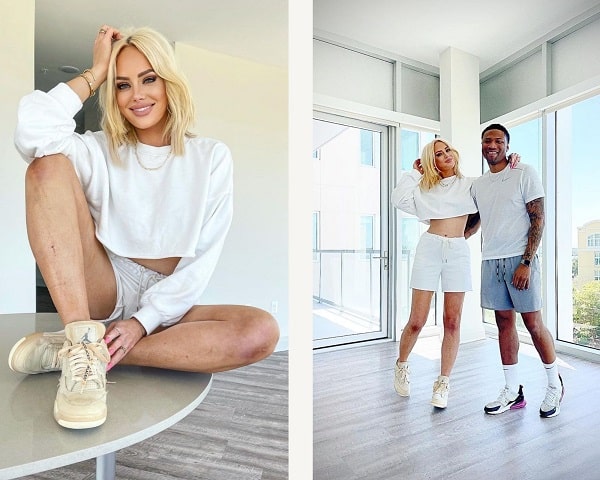 Kathryn gave a reference to the popular TV series F.R.I.E.N.D.S using the hashtag '#theonewheretheymoveintogether'. She also posted a picture of her on the counter of the new kitchen enjoying the furniture's less white interior.
Also read Is Kathryn Dennis pregnant? Who is she dating at present?
Who is Chleb Ravenell?
Chleb Ravenell is the boyfriend of Southern Charm star Kathryn. Ravenell grew in the suburb of Mount Pleasant and was born in Charleston. He attended the Western Michigan University and received a Bachelor of Arts degree in communication and media studies.
During his school days, he was a full-time student-athlete. After completing his education, he went on to play for the Calgary Stamped Football Club and became a wide receiver. He played with Calgary Stamped Football Club from 2015 to 2016.
At present, he works as a Product Specialist at Apple. As per his LinkedIn bio,
"I am a product specialist, I've been working for Fortune 500 companies the past 3 years. Over the years I have developed skills in sales, technical support, trouble shooting, and customer service. I love working in teams to accomplish a common goal."
Chleb and Kathryn made their relationship official in October of last year. Their relationship has been going smoothly since then.
Also read Is Kathryn Dennis engaged? Who is her boyfriend ' turned ' fiance?
Short bio on Kathryn Dennis
American Kathryn Dennis is a TV personality and model. She is renowned as a member of Southern Charm.
Currently, she is the brand ambassador of Gwynn's. Read more bio…