Chloe Lattanzi reveals her 'hourglass waist' in her new Instagram post, her struggles with body dysmorphia, addiction, anorexia, depression and her difficult childhood! Click on to know more!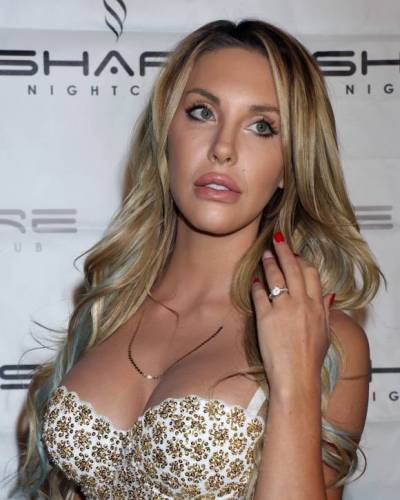 Chloe's tiny waist
American singer and actress Chloe Rose Lattanzi is very active on social media. She is never tired of flaunting her ample cleavage and tiny waistline. On 24th June 2017, she took to Instagram to upload another photo of her 'hourglass waist' and a new hairdo. The daughter of Olivia Newton-John has given a wide-eyed pose in the photograph and her blonde hair is tied in two plaits which hand over her shoulders. Chloe is in black gym attire and has held her hands up to her shoulders which further reveals and accentuates her tiny waistline.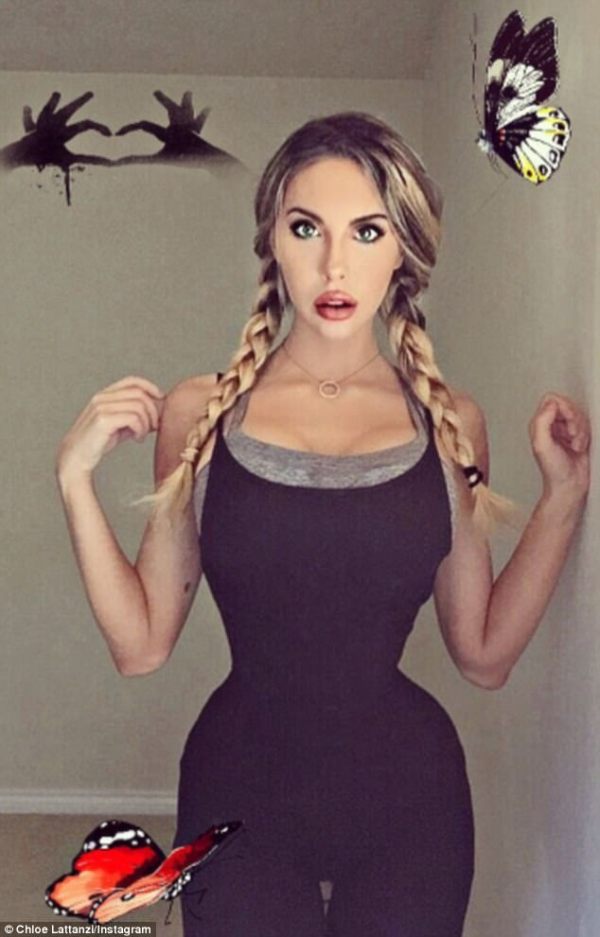 The photo has been edited by her to add flying butterfly images in it. She has captioned this photo as:
"Keep it simple."
She had received some praising comments from her fans for this new post.
Eyebrow-raising photo of Chloe Lattanzi 
However, on 21st June 2015, Chloe posted a photo of herself sporting an odd-looking application of makeup. In this snap, she was on all fours. Her eyelashes and smoky liner were touching her tangling hairs. She had applied a metallic bright pink lipstick with highlighted sections in the middle of her lower lip and top of her upper lip. It appeared cartoonish. It was not very clear whether Chloe had used any face filters on this image.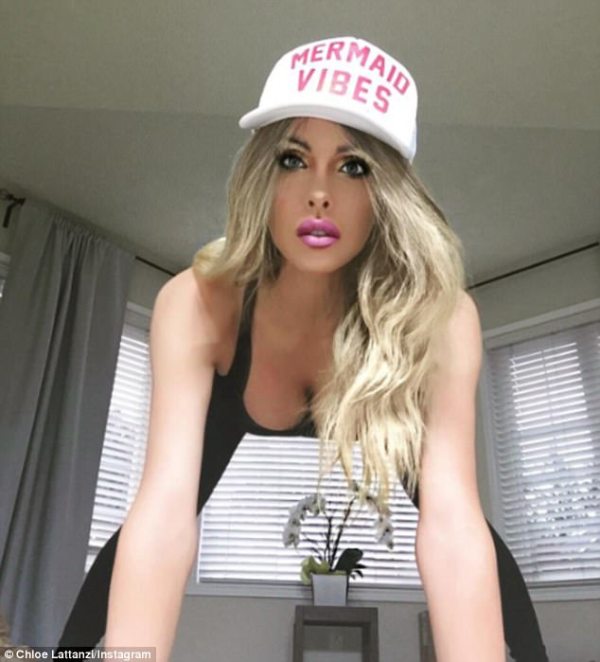 Chloe's recent controversial remark
In May 2017, Chloe's mother Olivia Newton-John had declared about her breast cancer relapse and her cancellation of her US and Canada 'Liv On' tour. At this critical time, Chloe joked that she owned a marijuana farm and that her mother would be utilizing the stock from this farm to battle cancer. This did not go well with her online viewers. She later apologized for her this remark. Chloe has some singles, albums, and films to her credit.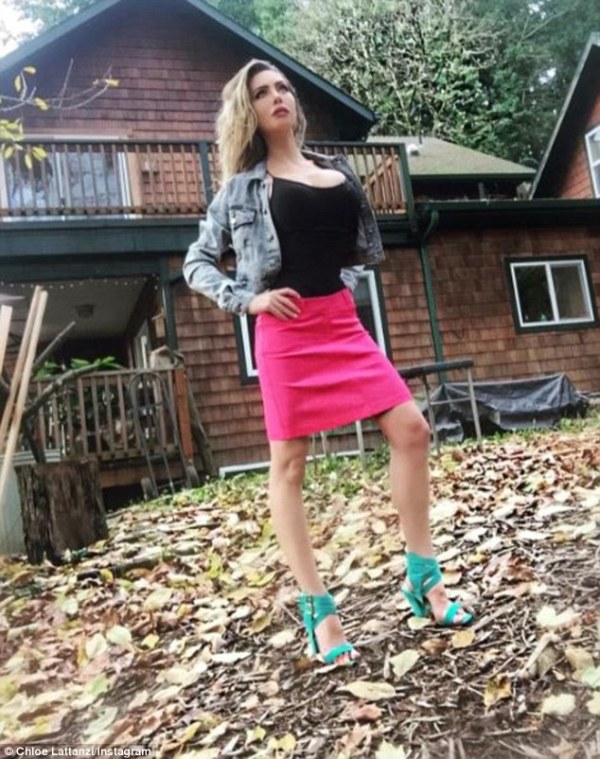 Chloe Lattanzi and her struggles with anorexia and depression
Chloe has been struggling with anorexia and depression since her childhood. She was born on 17th January 1986 to English-Australian actress and singer Olivia Newton-John and American dancer and actor Matt Lattanzi. Her parents divorced when Chloe was just 9 years old. She has a history of past mental issues and drug addiction. She has said that her upbringing has been difficult. Additionally, she is also obsessed with her body image. She suffered from anorexia as a teenager and now battles with body dysmorphia. She has supposedly undergone $ 415000 worth of cosmetic surgery which includes a nose job, multiple breast augmentations, fillers, and Botox.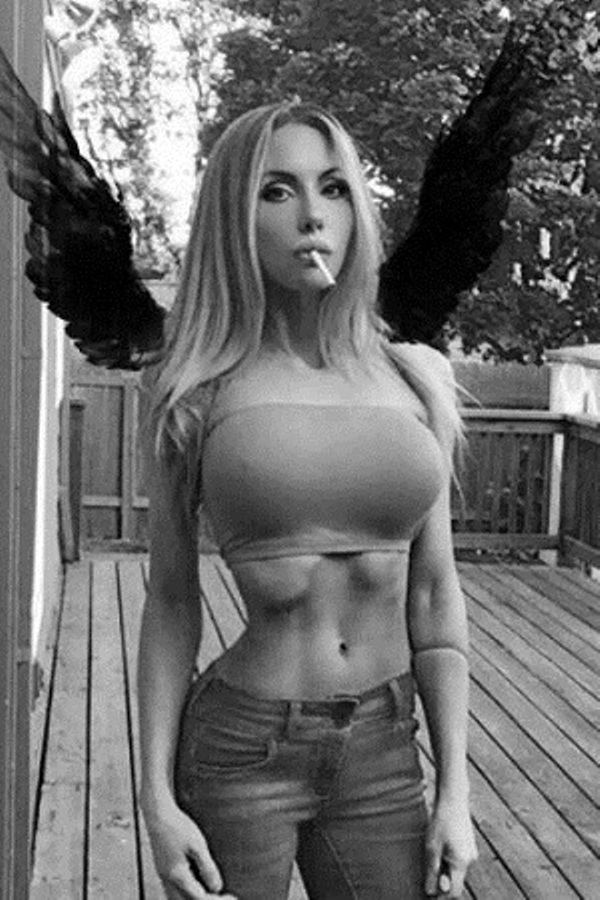 A comment of a 'skeletal look' to one of her recent black and white photo upset Chloe so much that she removed the photo from her social media and wrote a highly emotional post. She wrote:
"You know what. It's back up. Ok I'm too skinny. Say what you like. I can't care anymore. I am in so much pain and one fun thing for me to do is take pictures and be creative to forget about my troubles."
She added:
"I just got up off the floor I've been sobbing for an hour, feeling the collective energy of strangers all over the world weighing in on my family's problems. Since I was born, this has been my life. This life is also what I believe what made me sick."
She further said:
"The anorexia the depression. I've spent my life trying to please strangers. If I continue to do so I will die."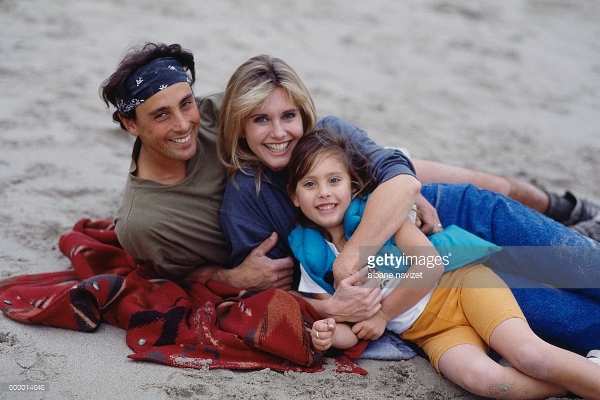 Any response from Olivia?
There has been no response from Olivia about this distressed post of her daughter. Chloe moved from Los Angeles to Oregon with her fiancé, jiu-jitsu instructor James Driskell, in 2016. She owns a marijuana farm there. Being away from the fast-paced Hollywood life has had a calming effect on her. Besides, she says that James whom she knows since 2009 had gradually helped her come out of this problem. She was also in rehab in 2013 for her drug addiction and alcohol treatment. Chloe's father, Matt stays off the grid in Malibu, California.