'A Controversial Figure!' Chris Brown Throws a Fan's Phone into the Crowd During His Concert!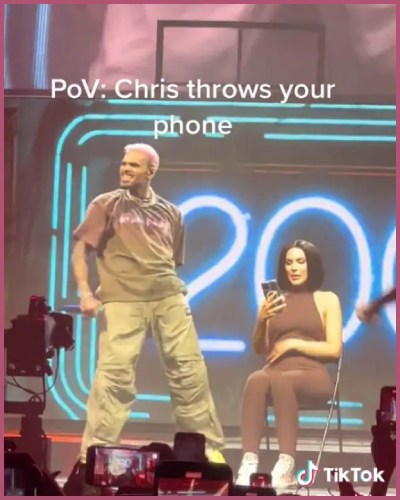 Chris Brown threw a fan's phone into the crowd during a concert on Wednesday.
Brown invited the fan on stage but threw her phone when she did not pay him any attention.
This is not Brown's first such behavior with his fans or fellow musicians.
---
Chris Brown angrily throws away a fan's phone into the crowd
Chris Brown gets in trouble once again!
The singer apparently threw a fan's phone into the crowd during his concert after she was not paying him enough attention.
The video went viral on TikTok on Wednesday when a lucky fan got a chance to join Brown on stage while he was performing "Take You Down."
Instead of enjoying the musical moment, the lady immediately took out her phone to film the moment.
In the beginning, the Don't Wake Me Up singer gently takes her phone out of her hand as if he didn't prefer her doing it.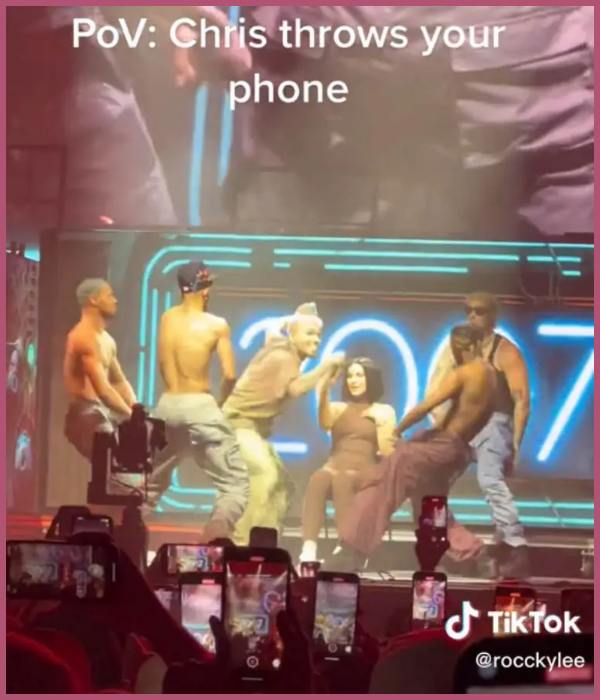 But the woman continues filming as the singer danced around her and also gave her a seductive lap dance.
Not happy with the phone, Brown snatched it from the woman's hands and threw it into the crowd which concertgoers were not happy about.
The fan, who was not expecting something like that to happen then threw her hands in the air in disbelief.
Seconds after that, the stage lights went down, and the awkward situation finally came to an end.
Sources claim that the upset fan was able to get her phone back but we're unsure what condition it was in after soaring high up in the air.
Brown is yet to speak on his yet other controversial behavior.
Also, Read Controversy About Martin Luther King Jr Statue In Boston
Brown's history of controversial behavior
After the encounter went viral on social media, fans started expressing their thoughts on the musician's behavior.
One fan tweeted,
"Listen, I totally agree that sometimes we all need to be able to put our phones down and enjoy the moment… but that's not Chris Brown or anyone else's decision to make,"
Another added,
"it is impossible to defend chris brown he just keeps doing stuff ?,"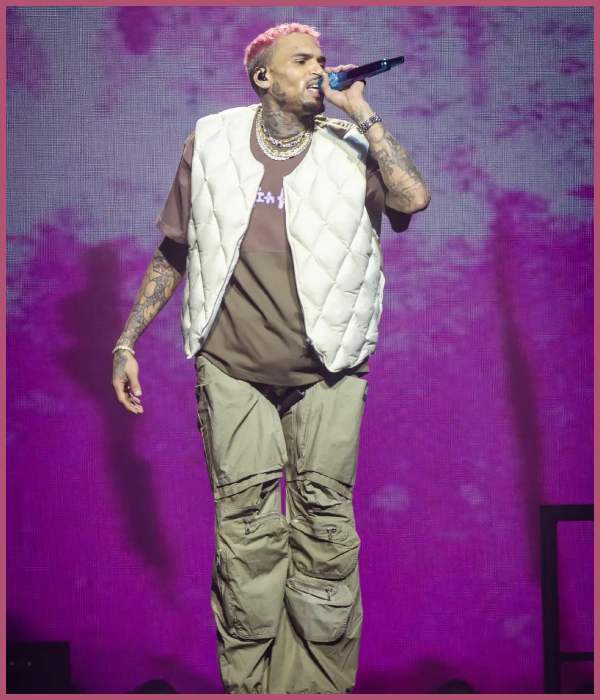 Some fans came to Brown's defense with one writing,
"Lowkey i see why Chris Brown threw the phone. U mean 2 tell me imma be up here performing my heart out, giving u the best that I got and u gonna be up here checking urself out in selfie cam. The disrespect?"
Chris, 33, is not unfamiliar when it comes to controversial acts. The With You singer threw unnecessary tantrums last month after losing a Grammy to Robert Glasper.
The Loyal singer shared a screenshot of his Google search of Glasper with a caption, "BRO WHO THE F–K IS THIS?"
He added,
"Ima keep kicking y'all ass! Respectfully."
Just a few weeks after that, fans called Chris out for collaborating with Chloe Bailey, 24, as he has a long history of violence against women.
One of Chris's most controversial acts happened in 2009 when he was guilty of one count of felony assault for beating his then-girlfriend Rihanna.
Then in 2021, the singer was accused of hitting a woman during an argument at his home in LA.
Also, Read Are Chris Brown and Ammika Harris secretly married?