Chris Pratt's son stole the spotlight in the Hollywood Walk of Fame ceremony
The well known and all time favorite member of the Pratt family, Jack was the highlight during the Hollywood Walk of Fame ceremony.
The hero of the show
Jack's actor dad was finally awarded his star on the Hollywood Walk Of Fame on April 21, and Anna and Jack were there to witness the proud moment. So much so that little Jack was spotted beaming from ear to ear as he posed sweetly with his dad's Hollywood frame plaque.
Chris Pratt was on cloud nine as he received his star on the Hollywood Walk of Fame. The Guardians of the Galaxy actor graciously celebrated his newest accomplishment by thanking those closest to him.
1018am. This is happening. First tie-tying tutorial. pic.twitter.com/LRmgxLvsQI

— Anna Faris (@AnnaKFaris) April 21, 2017
Receiving the award
"I'm a man of faith and I believe that God works in mysterious ways and gives us signs and gifts in life – and those gifts oftentimes come in the form of people. So I'll just spend the rest of my time expressing gratitude for the people in my life who are gifts,"
The Scary movie actress Anna Faris gushed about her 'most incredible' husband as he stood on stage beside her, calling him her 'anchor.' Addressing the crowd,
'This is actually a thank you speech. I'm the beneficiary of all this because I get to spend every day with this wonderful man." she said
The Shinning star
Moments before Pratt's big day began, he shared a more sentimental milestone with his shining star. The 37-year-old actor proudly taught his son how to tie a tie in the sweetest tutorial.
"We have bonded to make this molecule that is more important to me than air or water, and without it none of this means anything to me. With every challenge, with every day, week, month, decade, we become more bonded. You make me laugh like nobody else. You're very caring, and thank you for your trust and your sacrifice — and for your dedication and your heart. I will do my best to protect it, and in return I will give you all of those things as well. You have my heart, my dedication, my trust," Pratt concluded.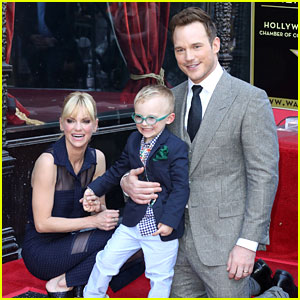 Pratt was very excited about the honor and even shared a sneak peek of his nameplate being assembled earlier this week.The actor has enjoyed considerable success, particularly these last few years after starring as Andy Dwyer in Parks And Recreation.
'I want to thank my wife Anna, I love you. You've given me so much. You gave me the greatest star in the galaxy in my little boy, I love him and I love you." he said
Short bio on Chris Pratt
Christopher Michael Pratt is an American actor. Pratt came to prominence with his television roles, including Bright Abbott in The WB drama series Everwood and Andy Dwyer in the NBC sitcom Parks and Recreation. His early film career began with supporting roles in such mainstream films as Wanted, Jennifer's Body, Moneyball, The Five-Year Engagement, Zero Dark Thirty, Delivery Man and Her. More bio…