Chris Stapleton and Morgane Stapleton's arrival of twins announced by Reba McEntire just after he won the award in 53rd ACM. Checkout the entire story
American singer-songwriter and guitarist, Chris Stapleton's hattrick celebration on the same day! You will also be happy for him once you'll know the reasons.
15th April-Birthday
The first celebration is because the 15th of April is his born date. The Tennessee Whiskey singer, Chris Stapleton was born on 15th April 1978 and turned 40 this time.
2nd celebration: won ACM Award
Chris' second reason for the celebration was because of his career. ACM award is the Academy of Country Music Awards. This year it was 53rd ACM awards event which was held at MGM Grand Garden Arena in Las Vegas, Nevada. Country's biggest and talented stars come together for the event. Luke Bryan, Miranda Lambert, Jason Aldean, and Maren Morris hosted the event.
On 53th ACM award show, he won the awards for the Male Vocalist of the Year and album of the year title for his LP From a Room: Volume.
Congratulations to @ChrisStapleton who has won Album of the Year and just welcomed TWINS! #ACMawards pic.twitter.com/nAsBACSuEo

— ACM Awards (@ACMawards) April 16, 2018
Father to the twin babies
Chris' wife, Morgane delivered the twin baby boys. After he received the award, the host of the show, Reba McEntire took the honor to announce the news to the whole crowd that Chris just became the father of the twins! McEntire said,
"We just found out that those little rascals came a little bit early. Hot off the press!"
After the news was made aware, ACM Awards tweeted,
"Congratulations to @ChrisStapleton who has won Album of the Year and just welcomed TWINS! #ACMawards."
The couple is already the father of two, a son and a daughter but has not revealed the name of their children. They did not reveal the name of them because of the privacy issue. Now the couple is parents of four kids.
The couple tied the knot in 2007, and in 2017, they celebrated their 10th marriage anniversary where his wife, Morgan wrote on her social media,
"14 years, 2 babies, & 2 more on the way, Happy 10 year anniversary babe! You make my whole world go roun!"
She had revealed that she was twins then itself.
You may like to read Katie Rost is expecting her fourth child! Know who the baby daddy is!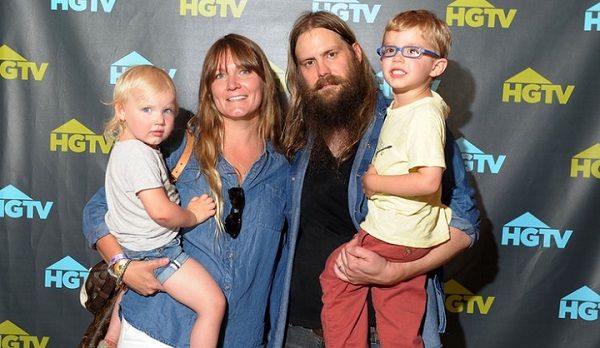 The Affair
Chris and Morgan met for the first time in the year 2003. During that time he used to work in Nashville publishing house and she was a songwriter and artist at a neighboring publishing house.
Morgan revealed that when they used to work in a publishing house she used to hang out with one of Chris' colleague so that she gets to passively connect with Chris,
"We'd hear the jingle of his keys as he walked down the hall, and we knew he was coming to play us whatever new song he had written,"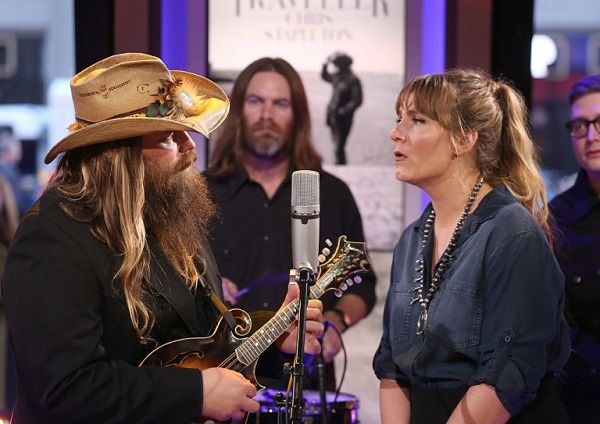 Chris then finally asked her for the songwriting session which turned out to be their first date. Morgan revels,
"We didn't get much writing done that night,"
The couple dated for four years then decided to get married. They finally got married in the year 2007. In an interview with NewYork Times, Chris shared,
"We're married so we hold each other accountable. We can lift each other up on bad nights, kind of give each other a wink when we screw up or do something funny."
She became the major influence on his music. Their love story is so romantic that we hope they always get the reason for the celebration!
Also read 90 Day Fiance star Paul Staehle and Karine Staehle welcome their first baby together!
Short bio on Chris Stapleton
Chris Stapleton is an American country singer and songwriter. He has written more than 150 songs for other artists, including "Never Wanted Nothing More" for Kenny Chesney and "Come Back Song" for Darius Rucker.
He is famous his debut album Traveller (2015), which peaked at number two on the U.S. country charts. More Bio…
Short Bio on Morgane Stapleton
Morgane Stapleton is a singer and a songwriter. She is known for her background vocals in her husband Chris Stapleton's songs. She has written songs sung by many famous artists and has sung with one of the legendary artists, John Prine. More Bio…