Even after Chrisette Michele filed a suit against Doug Ellison, he proposed to her, engaged and soon to marry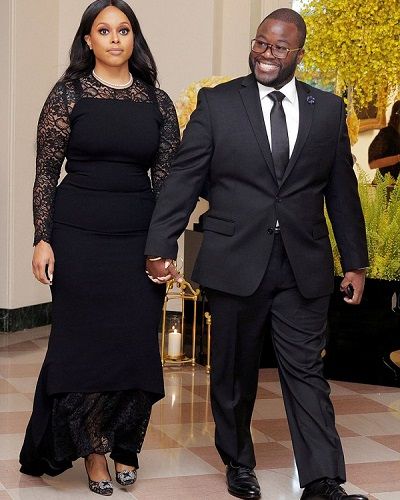 Chrisette Michele is a bride-to-be very soon.
She went through a lot of ups and downs to be with her man, Doug Ellison.
It was not like a normal love story because she had to go through a nasty lawsuit.
---
The Announcement of her Engagement
Chrisette revealed that she is engaged via her social media handle, Instagram. She uploaded a picture of her hand holding Doug's and on her ring finger, she had a huge solitaire.
This picture of hers was proof that her longtime boyfriend Doug had proposed to her and she said 'YES'. Hence, she is flaunting the ring.
You may like to read Julianne Hough comes out as bisexual after her marriage to NHL player Brooks Laich!
Law Suit
Everyone has to go through something or the other in life. This is how life is. And the key is that you have to accept and move on. The downs in her life were the time when she and Doug had differences legally.
But what about those ups and downs she was talking about? In a recent with The Scoop Reloaded, Chrisette revealed that things were once so bad between her and Doug that she sued him.
Chrisette met her fiance in a music school, and they fell in love at first sight. They intended to live with each other but they did not know that they will be having so much difference. She said,
"He said, give me a year, and I'll have you signed to a major label. He had about two weeks, and I was signed to Def Jam, so that was the beginning of our business relationship. Early on to the business relationship, things got crazy! If you've never read about it, if you've never heard about it, we were in the midst of a crazy, crazy lawsuit, litigation situation with each other, and we hadn't spoken for literally seven years."
Hence, she left Def Jam and she decided to start her label, Rich Hipster. After leaving Def Jam she revealed that she was missing Doug,
"I had fun with it, but I knew something was missing. I called Doug, and after speaking to him for only a couple of hours, we were inseparable again. It's the craziest, weirdest thing because we had gone through all that together."
And then Re-Union
After that incident, it didn't take Doug much time to think that he wanted her back. Then instead of wasting any time by dating again, he decided to propose to her. She shared,
"A few days into us talking again, he was like let's go hang out in the studio. There's flower petals on the ground, the Empire State Building is in the background, and here he is, dropping down to one knee, and opening up a box. I couldn't do anything but scream and every kind of reaction I don't think you're suppose to have. I never cried, I just screamed, and screamed, and screamed."
Wedding Bells
Now that they're engaged, Chrisette is heel over the heels. She is planning her wedding,
"We haven't decided on a wedding date. I know where I want to get married though. I want to get married at Oheka Castle in New York. That's like a dream of mine."
Also read Rich Roll talks about Bosch star Titus Welliver! Know about his failed marriage, children, and net worth
Short Bio on Chrisette Michele
Chrisette Michele is an American R&B and soul singer-songwriter. She was signed to Motown Records but recently left to sign herself under her label Rich Hipster. Michele won a Grammy Award for Best Urban/Alternative Performance in 2009 for her song "Be OK". More Bio…