Chrisley Knows Best star Todd Chrisley and wife Julie Chrisley on financial crimes indictment! His bad fall accident?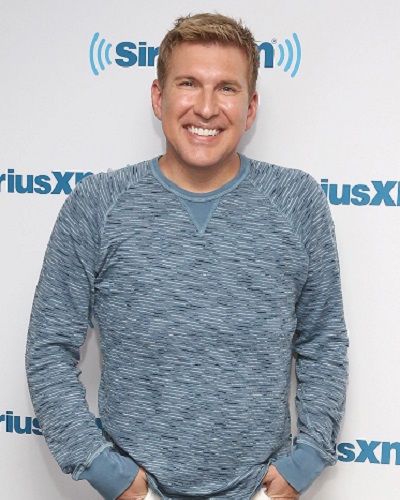 The American reality TV star Todd Chrisley on 12th August revealed on Instagram that he and his wife Julie Chrisley could potentially face charges for some financial crimes. But the story he told is not as straightforward.
He claimed that a disgruntled former employee set out to convince investigators at the US Attorney's office that his family is responsible for committing a myriad of financial crimes.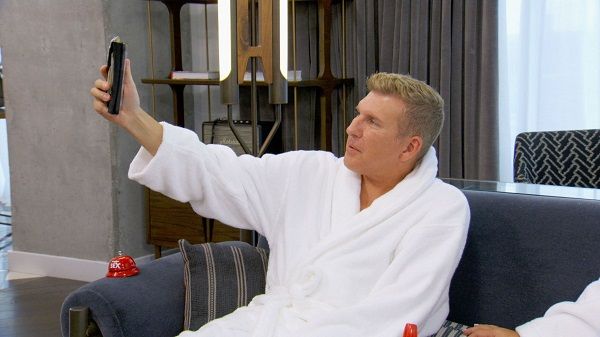 Similarly, he said,
"It all started back in 2012, when we discovered that a trusted employee of ours had been stealing from us big time. I won't go into details, but it involved all kinds of really bad stuff like creating phony documents forging our signatures, and threatening other employees with violence if they said anything."
He fired the employee and took him to the court when the employee bugged their home. Likewise, he explained,
"To get revenge, he took a bunch of his phony documents to the U.S. Attorney's office and told them we had committed all kinds of financial crimes, like tax evasion and bank fraud," 
He added,
"That got their attention all right, but once we had a chance to explain who he was and what he'd done to us, they realized it was all a bunch of nonsense and they sent him on his way."
Later this week Todd and his wife are going to be named in a federal indictment of other financial crimes.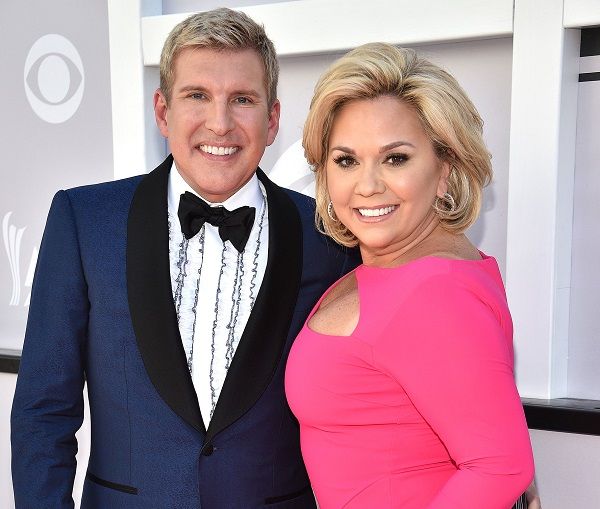 Todd Chrisley's bad fall
Todd Chrisley told the audience that he fell and then launches into the tale of dramatic woe he's known for. As he started running from the pool house to his main house in the rain, he slipped on the stones around the pool and fell down. After that, he realized that he could not move. he was noticed by his six-years olf granddaughter Chloe from the window.
Also read Reality TV stars Stassi Schroeder and Beau Clark get engaged…. in a cemetery!
Who is Todd Chrisley married to?
The Tv star Todd Chrisley has been married two times. His first wife was Teresa Terry with whom he was blessed with two children Kyle Chrisley and Lindsie Chrisley. But there is no information about their dating history and marriage date. Their marriage could not work out so they divorced in the year 1996.
He was destined to be together with Julie Chrisley as he has been married to her from 25th May 1996. Their marriage life has been going very well. They have been married for more than two decades but there is no hint of divorce. They have three children together who are Campbell Grayson Chrisley, Chase Chrisley, and Savannah Chrisley.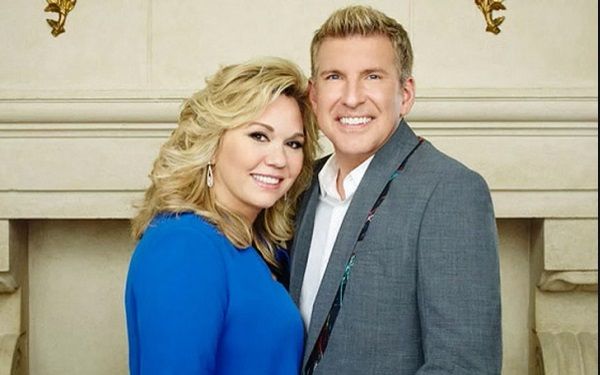 Short bio on Todd Chrisley
Todd Chrisley is an American reality TV star. He is widely popular for appearing on the USA Network reality series Chrisley Knows Best. He is the patriarch of the Chrisley family and appears on the show with her wife and five children. Todd appears on the show since 2014.
He is also a self-made millionaire businessman. Previously, he was active in other TV series such as Steve Harvey and The Domenick Nati Show. He is the husband of the famous reality star, Julie Chrisley. See more…
Also read Reality TV star Tyler Baltierra expresses his immense love with wife Catelynn Lowell via a sweet Instagram post!
Short bio on Julie Chrisley
Beautiful Julie Chrisley is a television reality star who hails from America. She gained a lot of attention for her appearance on the USA Network reality show, Chrisley Knows Best. Moreover, she is a survivor of breast cancer. See more…
Source: eonline, tvshowsace