All about Chrissy Teigen and John Legend's third pregnancy! A recall to their beautiful wedding and relationship
Chrissy Teigen are expecting third child with husband John Legend. As per source, Teigen is pregnant again. Her baby bump is seen growing in Legend's new music video. After that, on 13th August 2020, she showed off her growing belly in a Twitter video. She wrote,
"Look at this third baby (expletive). What the…oh God."
They had promised fans that there would be a beautiful surprise in John's new music video Wild. In the video, Legend is seen embracing his wife from behind, as she cradles her small baby bump.
Chrissy starred in the PDA-packed shoot of his new song.
The same morning, she shared a stunning collection of video stills and wrote,
"Big day! The video for "Wild" premieres tomorrow! John and I will be introducing it live at noon pacific on YouTube."
Things to know about her pregnancy
A few months ago, Chrissy got her breast implants removed through surgery. She shared her experience on the social media. But after she announced her pregnancy recently, fans questioned her decision to remove implants during pregnancy.
To which Teigen cleared up on Twitter and wrote,
"Oh, it's quite a story. I did the routine pregnancy test you do before surgery. It said negative. It was not negative,"
She added,
"A few weeks after surgery, I took a test. And for many years now, I've taken pregnancy tests almost every month, praying to see a positive one day. ust wishful thinking. I never had a positive before."
Her last pregnancies were through in vitro fertilization.
Also read Emma Roberts pregnant with Garrett Hedlund's baby! Know about their relationship, Emma's breakup with Evan Peters, net worth, biography
Chrissy Teigen and John Legend's wedding
Chrissy Teigen and John Legend met each other in the year 2007 on the set of Legend's music video for "Stereo". They walked down the aisle in September 2013 at a luxurious Villa d'Este overlooking Lake Como. It is the sentimental spot for the two of them given that they had vacationed there many times throughout their dating phase.
Chrissy actually bought five wedding dresses for her wedding. In her wedding, she ended up wearing a total of three different Vera Wang gowns. They were a full-skirted ballgown for the ceremony, a figure-hugging mermaid silhouette for the dinner, and a red trumpet dress for dancing at the reception.
Similarly, their wedding was attended by 125 guests who were their closest friends and family. They celebrated their love of several years in the making.
Also, Chrissy on their fifth anniversary wrote,
"12 years ago today, I met the man of my dreams. And 5 years ago today, we got married. We have two babies and some pups and a life I am grateful to have. My everything, I love you and am so proud of the story we've created."
On their wedding, their family members were delayed for hours due to some travel issues so they decided to hold the ceremony until their loved ones could make it. Their wedding was made successful with the help of lots of local wedding vendors. Since then they are happily married to each other. Their married life is going smooth as ever.
Children
Chrissy Teigen and John Legend are parents to two children and third on its way. They have two adorable children Luna Simone Stephens and Miles Theodore Stephens. Luna was born on 14th April 2016 and is 4 years old.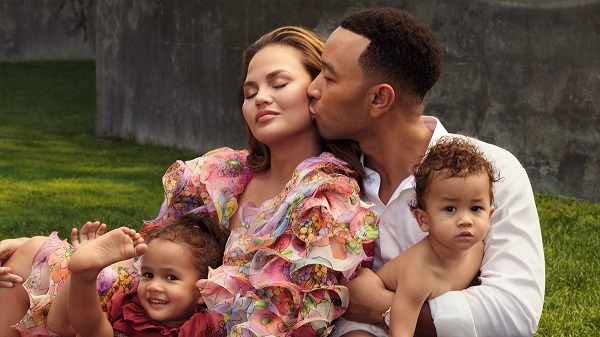 Similarly, their son Miles was born on 16th May 2018 and is 2 years old. Their children has a pet hamster named Peanut Butter.
Also read Beautycon CEO Moj Mahdara and her work in beauty industry! Know about her married life with Roya Rastegar and children, social media, biography
Short bio on Chrissy Teigen
Chrissy Teigen is an American model. She appeared in the Sports Illustrated swimsuit issue in 2010 and was named Rookie of the Year. She is the wife of famous American singer John Legend. Read more bio…
Short bio on John Legend
John Legend is a Grammy and Golden-winning American singer-songwriter. He first became popular with the 2005 single "Ordinary People".
John has collaborated with many different artists, such as Jay-Z and Kanye West. Read more bio…