Christina El Moussa's new affair, her relations with her ex-husband and new tattoo! Read about all this here!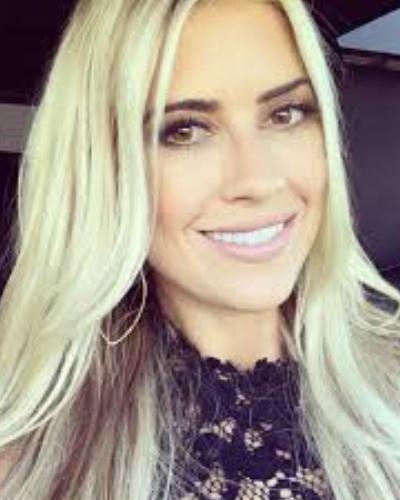 American real estate investor and TV personality Christina El Moussa was spotted on 9th June 2017 night on a romantic date with her new boyfriend Doug Spedding.
Christina El Moussa's new date
Christina was all smiles and appeared very happy and content. The couple stepped out and headed to Mastro's Steakhouse in Costa Mesa, California. They were holding hands and appeared very much in love.
Christina had worn a long-sleeved purple polka-dotted mini dress and grey thigh-high boots. Her boyfriend is an Orange County businessman and he had adorned a grey button-down shirt and black pants with leather shoes.
Christina El Moussa informed about her date on her Snapchat. She shared a video of a flaming cocktail which she captioned:
"Date Night"
Christina El Moussa has been in a romantic relationship with Doug since the last few weeks. She, however, had dated Doug years ago before she was married to Tarek El Moussa.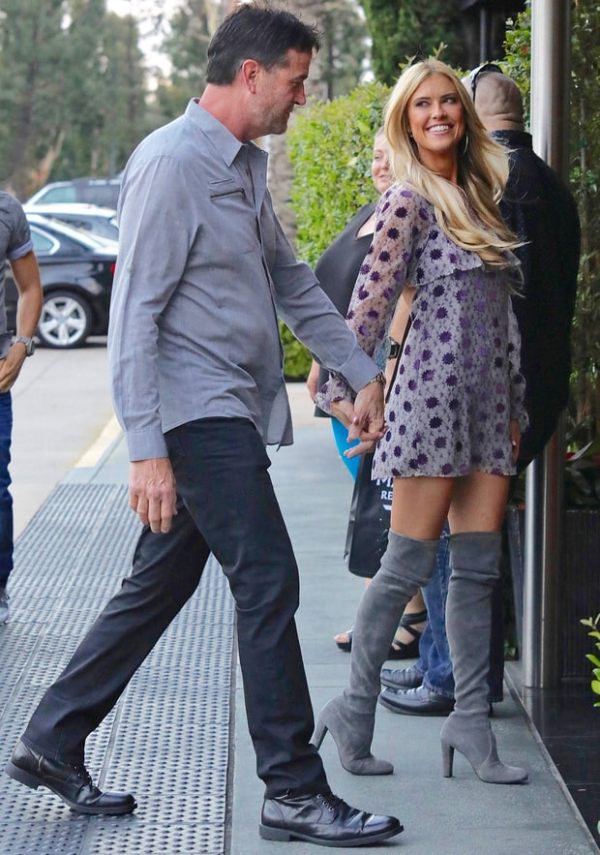 Mr. and Mrs. El Moussa
Christina was married to Tarek El Moussa in 2009. They have 2 children together; daughter Taylor Reese El Moussa (born 2010) and son Brayden James El Moussa (born 2015). Her husband suffered from thyroid cancer in 2013.
At the same time, they were also filming for the reality TV show 'Flip or Flop'. The busy schedules and his illness took its toll on their relationship and they separated. They filed for divorce this January. She was also briefly linked to their contractor Gary Anderson after her divorce.
In May 2016, Christina had to call the police to deal with her husband who ran from the back door and fence of the house with a gun in his hand after a heated argument. She felt that he might turn suicidal and hence informed the police.
The police had come in helicopters and left after Tarek told them that he would not hurt himself and had merely taken his gun to protect himself from wild animals. But Christina felt that it would be healthier for the couple and their children if they remain separate.
The couple was however seen in April 2017 attending the Daytime Emmy's award function together posing arm-in-arm on the red carpet. They continue to amicably co-parent their children.
Tarek had dated their former nanny Alyssa Logan and has been of late spotted with several mystery women. An insider told US Weekly that:
"Tarek is flaunting that he's living the life and dating all these girls."
He added:
"Christina could care less,"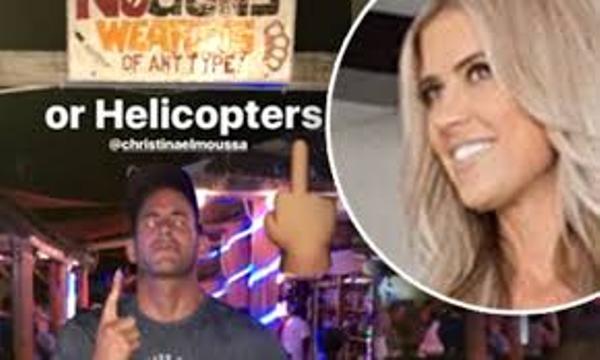 You may like to read Is Christina El Moussa and her Boyfriend Doug Spedding already planning to marry? Find out about their relationship!
The bilateral taunts
On 11th May 2017, Tarek posted a photo on his Instagram. The photo was his and he was seen standing below a sign that read: 'No guns, weapons of any type'.
Tarek added the words 'or helicopters' and tagged his wife adding a middle finger emoji. He was referring to their May 2016 fight. Christina did not find this picture funny.
Not getting amused, she retorted with an Instagram post which showed the photo of the Empire State Building. She put the quotes:
"No time for bulls–t when you're building an empire."
She captioned it with the words:

"True That… Only surround yourself with the best."
Soon, Tarek put up a photo of himself surfing. He captioned it with:
"#life is about having #fun and enjoying every #moment….people shouldn't take things so seriously especially JOKES that are meant to be playful and fun… happy Friday!!"
A source close to the couple said:
 "Christina does not find this funny or a joke."
Christina is particularly concerned about her children and their upbringing in a good environment.
Moussa had inked the birth dates of her 2 children on her arms in May 2017. She captioned the photo of her new tattoo in honor of her kids which she posted on her Instagram with the words:
"Been wanting this for a long time… no time like the present. #taylorreese #braydenjames,"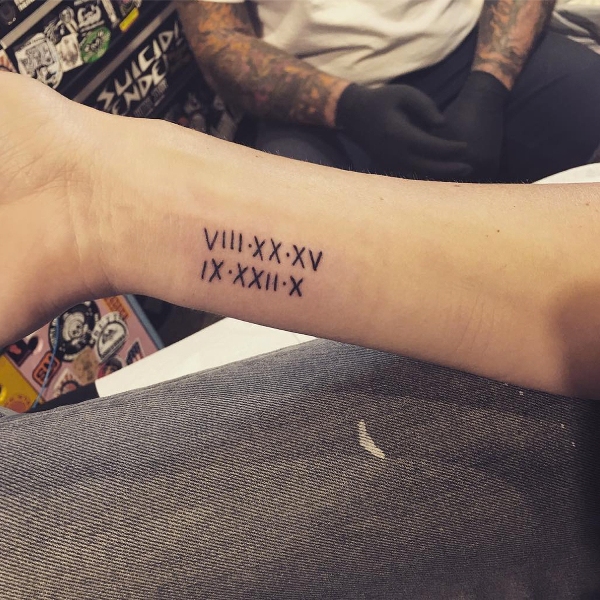 Update on Christina El Moussa
Christina El Moussa is said to have dumped Doug on October 2017 and is now dating Ant Anstead since a year.
Also read Christina El Moussa marries her boyfriend of one year Ant Anstead in a secret ceremony at her home!
Short Bio on Christina El Moussa
California-born Christina El Moussa was born on July 9, 1983. She possesses American nationality. Young and Sexy Christina is a real estate agent. According to the timeline of "Flip or Flop", she worked as real-estate until the financial crisis in 2008. Afterward, she was into TV, flipping homes from start to finish. As of now, she is a popular TV personality.
Presently, Christina is a prominent figure in the media as the host of the TV series, "Flip or Flop". She alongside her husband, Tarek is running the show since 2013. More Bio…