4 reasons why Christine Fang is threat to the US Government! Know about Chinese Honeytrap Fang Fang
Christine Fang is an accused Chinese Spy who made a connection with the US Politicians. Here are 4 reasons why Christine is a threat to the US Government.
1. Christine Fang, President of the Chinese Student Association
Christine Fang was the President of the Chinese Student Association at California State University. She was president of the campus chapter of Asian Pacific Islander American Public Affairs (APAPA).
In 2012, she shared a picture on her Facebook of the APAPA's members who helped to set up Congresswoman Judy Chu's meeting in Cupertino Community Hall.
As per the website,
"Traditionally, this award honors students and student organizations that have demonstrated outstanding Pioneer Pride in the campus community,"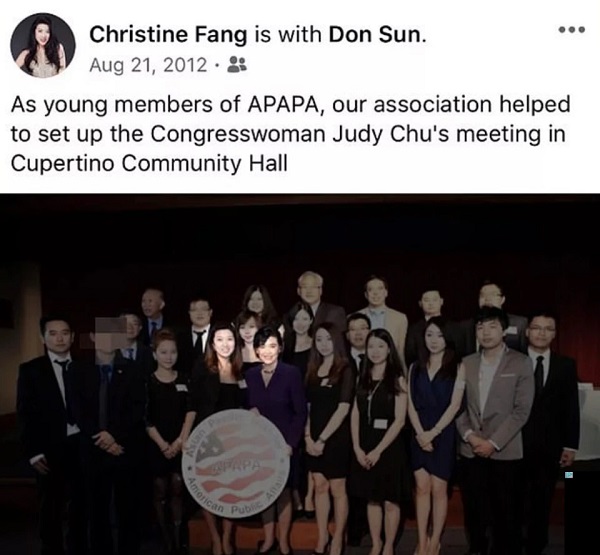 She came to California as a college student in the year 2011 for an effort to befriend and spy on lawmakers in the Golden State and other parts of the U.S.
2. Targeted Politicians
The Chinese national Christine Fang targeted up-and-coming local politicians in the Bay Area and across the country. One of her targets was Eric Swalwell who serves as the U.S. Representative for California's 15th congressional district since the year 2013. She took part in fundraising activities for Swalwell's 2014 re-election campaign.
Eric's office was aware of the activities but there was no evidence of illegal contributions. The Federal Election Commission did not have any record of any donations made by Fang herself. She had placed at least one intern in Swaldell's Office.
3. Christine Fang accused of sleeping with Mayors
Christian Fang is accused of having a physical and romantic relationship with two unnamed Midwestern mayors, including one in Ohio. Similarly, she is accused of having fake political connections with a host of local and national politicians, among them a U.S. congressman.
It has not been identified who the Ohio Mayor is. As per Axios revealed,
"She used political gatherings, civic society conferences, campaign rallies, and campus events to connect with elected officials and other prominent figures,"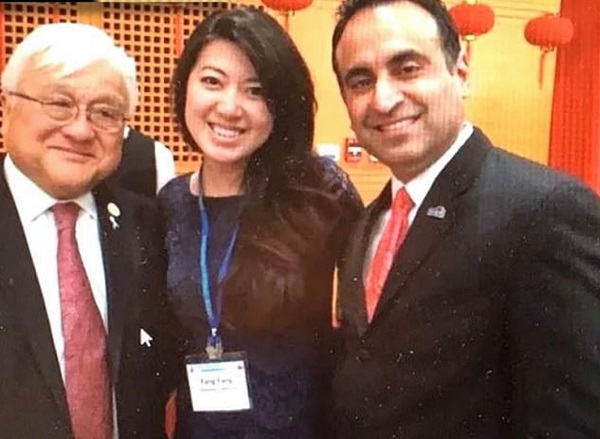 Similarly, she was an operative in a political intelligence operation run by China's main civilian spy agency between the years 2011 and 2015. Likewise, she attended the U.S. mayors' regional conferences to build her connections. But then the authorities became aware of Fang when she had contact with another person they already had under surveillance. After that in 2015, she returned to her home country China.
Likewise, CityBeat asked,
"Which Ohio mayor had a sexual encounter with an alleged Chinese spy in a car under FBI surveillance? That's the question that has Ohio politicos and political journalists positively aflutter today, with conjecture flying wildly via texts and DMs."
4. Christine Fang friends on Facebook with US Politicians
Christine Fang had a Facebook page under her name. Even though she had made very few posts but her friend list had some important people. Mayor Alan Nagy and David Haubert were on his friend list. Likewise, Eric Swalwell's father and brother are also friends with her on Facebook.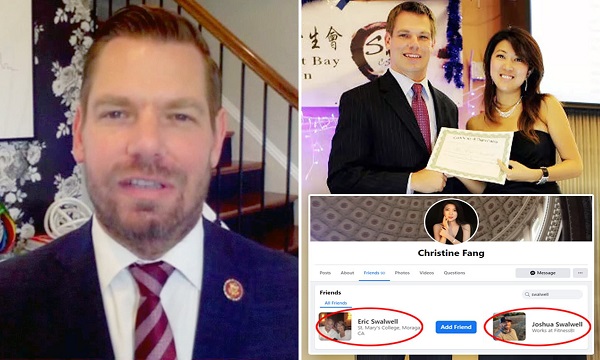 However, China does not use Facebook, being friends with politicians might not be helpful information.