Chudney Ross' Family background, boyfriend turned husband, destination wedding, Arrival of the baby
Chudney Ross is a producer and production manager. She has produced movies like Mesmerized (2004), Livin' Large(2002) and Fame (2003). She came to the entertainment industry as her parents were from the same field.
Ross' Family background in brief
Her mother, Diana Ross is an American singer, songwriter, actress, and record producer. Her father, Robert Ellis Silberstein is an American music executive and businessman. Furthermore, her parents are married and divorced twice but they finally separated in the year 1977.
She has four siblings, Rhonda Ross Kendrick(sister), Tracee Ellis Ross(sister), Ross Naess(brother), and Evan Ross(brother). All her siblings are also working in the entertainment industry as an actor, producer, etc.
Boyfriend turned Husband
Ross is a married woman now. She is married to her longtime boyfriend, Joshua Faulkner. The couple met via their mutual friend. Joshua revealed what happened during their first date,
"She totally 'petted me' on our first date."
Ross found Joshua so attractive during their first date that she could not believe he was real. She says,
"He was handsome and it's so rare to meet such a gentleman in L.A.; it was like I needed to touch him to confirm he was real."
After dating for six years, he proposed her. She revealed he proposed for the marriage on her birthday dinner party. Her close friends and family were present and he proposed in front of them. What else would a girl wish for? She said,
"Callaway handed me a box wrapped in a drawing she had made. When I looked back up, Joshua was on his knee, asking me to be his wife. The proposal was perfect! Joshua is a very low-key guy and so it was definitely his style to do it with just us [present], but I love to celebrate. So it was fun to get to celebrate after with my family,"
You may like to read Diana Ross celebrates her 75th birthday at the Grammys! Her grandson Raif-Henok steals the show!
Destination Wedding
The couple decided to get married on 21 June 2015. Both of them always wanted to do the destination wedding. Ross said,
"We both felt that the weddings we have traveled to have been much more memorable because you get to spend so much time with family and friends."
She wanted to be their wedding like the summer camp where the guests are having a great time with each other,
It's like summer camp with everyone you know, but celebrating love!"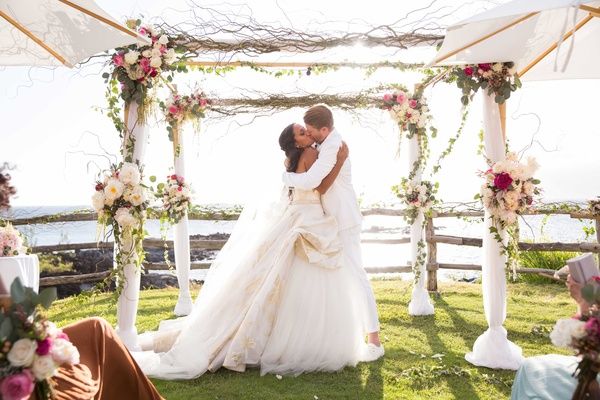 Source: Inside Weddings(Chudney Ross and Joshua Faulkner sharing a beautiful kiss on their wedding)
Her mother Diana also had a big hand to plan and decide on their marriage. She said,
"My mom loves a fun project having to do with her children."
Hence, the couple chose the beautiful destination Maui for their wedding. She also shared,
"Our first big trip together was to Maui; I learned I was pregnant while on a trip with my mother to Oahu; and we had our babymoon on Kauai."
Baby's Arrival
On 19 September 2012, Ross gave birth to her first baby named Callaway Lane. Joshua announced,
"She was born on September 19, 2012 at 6:40pm and weighs 7 lbs 8 oz!"
The couple felt complete after their baby came to this world. The baby made their relationship bond grow more strongly.
Also read Who is the new boyfriend of Emily Atack, Rob Jowers? Know all about his career and personal life!
Short Bio on Chudney Ross
Chudney Ross was born on November 4, 1975, in the USA as Chudney lane Silberstein. She is a producer and production manager, known for Fashion News Live (2004), BET Awards 2007 and Essence Ninth Annual Black Women Hollywood (2016). More Bio…