CNN correspondent Jim Acosta is banned from entering White House!
CNN journalist Jim Acosta was at a press conference held in the White House. There was a testy exchange with President Donald Trump and soon after his credentials were suspended, it is learned.
The controversial incident
It is learned that the Chief White House Correspondent Jim Acosta was asking a question to Donald Trump standing up at the news conference held in the White House on Wednesday when a White House worker attempted to grab the microphone from his hand. It was at the time that Donald Trump was giving a response to the mid-term elections. His party has lost control in the lower House but there was a gain in the upper House.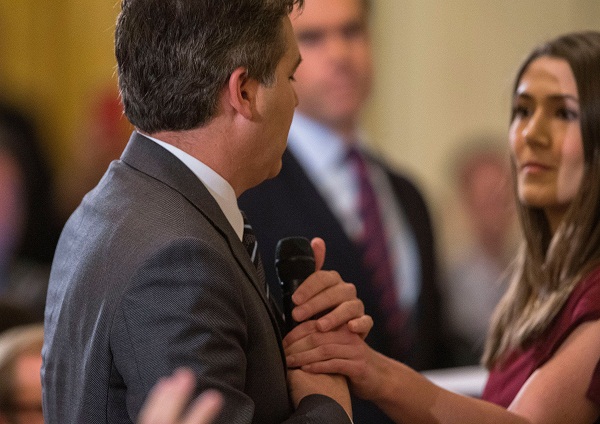 The Press secretary Sarah Huckerbee Sanders stated that his access was eliminated since he had 'put his hands on a young lady'. But Jim has denied any such incident and called Sanders a liar.
The actual happening at the news conference
Donald Trump had used the term invasion for the migrant caravan from Central America which was headed to the US. Jim did not like the term and challenged it during the question and answer session. The Trump had also come out with an anti-immigration ad which Jim considered racist and also challenged it.
Jim also went on to ask about the Russian probe into the alleged interference during the 2016 elections which upset the President and he repeatedly told Jim:
"that's enough."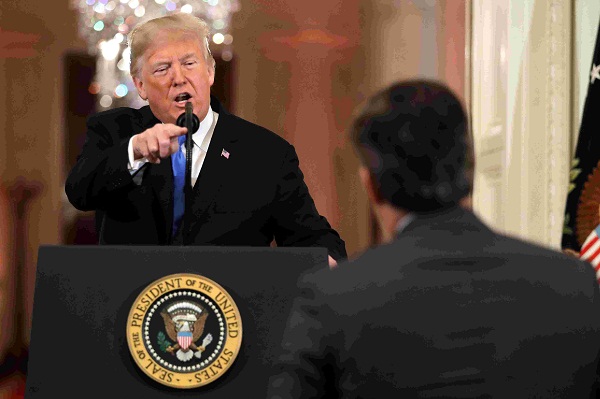 He also said:
"put down the mic."
A female staff of the White House tried to grab the mic from the hands of Jim which he resisted and told her:
"pardon me ma'am."
Donald Trump and his later actions
Trump walked away from the news conference and some time returned and remarked:
"CNN should be ashamed of itself having you working for them. You are a rude, terrible person. The way you treat Sarah Huckerbee is horrible,"
Trump did not specify on what treatment he meant. There was another reporter on the floor who stressed that Jim was a diligent reporter. Trump fired back at this reporter and said:
"well I'm not a big fan of yours either,"
Ms. Sanders' tweet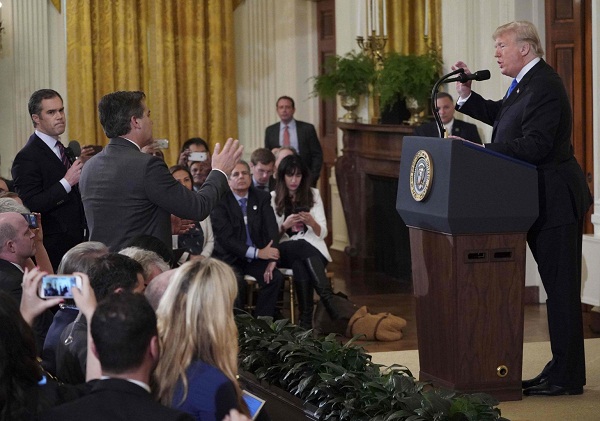 Sanders tweeted to say that "White House would never tolerate a reporter placing his hands on a young woman just trying to do her job".
She added:
"The fact that CNN is proud of the way their employee behaved is not only disgusting, it's an example of their outrageous disregard for everyone, including young women, who work in this Administration,"
She further notified:
"As a result of today's incident, the White House is suspending the hard pass of the reporter involved until further notice."
Jim Costa defends himself
Jim denied any wrongdoing and said:
"I was trying to hang on to the microphone so I could continue to ask the president questions."
Jim further said:
"We all try to be professionals over there, and I think I handled myself professionally, this is a test for all of us. I do think they are trying to shut us down to some extent inside the White House press corps, and to some extent I think they are trying to send a message to our colleagues."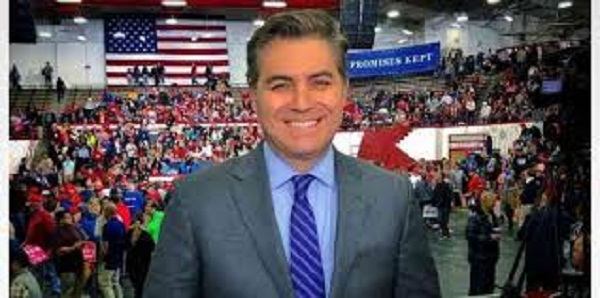 CNN supported their employee and said:
"In an explanation, Press Secretary Sarah Sanders lied, She provided fraudulent accusations and cited an incident that never happened."
They labeled the ban as a revenge for the challenging questions Jim posed which Trump found unable to answer.
The White House Correspondents' Association has also sided Jim and said that the ban should be reversed.
Short Bio on Jim Acosta
Jim Acosta is an American journalist. Recently, he has also become the Chief White House Correspondent for CNN. Prior to this, he worked as the National Political Correspondent for CNN as well as a correspondent for CBS News. More Bio…
Credit: BBC News