Conor McGregor is having a child!! He hails 'lifesaver' girlfriend Dee Devlin who believed in him when he had Nothing!! Love is Still in the Air!!!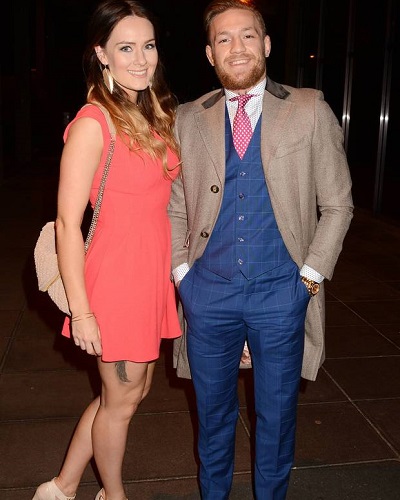 ---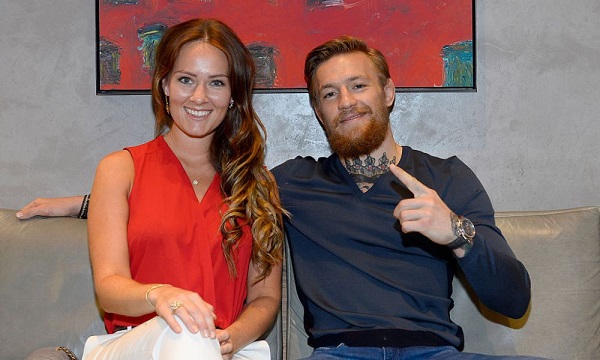 He gained overnight fame when the Irish featherweight — and now also lightweight — champion shocked the world by knocking out Eddie Alvarez at UFC 205 in the second round.
Conor Relationship Status
Conor is taken and his partner is Dee Devlin. They have been in a relationship for more than eight years now. They first met at the club began dating.
Dee Devlin hails from Walkinstown and always believed that Conor would be a huge success, even when his goal to become a UFC champion was just a dream. She has been his support since they met and always encouraged him when he had nothing.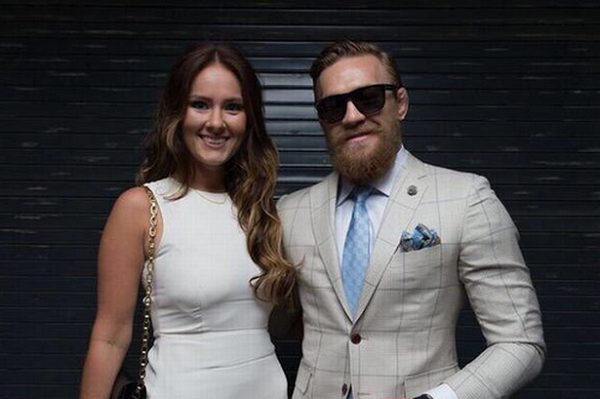 About Conor McGregor and his Dee Devlin
Dee Devlin, Conor McGregor's fiancee is adored by the fans and public as she stands beside McGregor in the fight of his life.
The reigning champ is a tough and agile fighter inside the Octagon but he has a soft spot when talking about his long-time girlfriend Dee Devlin.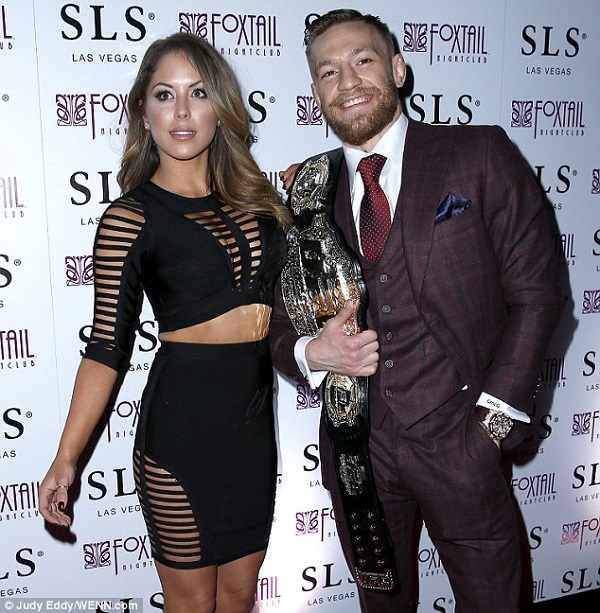 Conor McGregor's wife Dee has been seen by UFC fans for quite some time now. McGregor credits most of his success to his 'wife' and is grateful to Dee Devlin for her unwavering support.
He said to the Irish Mirror. :
"My girlfriend worked very hard throughout the years and stuck by me when I had essentially nothing. For me to be able to take her out of work, give her everything she's ever wanted and to travel the world with, fills me with pride."
Before all his worldwide success, popularity, and millions of dollars in prize money and endorsements, their love tale had started in an Irish nightclub in 2008. It was love at first sight.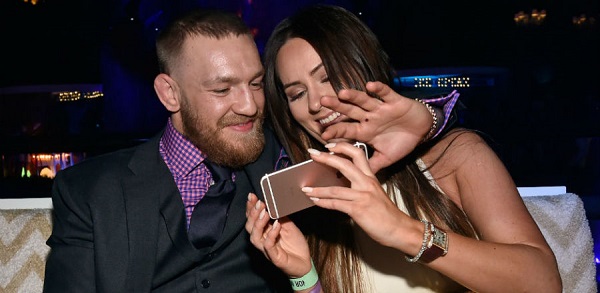 "He's very funny — he always keeps me entertained and makes me laugh,"
she told VIP Magazine. She added:
"He was already training when I met him, so I really admired his dedication to that, too."
Conor disclosed that Dee's "good girl" qualities attracted him to her in the early stages.
"I asked her to come over and we just started chatting. She seemed like a nice girl, and I like good girls."
But it was her dedication, commitment, and selflessness which enabled the couple to continue with their love for each other even after almost a decade together. Conor said:
"Every day, since I started out in this game, she's supported me, She'd drive me to the gym, and she'd listen to all my dreams. Dee is a lifesaver for me. I wouldn't be doing this if it wasn't for her, and that's for sure. I'm doing all of this for her."
In 2015, after his remarkable win against Chad Mendes. Dee had posted an emotional tribute to her partner.
Her Instagram message read:
"To say that I am proud is a MAJOR understatement! I am so on cloud 9 right now I can't even put it into words! Thank you to every single person who made the trip out to Vegas to support Conor last night!

"The place was absolutely buzzin! And to all of the fans at home who also had a big part to play in making this event so special.

"Hours upon hours, years upon years of hard work and complete dedication to his craft accumulated last night.

"I am so grateful right now it's overwhelming. We did it babe! I love you more than anything."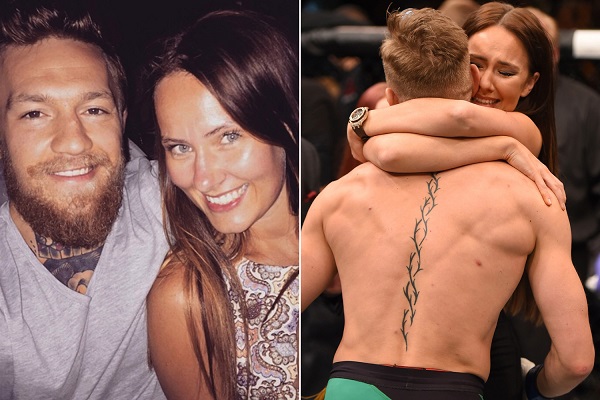 In her interview given to ESPN, the Walkinstown native explained how she takes care of everything outside of the fight — so Conor can simply concentrate on the task at hand.
"I definitely try to help him out all the time, even without realising it — especially around a fight because it's such a tough time with his weight,"
she said. She elaborated:
"I cook, clean, pack his gym bag, all that kind of stuff."
Conor has always spoken in the past about his appreciation and commitment to Dee, who has supported him from the days of "absolute nothing".
You may like to read MTV star Kailah Casillas – Is she dating Sam Bird?
Coach John Kavanagh about Conor's Career
In an interview with the Sunday Independent, his coach — John Kavanagh — explained how he rose to fame from humble beginnings. He said:
"It wasn't easy. Conor was on the dole, earning £85 a fight and training at the height of winter in a cold gym,"

"Now, I don't care how passionate you are, but there are always going to be periods thinking 'F*** this! What am I doing here?

"Conor's annual earnings for that five-year period was something like €1,500 (£1,300) a year. There was no money and I was running out of ideas. The UFC was a closed shop."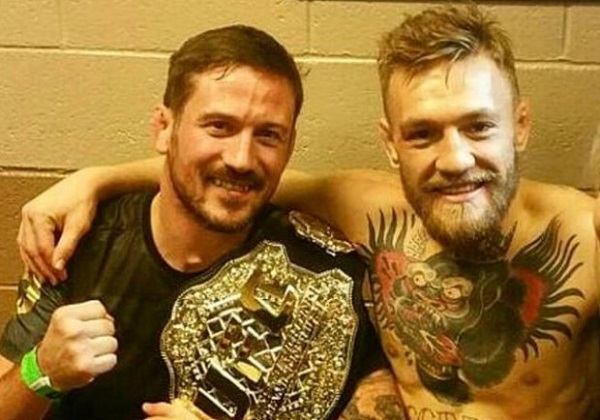 In their free time, McGregor and Ms. Devlin love to travel and shop together, and despite his rigorous training and competition schedule — they are able to spend valuable time with one another. Conor says:
"My girlfriend has been there since the start. She has helped me throughout this career,"

"If It wasn't for her, I probably wouldn't be where I am today. So definitely, I love to spoil her."
Devlin also takes an active interest in managing his finances. Conor said:
"She has helped me throughout this career, She does not work anymore, I hired her to the business … she works for me now and collects the checks."
The couple is Pregnant
MMA journalist Ariel Helwani broke the news that Conor McGregor'had confirmed the rumor that his girlfriend Dee Devlin is pregnant.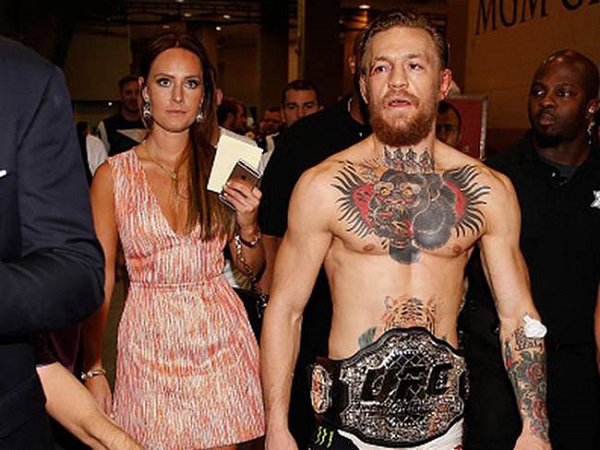 "I'm going to be a daddy early next year, I'm crapping my jocks, it's messing with my head."
Conor said at a press conference.
Conor McGregor has not disclosed the gender of his unborn baby but the champion is already getting excited about being a father.
Update on their relationship and child
Connor and Dee are the parents of three children.
Their son was born in Dublin in May 2017 and is named Conor Jack McGregor Jr. He was born healthy with a birth weight of 8 lbs 14 oz. The couple plan to marry in the summer of 2018.
His other kids: daughter Croia McGregor born in January 2019 and their third child son Rían McGregor born on 17th May 2021.
Also read Conor McGregor arrested in Miami, Florida after he smashed a fan's cell phone
Short Bio of Connor McGregor:
Connor is an Irish professional mixed martial artist who is currently signed to the Ultimate Fighting Championship (UFC). He is the reigning UFC Lightweight Champion and former UFC Featherweight Champion. During his career, McGregor has competed as a featherweight, lightweight, and welterweight. More bio…