Controversy queen, JWoww is a Jersey Shore star. She celebrated mother's day at her home and shared an adorable picture with her husband and children in Instagram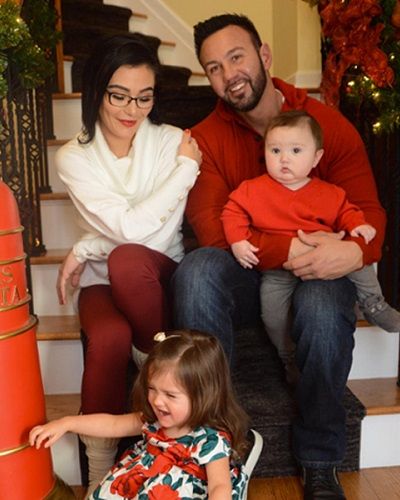 JWoww is an American television star. Her full name is Jennifer Lynn "Jenni" Farley, but professionally she is famous as JWoww. She is also called the queen of the American reality series, Jersey Shore.
She is married to Roger Mathews, truck driver, and Instagram star. The couple has two children: Meilani Alexandra Mathews(daughter) and Greyson Valor Mathews(son). Recently she is in news for sharing a rare family photo with her husband and children.
Also read Jenni 'JWoww' Farley Enjoying the vacation with Husband Roger Mathews Joined by their children!! Cutest Picture of Family and Amazing Vacation!
Update: Jwoww and Roger Mathews are not together. The ex-couple divorced on 29th August 2019. Jwoww filed for divorce after three years of their marriage. However, the reason for their split is unknown.
The picture became the talk of the town because JWoww is a party animal and this time she posted a decent picture with her family. She celebrated a mother's day starting with a brunch at their home itself and had a simple and lovely celebration.
She shared a photo on her social media handle, Instagram, and captioned,
"To be your mom is a privilege and an honor. In the end when nothing else matters, I just want to look back and know I gave you guys unconditional love, endless happy memories, sense of security and personality traits that will allow you to grow and prosper as 2 beautiful humans inside and out … to always choose kindness over hate … stand up for what's right and always keep it [100], like mommy and daddy. #happymothersday."
She added,
"Some days I think I'm doing it all wrong and failing … other days I think I'm superhuman and kicking a— at parenting … but through it all, one thing never changes … You are my world, my heart and the reason it beats. Everything I choose to do in life is for you. I try to better myself everyday for you two."
Also read Reunion Special!! Jersey Shore's Mike 'The Situation' Sorrentino Has Confirmed The Reunion; Cast Says: Is 'Excited To Be Working Together Again'
As she is very close with her children, whenever she is out for a shoot for days, she misses her children very much. Being a mother and handling the profession parallelly is a very difficult job of being a mom is a full-time job. It is difficult to get time for yourself.
Also, one has to sacrifice a lot of things once she is a mother, she said,
"I really think Bad Moms, as funny of a comedy it was, really paved the way for people like Nicole ['Snooki' Polizzi] and I to say it's okay to have fun as a mom. I feel like there's a huge stigma — the moment you have kids, you're not allowed to drink, you're not allowed to put makeup on, how dare you take time to work out!"
Also read Nicole 'Snooki' Polizzi gives the answer to Mom-Shamers; Says 'I'm a Damn Good Mom' More about the mother-daughter relationship
Short Bio on JWoww
JWoww is an American television personality and graphic designer. She is best known for appearing on the hit MTV reality series Jersey Shore. She is also known for her own American reality television series, Snooki & JWoww.
She has also made several appearances on other shows, such as TNA Impact! Disaster Date and Marriage Boot Camp: Reality Stars. More Bio…