Coolest Fatherhood – Dwayne Johnson and Ryan Reynolds Tops "The Coolest Dads Of 2019" List!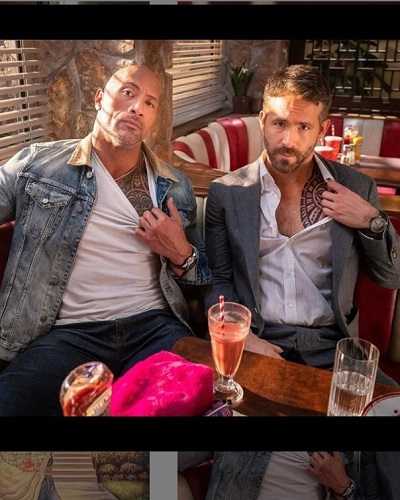 Along with outstanding acting careers, Dwayne Johnson and Ryan Reynolds also have admired fatherhood. These Canadians have taken fatherhood to some other level holding the title of "The Coolest Dads Of 2019".
Dwayne Johnson and Ryan Reynolds have been recognized for their superior child-rearing abilities by Fatherly. This duo's chemistry can be seen in Fast & Furious Presents: Hobbs & Shaw.
Dwayne Johnson- Coolest Dads show normalcy
Despite being the highest-paid movie star on the planet, this man never loses touch. He calls his private plane a "bird." He makes his life relatable to other people. His captions like "YOU'LL NEVER BELIEVE WHO I JUST MET" when he met his co-swimmers are so relatable to his followers.
There is no doubt about his wealth, charity, and family. But, his way of showing stardom is so acceptable. His soft heart inside his muscular body has touched the hearts of millions of people.
Despite having a busy schedule, he keeps his dad's life first. His soft-spoken and genuine way of expressing his thoughts has never been out of his line. With Dany Garcia (now ex-wife), Johnson welcomed his first daughter Simone. With Lauren Hashian (current life), he welcomed his daughter Jasmine and Tiana.
Also read Forbes richest actor list 2019! Dwayne Johnson is the highest-paid actor in 2019!
This father-daughter relationship shows normalcy. Johnson would do anything to make his daughters laugh. In return, his beautiful daughter does the hardest thing for him. He says:
"They teach me so much, and continue to check me, They're the equalizer."
He went on Instagram and highlighted the news published by Fatherly and wrote:
"As a father to 3 girls and as a "big daddy" to @KevinHart4real, topping this list is awesome.
I was a nervous and scared first time father (because I didn't want to screw shit up due to my own strained relationship with my old man) but eventually I learned that leading with love, empathy and a lil' humor ???? would always be some of my best assets.
AND despite me being #1 on this list (cos I paid them) there's millions of good dads out there that have a big ass coffee mug that prove otherwise ☕️????????
#gooddadgang"
Ryan Reynolds: Number two on "The Coolest Dads Of 2019"
Ryan Reynolds has been open about his wife and children on his social media. He is all about teaching kindness at home. Along with his amazing acting career, Ryan is found unfailingly polite and unfailingly. He talks about his failures as an actor and a father. 
Also read: Blake Lively and Ryan Reynolds welcomed their third baby? Know about the family of five
Growing up Reynolds did not have close bonds with his dad, James. He describes himself as "never relaxing or easy". Father of two daughters  Inez and James with wife Blake Lively.
And now they are ready to welcome another daughter into their family. They got married on 9 September 2012. Moreover, the name of this little one is not yet announced. He told Fatherly,
"You get to heal some of that stuff with your kids." 
I love B.C. 🇨🇦 I want my daughters to experience the same natural playground I grew up in. On Oct. 21, the candidate you vote for will SHAPE CLIMATE POLICY. I'm proud of the climate progress made the last 4 years. Click https://t.co/gJ8wvRwD2y for voting info. #Capilano pic.twitter.com/a3itOeIqQx

— Ryan Reynolds (@VancityReynolds) October 17, 2019
A short bio on 

Dwayne Johnson and 

Ryan Reynolds:
Dwayne Johnson is an American actor, producer, singer, and professional wrestler. He is very famous for his nickname 'The Rock'. Dwayne has mainstream fame in the world of wrestling.
He was the major figure in the company's Attitude Era, Dwayne was also the first third-generation wrestler in the company's history. He has been listed as one of the all-time greatest professional wrestlers.
Dwayne holds the record for the Raw shows' main event in a year. His roles are highly appreciated in each movie that he plays including 'Fast and the Furious Series'. more bio…
Ryan Reynolds is a Canadian actor. He has portrayed Michael Bergen on the ABC sitcom Two Guys and a Girl from 1998-2001. Ryan Rodney Reynolds was born on  23 October 1976, in Vancouver, British Columbia. He is the youngest son of four brothers of James Chester and Tammy. He had finished high school at Kitsilano Secondary School in Vancouver in 1994. more bio…
Reference: (fatherly.com, narcity.com)