The bored owners and staff of a country estate in England 'married' two of their horses with pomp!
Lockdown is making people do things they never would have imagined otherwise. Take for example, the owners and staff of a luxurious country estate in England. The movement restrictions due to the coronavirus pandemic led to such severe boredom in them that they decided to change it to joy and fun. They 'married' a pair of horses!!! And the wedding ceremony was a lavish one!
Two horses married at a plush country estate
Coronavirus has caused governments to impose strict movement restrictions on their citizens. People are not used to remaining confined within their homes and sitting idle, doing nothing. The owners and staff of a plush country estate in England faced similar issues. And they obviously were bored like the many people in the world.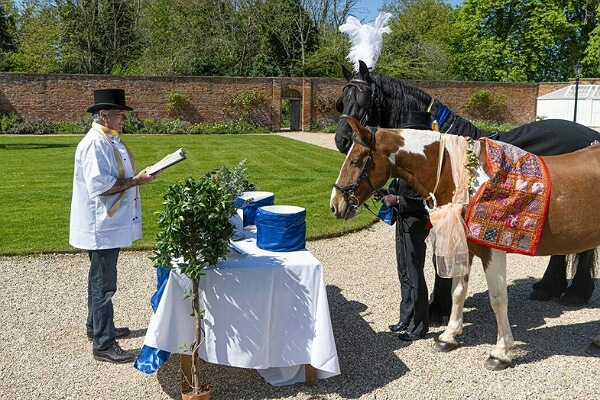 But they found some vent to these boredom feelings. They found a route for some enjoyment. They decided to beat the lockdown boredom by marrying two of their horses. And the ceremony was a lavish one.
The wedding of the pair of horses
Lewis and Fern were two of the horses at the stable in the wide country estate in England. And during the coronavirus pandemic, the handlers felt that the two had grown close to each other. They interpreted that the two horses have fallen in love with each other. Additionally, they believed strongly that it was a genuine love between them.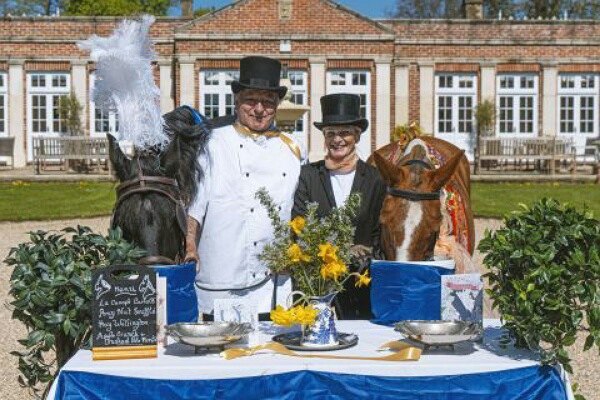 Therefore, the owners of the estate along with their staff decided to wed the two. They felt that it was the right time to marry off the equine couple. The handlers groomed the two horses to look their best. Lewis, it seems, proposed with a mint. And the wedding took place at a romantic spot inside the estate.
The owners served the guests with a tailored three-course meal. There was also a fancy equine banquet that included dishes of La Canape Carrots with Pony Nut Souffle, Hay Wellington and Apple Crunch, and Crushed Polo Mints. The newlyweds were then let free to take a celebratory swim. And in the evening, the couple returned to their marital suite: it was their stable which was filled with more extra hay!
About the estate, owners, and the idea
The country estate is Orchardleigh, a 19th century stately home that is located near Frome, Somerset. It is 500 acres of private parkland and lakes. Additionally, it has a romantic island church, a secluded boat house, a private helipad, and a 18-hole golf course. There is also a castle with an outdoor hot tub.
Chris Vincent and Heather Vincent own the whole estate. And this great idea also came to them. Heather revealed:
"With the necessities of social distancing meaning fewer people having to look after more horses, Lewis and Fern have spent more time together than usual,"
The female owner added:
"During the past couple of weeks, they've since started showing real signs of affection for each other. As Fern isn't in heat at the moment, we can't put it down to lust! So consequently, we think it's genuine love — and that gave us an idea. I remarked to Chris: 'Wouldn't it be funny if they got married, considering there's no weddings going on?'"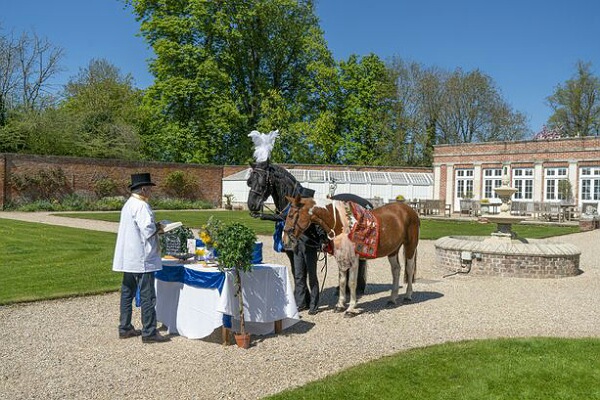 Chris said:
"Staging an equine wedding might sound a bit mad, but, given we're in lockdown, nothing seems normal anymore,"
They wanted the sentiments of a wedding but also wanted to respect the social distancing guidelines. And of course, they wanted to give everyone some light relief from the boredom.
Click to read on Christine Lampard cooks a family feast and talks of benefits of social distancing!
Source: Fox news