Country singer Abby Anderson engaged to boyfriend Tyler Graham!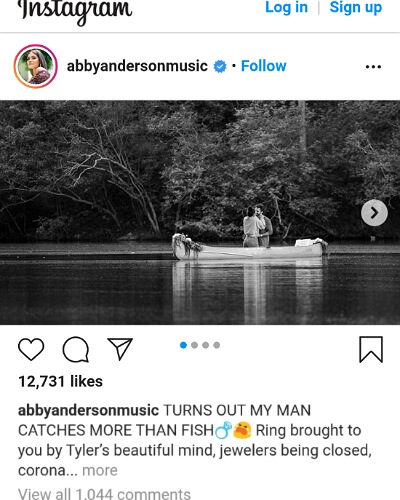 Country singer Abby Anderson is engaged to her boyfriend Tyler Graham.
But Tyler proposed to Abby with a special ring made of wildflowers.
Because the jewelers currently are shut due to coronavirus lockdown.
---
Update 2022: Abby Anderson and Tyler Graham are now husband and wife. The beautiful couple tied the knot in October 2021 five months after their engagement. The sweet wedding ceremony took place at Saddle Woods Farm in Murfreesboro, Tennessee.
Abby Anderson and her engagement
Country singer Abby Anderson, 25 is happy. Her relationship with boyfriend Tyler Graham, 30 has shifted to the next level. The two are now engaged to be married soon!
Last Saturday, Tyler proposed to her with the help of her family. He is in self-isolation with her and her siblings due to the coronavirus pandemic. Her older sister, Ashlin had specially decorated a canoe with beautiful flowers.
It was a romantic ride for the couple. And during the boat ride, when they reached the middle of the lake, Tyler went down on one knee and asked Abby to marry him. And she said Yes.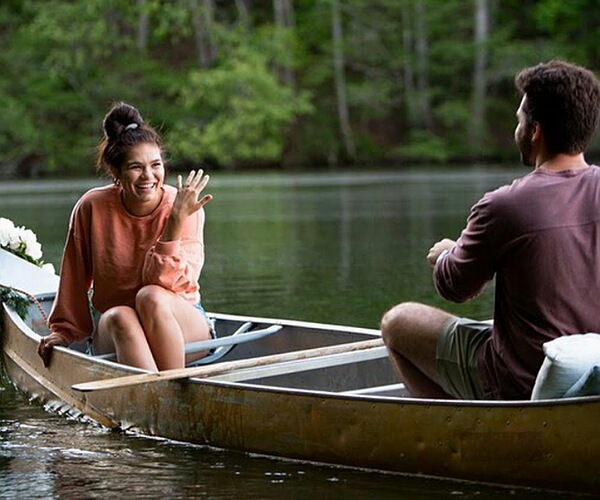 The jewelry shops are shut now due to coronavirus restrictions. Therefore, Tyler could not obtain the proper engagement ring for the occasion. But he did not wait for the engagement until the lifting of the lockdown.
Therefore he made a temporary ring of wildflowers for the engagement. Of course, during an engagement, the feelings matter more than the ring!
The Instagram photos of the engagement
Tyler gifted his girlfriend Abby an engagement ring designed with wide flowers. But he plans to get an expensive sparkler for his Lady love as soon as the lockdown is over and jewelry shops open.
And on Sunday, Abby uploaded the photos on her Instagram on her social media. She posted on her Instagram as well as on her Twitter handle.
She wrote:
"TURNS OUT MY MAN CATCHES MORE THAN FISH Ring brought to you by Tyler's beautiful mind, jewelers being closed, corona and wildflower stems."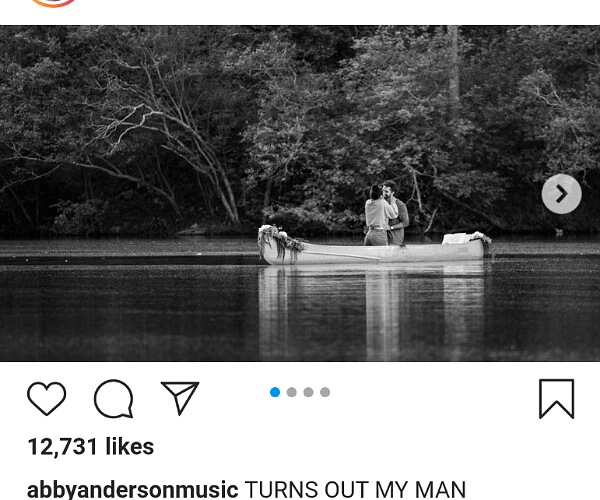 The couple's relationship
Abby and Tyler have been dating each other for the past two years. Abby wrote the song single Good Lord and released it in March 2019. The singer got the inspiration for it from Tyler.
She told People at that time:
"I feel like I learned what love is this year. This love is peaceful and it feels like home. I can be myself with him," she raved. "I don't have to be some extra version of myself. It's refreshing just to be me with him."
She did not name him at that time. Making public his reaction to her song, Abby said:
"He's so shy and humble. It's about him so I think he should love it."
Abby also spoke about how it was, to be in self-isolation with Tyler:
"I feel like it's going better for me than it should. I feel very at peace and I think that has a lot to do with having time to breathe, having time to think, and really think about what I want to write,"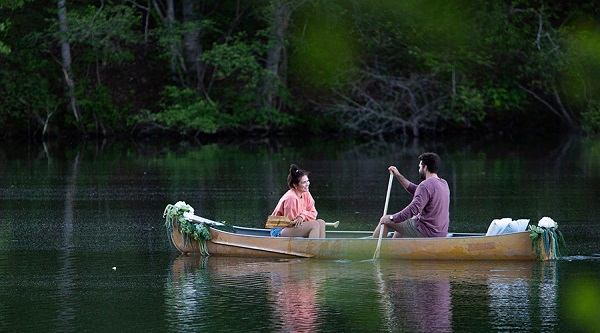 And she added:
"I've found that my writing feels better, I feel more in tune with my body and the world around me. And I realize I'm very privileged to be healthy and to be where I am in life. So I don't take that for granted – I feel very thankful. I think that's what quarantine has done for me – make me realize all my blessings."
Read more here Tomi Lahren calls off her engagement to fiance Brandon Fricke!
Source: People