Was being non-binary reason for the divorce of Courtney Stodden?
Call Courtney Stodden as 'They/them/theirs!'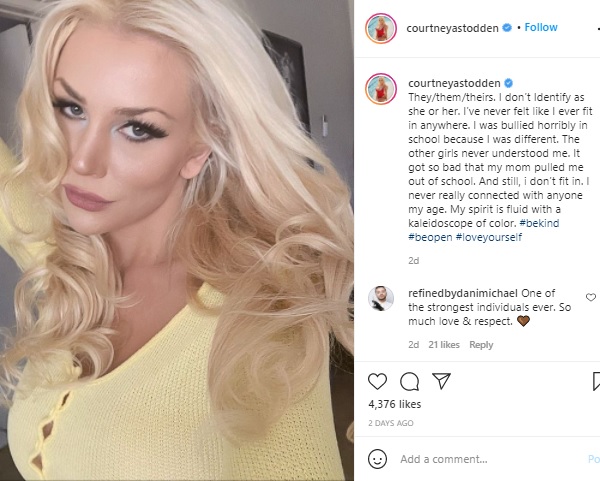 Divorced Courtney Sodden has come out as non-binary after ending the marriage with their husband Doug Hutchison on 3rd March 2020. They shared the news on Instagram writing,
"They/them/theirs. I don't identify as she or her. I've never felt like I ever fit in anywhere. I was bullied horribly in school because I was different. The other girls never understood me. It got so bad that my mom pulled me out of school. And still, I don't fit in. I never really connected with anyone my age."
Also read Courtney Stodden: from a teenage bride of Doug Hutchison, 50 to a young divorcee!
Courtney announced that her spirit is fluid with a kaleidoscope of color. When they look themself in the mirror and see a human being so far away from norms, misogyny & labels. They revealed that they love by their own rules from now onwards. They are now excited to show the world all sides of them.
They were already a proud member of the LGBTQ community after coming out as bisexual. They had made it clear that they were interested in dating a woman. Sodden married 51 years olf Doug Hutchison in the year 2011 when she was a teenager.
Also read Is actress Lili Reinhart bisexual? Know about her relationship timeline with Cole Sprouse
Short bio on Courtney Stodden
Courtney Alexis Stodden is an American reality show contestant, actress, model, recording artist, and national spokesperson for PETA, the animal rights activist organization.
In 2011, 16 years-old Stodden received widespread media attention after marrying 50-year-old actor Doug Hutchison. Read more bio…